Music students at the Fernando Pullum Community Arts Center in South Central Los Angeles benefitted today from a pair of Institute-led workshops designed to hone critical skills and help them succeed in competitive university music programs. Dr. JB Dyas, the Institute's Vice President for Education and Curriculum Development, worked with the Center's Junior and Senior Jazz Bands on tune memorization, audition preparation, and other practical techniques.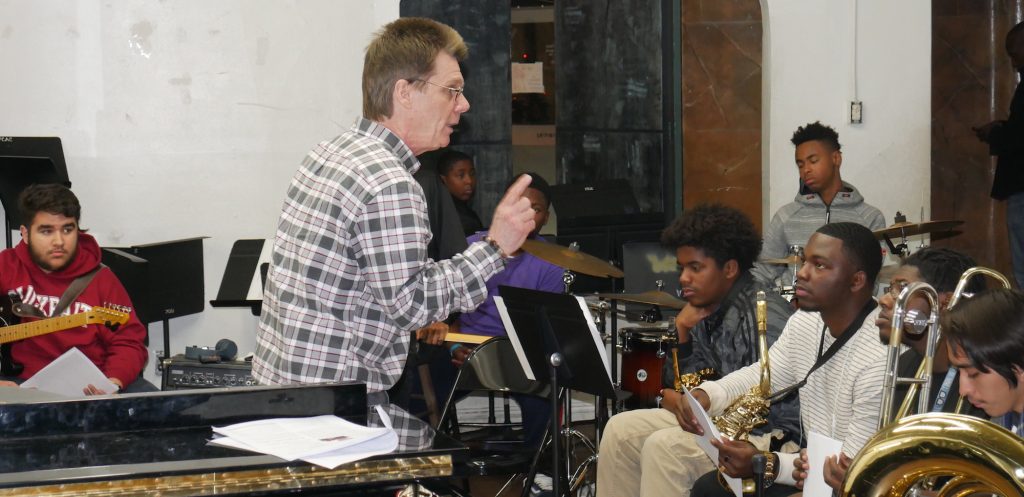 Following the workshop, Dr. Dyas recruited three talented students from the Pullum Center bands for the LAUSD/Herbie Hancock Institute All-City Jazz Band, which comprises the best high school jazz musicians in Los Angeles. The Institute administers the All-City group in partnership with the Los Angeles Unified School District's Beyond the Bell after-school initiative. As All-City Jazz Band members, guitarist Cesar Gandara and saxophonists Ronnie Heard and Christopher Powe will have the opportunity to study and perform with nationally renowned jazz artists and educators at some of LA's highest-profile venues, including the Hollywood Bowl.
As part of its decades-long commitment to Los Angeles, the Institute regularly leads free jazz education and outreach programming in schools and community-based organizations like the Pullum Center. Programs include daily and weekly in-school and after-school instruction with renowned teaching artists, as well as public performances and workshops at LA institutions like the World Stage and the UCLA Herb Alpert School of Music.