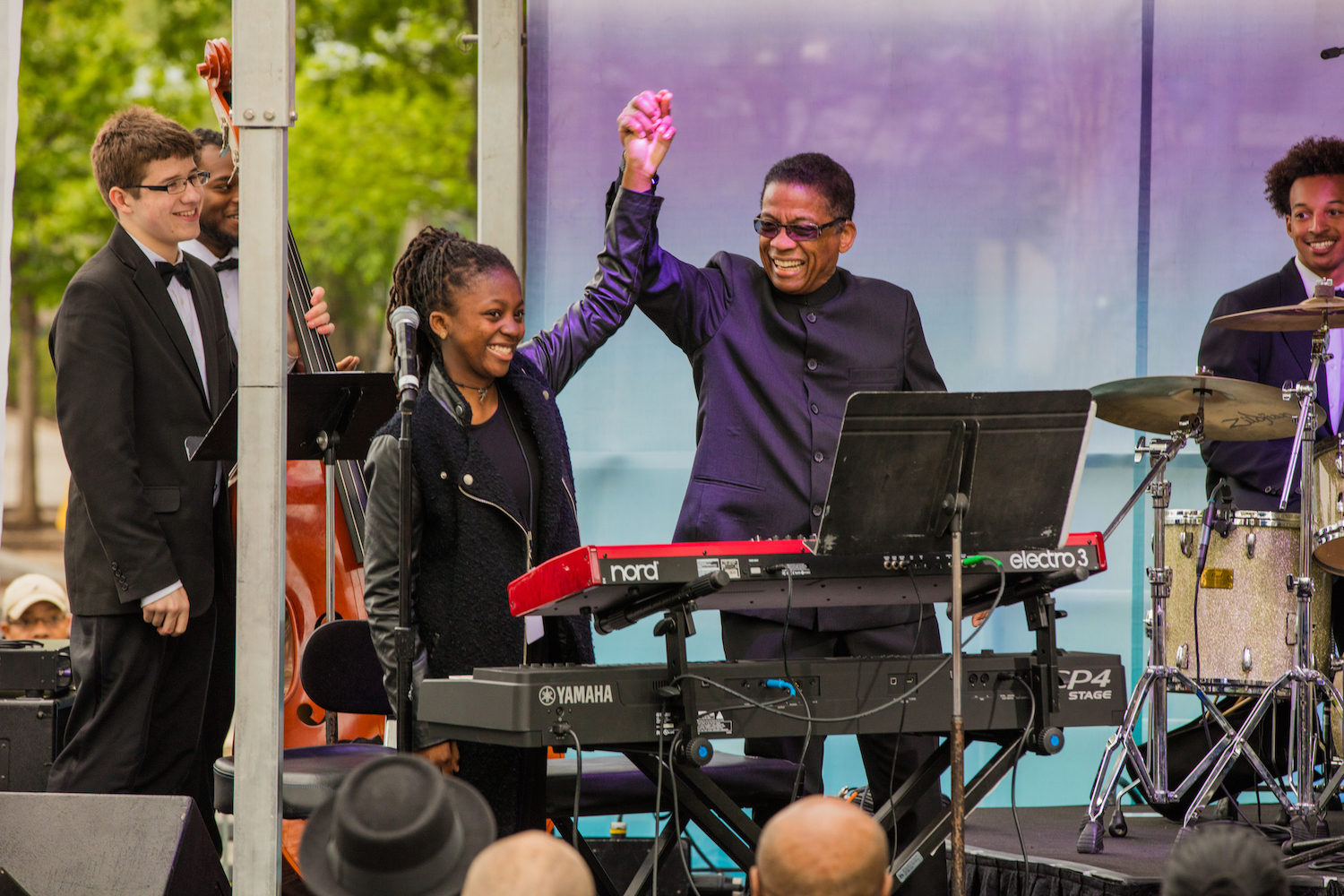 About Us
The Herbie Hancock Institute of Jazz is a nonprofit education organization with a mission to offer the world's most promising young musicians college level training by internationally acclaimed jazz masters and to present public school music education programs for young people around the world. The Institute preserves, perpetuates and expands jazz as a global art form, and utilizes jazz as a means to unite people of all ages, backgrounds and nationalities. All of the Institute's programs are provided free of charge to students, schools and communities worldwide. The Institute's programs use jazz as the medium to encourage imaginative thinking, creativity, a positive self-image, and a respect for one's own and others' cultural heritage.
Founded in 1986 as the Thelonious Monk Institute of Jazz, the organization began operating as the Herbie Hancock Institute of Jazz in January 2019 in recognition of Mr. Hancock's commitment to the Institute since its establishment, his expert guidance as Institute Chairman, and his immense contributions to and impact on music, education and humanity.
Consider a tax-deductible contribution to the Institute to support our free worldwide jazz education programs.
Learn About Our Programs
Jazz in the Classroom: Since 1989, the Institute has gone into public schools around the world, introducing millions of young people to jazz and its rich history. Jazz in the Classroom provides daily music instruction and instrument training sessions for public school students across the country, including Los Angeles and Washington, DC, along with master classes and assembly programs for tens of thousands of students in urban, rural, and remote areas of the country. One hundred percent of students in the instrument training programs graduate from high school and more than 90% go on to college. Leading jazz musicians and educators teach and serve as role models, helping students enhance their creativity and self-esteem. Top
International Jazz Day: The United Nations and the United Nations Educational, Scientific and Cultural Organization (UNESCO) designated April 30 as International Jazz Day (jazzday.com) to highlight jazz and its diplomatic role of uniting people in all corners of the globe. The Institute serves as the lead nonprofit organization charged with planning and promoting this annual worldwide celebration. International Jazz Day is recognized on the official calendars of both the United Nations and UNESCO. Each year on April 30, universities, libraries, schools, arts centers, organizations of all disciplines, UNESCO and United Nations missions, embassies and government outposts around the world host special events and concerts to honor this revered musical art form that for a century has brought together people of different cultures, religions and nationalities. Top
In its inaugural year, International Jazz Day 2012 was celebrated around the world and through major events at New Orleans' Congo Square – the birthplace of jazz – and the United Nations General Assembly Hall in New York. Since then, Global Host Cities have included Istanbul (Turkey), Osaka (Japan), Paris (France), Washington, D.C., Havana (Cuba), Saint Petersburg (Russia) and Sydney & Melbourne (Australia). The 2020 and 2021 festivities saw the celebration greatly expand into virtual media due to the continuing impacts of COVID-19, with the most recent All-Star Global Concert live webcast achieving millions of views on YouTube and Facebook alone. For the past decade, International Jazz Day has been celebrated through thousands of programs in more than 190 United Nations and UNESCO Member States on all seven continents, including Antarctica. More than 2 billion people are reached every year through International Jazz Day education programs, live performances and media coverage. Top
College Program: Begun in 1995, the Herbie Hancock Institute of Jazz Performance at The UCLA Herb Alpert School of Music is an intensive two-year, college level program that enables a select group of the world's most gifted young musicians to study tuition-free with legendary jazz musicians and educators including Herbie Hancock, Wayne Shorter, Dianne Reeves, Jimmy Heath, John Scofield and Danilo Pérez. This performance-based program has become the model college jazz education program for the world. Graduates including Ambrose Akinmusire, Lionel Loueke and Gretchen Parlato have gone on to become leading jazz musicians and record on major labels. In October 2021, the program welcomed its 13th class of exceptional musicians. Top
Competition: Established in 1987, the Herbie Hancock Institute of Jazz International Competition is the most prestigious event of its kind, recognized for discovering the next generation of jazz masters. The competition focuses on a different instrument each year and features an all-star judging panel. Past judges have included Quincy Jones, Diana Krall, Christian McBride, Roy Haynes, Pat Metheny, Branford Marsalis, Patti Austin and many others. This high-profile annual event has launched the careers of Marcus Roberts, Cécile McLorin Salvant, Joshua Redman, Jacky Terrasson, Joey De Francesco, Jane Monheit and Ben Williams, to name a few.
Dozens of semifinalists have forged successful careers as jazz performers and educators. The winner is guaranteed a recording contract with Concord Music Group. Each year the competition receives an extraordinary amount of publicity and press coverage in a variety of publications from The New York Times and The Washington Post to Rolling Stone. National Public Radio has presented one-hour specials on past competitions that have reached 20 million listeners, and Black Entertainment Television has produced competition documentaries featuring performance clips and interviews with the contestants and judges. Top
Math, Science & Music: In 2016, the Institute launched the first phase of Math, Science & Music, a new initiative that uses music as a tool to teach math and science to young people in public and private schools around the world. The program addresses the growing need for students to gain skills and acquire knowledge in science, technology, engineering and math (STEM) subjects and learn to think creatively. The Institute is collaborating with math, science, music and education experts at leading universities and in the private sector to develop a wealth of free engaging curricula, games, apps and other interactive online components. Top
The Blues and Jazz: The Blues and Jazz: Two American Classics traces the roots of the blues, its impact on jazz, and its importance to American history and culture. Lesson plans for American history and social studies students explain the connections between the blues and jazz from the blues' inception to today. Tens of thousands of public school students in Chicago, Kansas City, Los Angeles, Memphis, New Orleans, Washington, D.C. and across Mississippi have participated in assembly programs and master classes led by renowned blues and jazz musicians including Herbie Hancock, Dee Dee Bridgewater, Alvin "Youngblood" Hart, Chris Thomas King, Keb' Mo' and Joe Louis Walker. Top
National Performing Arts High Schools: The Institute brings renowned jazz musicians and educators into 12 public performing arts high schools to provide intensive jazz training. Through this performance-based program, gifted music students receive instruction in composition, theory, improvisation, history, and styles, preparing them to attend leading college, university and conservatory music programs. The program is offered at the Baltimore School for the Arts; Chicago High School for the Arts (ChiArts); Booker T. Washington High School for the Performing and Visual Arts in Dallas; Houston's Kinder High School for the Performing and Visual Arts; Ramon C. Cortines School of Visual and Performing Arts, Music and Performing Arts Academy at Hamilton High School and the Los Angeles County High School for the Arts, all in Los Angeles; Miami's New World School of the Arts; New Orleans Center for Creative Arts; Newark's Arts High School; the Ruth Asawa San Francisco School of the Arts; and Washington, DC's Duke Ellington School of the Arts. Top
BeBop to Hip-Hop: Begun in 2004 in the Los Angeles public schools, Bebop to Hip-Hop brings together jazz and hip-hop students under the direction of professional jazz musicians and hip-hop artists. Aspiring young musicians study improvisation, lyric writing, music theory, arranging, composition, turntable scratching, and sampling. They are introduced to the latest recording technologies and encouraged to create a new art form that demonstrates the genius of both musical genres. Recent concerts and master classes have featured Billy Childs, Herbie Hancock, Roy Hargrove, Imani of The Pharcyde, DJ Spark, Doug E. Fresh, Kool Mo Dee, Chali 2na, Supernatural and Bobby Watson. Top
International Programs: The Institute's students and major jazz artists have traveled around the world as jazz ambassadors, presenting education programs across Europe, Asia, Africa, South America and the Caribbean. Many programs have been sponsored by the U. S. Department of State, including a 1995 tour of Eritrea, Ethiopia, Madagascar, Mauritius, Mozambique, South Africa and Swaziland; India and Thailand in 1996; Chile, Argentina and Peru in 1998; and Egypt in 2001. For three years beginning in 2002, the United Nations sponsored a tour of Paris, where the Institute's college students performed with Herbie Hancock, Wayne Shorter, Dianne Reeves, Dee Dee Bridgewater and T.S. Monk at "International Philosophy Day" events presented by UNESCO. In 2005, Institute musicians visited Vietnam to mark the 10th anniversary of the U.S. and Vietnam resuming diplomatic relations. The Institute's college students traveled with Hancock and Shorter on a 2007 State Department sponsored educational tour of India commemorating the 100th anniversary of Mahatma Gandhi's nonviolence movement. The college students accompanied Hancock, Martin Luther King, III, Dee Dee Bridgewater, Terri Lyne Carrington, George Duke and Chaka Khan, along with a Congressional delegation led by Congressman John Lewis, on a 2009 State Department tour of India commemorating the 50th anniversary of Dr. Martin Luther King, Jr. and Coretta Scott King's historic trip to India to study Gandhi's work.
The Institute's first visit to China took place in 2010, with Hancock, Bridgewater and our college students performing for thousands of people at the Shanghai 2010 Expo and Beijing's Forbidden City Concert Hall, and leading a master class at Beijing's National Center for the Performing Arts. In 2011, the college students led a jazz education and performance tour of the Basilicata region in southern Italy. The following year, Hancock, Bridgewater and a stellar group of Institute Competition winners and Institute alumni presented concerts and master classes in Moscow and St. Petersburg, Russia. In 2013, the Institute's college students traveled with Dick Oatts to the Royal College of Music in Stockholm, Sweden to present a week of educational clinics, and led master classes and performed with Jane Monheit at the Red Sea Jazz Festival in Israel. The next year, the Institute students performed and presented workshops in Mexico City at the Centro Nacional de Las Artes and the Escuela Superior de Música. Most recently in 2019, the Institute's college students traveled to Mount Gambier, Australia to serve as mentors and guest performers for the Generations in Jazz youth big band festival, the largest event of its kind. Top
Television Specials: The Institute has produced a series of television specials to highlight the importance of jazz. In 1986, the Institute produced "Celebrating a Jazz Master: Thelonious Sphere Monk," a PBS tribute concert. In 1993, the Institute coordinated "A White House Jazz Festival," the first "In Performance at The White House" PBS special taped with President and Mrs. Clinton. In 1996, the Institute produced "A Celebration of America's Music," the first network television special devoted to jazz in over 25 years, which aired on ABC. A second "A Celebration of America's Music" aired in 1998. In 2006, President and Mrs. Bush hosted a concert celebrating the Institute's 20th anniversary that aired as an "In Performance at The White House" PBS special hosted by Barbara Walters. In addition, the Institute's international jazz competitions have been featured as documentaries on Black Entertainment Television and its affiliates. Recent productions have included the 2016 ABC special "Jazz at the White House," hosted by President and Mrs. Obama, and "International Jazz Day 10th Anniversary Celebration," a national television event that aired on PBS in honor of International Jazz Day 2021. Top