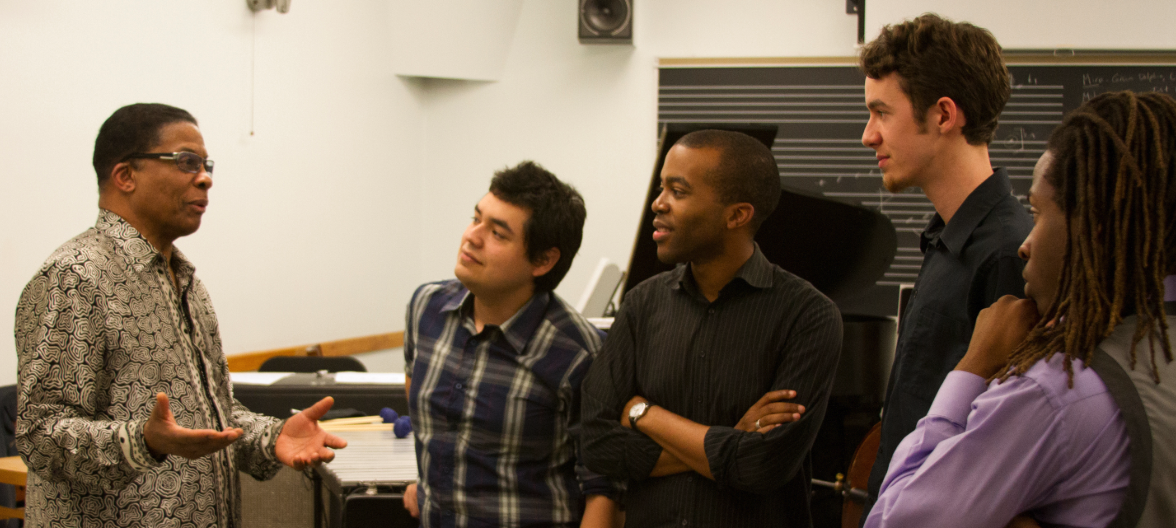 Herbie Hancock Institute of Jazz Performance at the UCLA Herb Alpert School of Music
About the Institute of Jazz Performance
One of the Institute's earliest goals was to create a unique college-level jazz program where the masters of jazz could pass on their expertise to the next generation of jazz musicians. In September 1995, the Institute of Jazz Performance was launched and the first class of seven students began their intensive training with some of the world's greatest musicians.
The Herbie Hancock Institute of Jazz Performance is a tuition-free two-year program that accepts one ensemble of musicians for each class. All of the students receive full scholarships, as well as stipends to cover their monthly living expenses. The students study both individually and as a small group, receiving personal mentoring, ensemble coaching, and lectures on the jazz tradition. They are also encouraged to experiment in expanding jazz in new directions through their compositions and performances. The program is currently in residence at the prestigious UCLA Herb Alpert School of Music.
The Institute of Jazz Performance students and instructors present a number of major concerts and community outreach programs throughout the United States and overseas. International highlights include performances and teaching engagements at annual International Jazz Day programs in Saint Petersburg, Russia; Havana, Cuba; Melbourne, Sydney and Mt. Gambier, Australia; and the White House; participation in the celebration commemorating the 40th anniversary of the coronation of the King of Thailand, the 1998 Summit of the Americas in Chile before 34 heads of state, the United Nations "Day of Philosophy" event in Paris sponsored by UNESCO, and the Tokyo Jazz Festival. The students also have participated in tours of Argentina, China, Egypt, India, Morocco, Peru, Russia  and Vietnam with Institute Chairman Herbie Hancock.
Since the program's inception, students have studied with Kenny Barron, Jerry Bergonzi, Dee Dee Bridgewater, Ron Carter, Hal Crook, Jack DeJohnette, Nnenna Freelon, Herbie Hancock, Barry Harris, Roy Haynes, Jimmy Heath, Dave Holland, Wynton Marsalis, Dick Oatts, Danilo Pérez, Dianne Reeves, John Scofield, Wayne Shorter, Horace Silver and Clark Terry, among many others. Program participants benefit from the world-class learning environment at UCLA, recently named the number 1 public university in the United States by U.S. News & World Report.
Check out a complete listing of our alumni here.
Click here to view select press coverage of the Herbie Hancock Institute of Jazz Performance.
Prospective Applicants
The application for the Herbie Hancock Institute of Jazz Performance at the UCLA Herb Alpert School of Music is currently closed. Please note that, due to campus closures associated with the coronavirus pandemic, the next incoming class will be accepted to start in fall 2023. The new application will be posted online in the summer of 2022. Please click here to download a sample application.
Please feel free to email us with any questions.
About The Herb Alpert School of Music
The UCLA Herb Alpert School of Music is the first – and only – school of music in the University of California system. The UCLA Herb Alpert School of Music trains and educates students across Western classical and world music traditions, transcending traditional academic boundaries by balancing performance mastery and composition with cutting-edge scholarship. Rigorous and improvisational, The UCLA Herb Alpert School of Music encourages and embraces the exploration of music in all its contemporary and historical diversity. Its 500+ undergraduate and graduate students have a multitude of performance opportunities and access to exceptional faculty, state-of-the-art facilities, world-class archives and instrument collections, and dedicated degree programs and centers of study.
Congratulations to the Class of 2020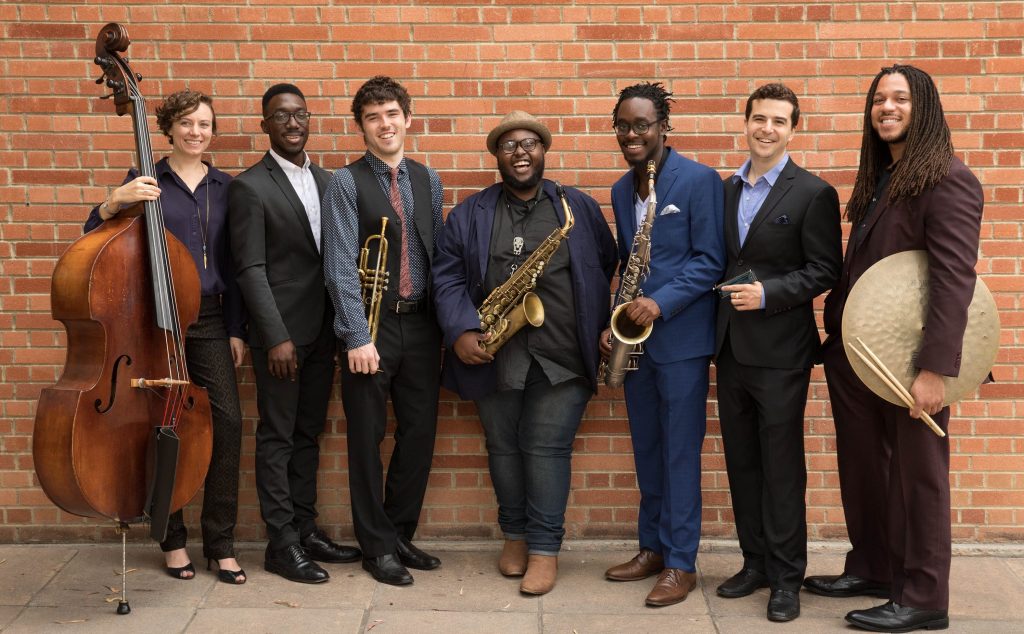 Last June, the Institute of Jazz Performance Class of 2020 graduated from the UCLA Herb Alpert School of Music and became the program's newest alumni, using lessons and skills learned over two years of intensive study to make their mark on the world of music. Watch their performance of Roni Eytan's "Taverna Blue" from the UCLA Herb Alpert School of Music's virtual commencement ceremony.
Paul Cornish, piano, was born in Houston, Texas and began playing piano at age 5. He attended the High School for the Performing and Visual Arts in Houston, where he received the Moran Scholarship Award, and received his Bachelor of Music degree from the University of Southern California. Cornish participated in the Jazz Gallery Mentorship Series and the Banff Residency for Jazz and Creative Music. He has performed around the world and appeared on the television series Glee. Cornish is the recipient of numerous awards, including the Shape of Jazz to Come Award and the Outstanding Soloist Award at the Next Generation Jazz Festival. In addition, he won first place honors in the 2018 American Jazz Pianist Competition.
Emma Dayhuff, bass, was born in Northampton, Massachusetts and grew up in Bozeman, Montana. She began playing upright bass at age 13. In 2005, Dayhuff was awarded the Dean's Scholarship to attend the jazz program at Oberlin Conservatory of Music. There, she studied with Peter Dominguez, Eddie Gomez, and Billy Hart. After graduation, Dayhuff moved to Chicago, where she performed in a variety of styles and worked as the recording engineer for the Chicago Symphony Orchestra. She later relocated to New York, where she studied with Ron Carter and Gerald Cannon. Dayhuff has performed with Victor Goines, Robert Irving III, Patricia Barber, Willie Pickens, Victor Lewis, Nicole Mitchell, Geof Bradfield, and Kahil El Zabar among many others. She has presented master classes in New York, Montana and Cuba, and was one of the founders of Montana's Livingston Jazz Festival.
Roni Eytan, harmonica, was born in Jerusalem, Israel and attended the Jerusalem Academy of Music and Dance. He received a full scholarship to the Berklee College of Music, where he studied with George Garzone, Joe Lovano, Adam Cruz and Julian Lage and performed with the Berklee Global Jazz Institute. In 2013, Eytan was selected to participate in the Betty Carter Jazz Ahead Workshop, led by Jason Moran at the John F. Kennedy Center for the Performing Arts. Since graduating from Berklee with a Bachelor of Fine Arts degree, Eytan has performed around the world with his own band and with artists including Danilo Pérez, John Patitucci, Brian Blade, Miguel Zenón and Eddie Gomez.
Chris Lewis, tenor saxophone, was born in Uniondale, New York and grew up in Scranton, Pennsylvania. He began studying saxophone at age 6. Lewis received a Bachelor of Music degree from Temple University, where he studied with Dick Oatts, Terell Stafford, Tim Warfield and Ben Schachter. Lewis has performed at jazz festivals around the world including the North Sea Jazz Festival in the Netherlands, the ORLX Swing Festival in Orlando, Florida, and the Mid-Atlantic Jazz Festival in Maryland. He has worked and recorded with a range of high-profile jazz artists including Eric Reed, Delfeayo Marsalis, John Beasley's MONK'estra, Rodney Green and Jeremy Pelt, among others.
Aidan Lombard, trumpet, was born in Washington, DC and grew up in Chicago. He began playing trumpet at age 10. Lombard attended the University of Miami as a Stamps Scholar and received a Bachelor of Music degree. He later received his master's degree from the Berklee College of Music, where he performed with the Berklee Global Jazz Institute. Lombard has studied privately with Sean Jones, Brian Lynch and Bruce Daugherty. He has participated in the Vail Jazz All Star program, the GRAMMY Camp – Jazz Session, and the Jazz Band of America. A finalist in the Carmine Caruso Jazz Trumpet Competition, Lombard has performed at festivals and clubs in Panama, Spain and the Netherlands.
Lenard Simpson, alto saxophone, was born in Milwaukee, Wisconsin and began playing saxophone at age 11. While in high school, he was selected to participate in the GRAMMY Camp – Jazz Session. Simpson received a Bachelor of Music degree from Northern Illinois University. After graduation, he moved to Chicago, where he performed with Brian Lynch, Robert Irving III, and Charles Heath. Simpson has served as a teacher at the Wisconsin Conservatory of Music's Jazz Institute, the Northern Illinois University Jazz Camp and the Birch Creek Jazz Camp.
Malachi Whitson, drums, was born in Richmond, California and began playing drums at age 7. He received awards for his musicianship from the Stanford Jazz Workshop, San Jose Jazz Workshop and Folsom Jazz Festival while in high school. Whitson received a Bachelor of Arts degree from the Brubeck Institute at the University of the Pacific and a Master of Fine Arts degree from California Institute of the Arts. He has performed with Joshua Redman, Helen Sung, Christian McBride and Theo Croker. Whitson has served as an instructor at the Stanford Jazz Workshop, Brubeck Institute Summer Jazz Colony, and East Bay Center for the Performing Arts.