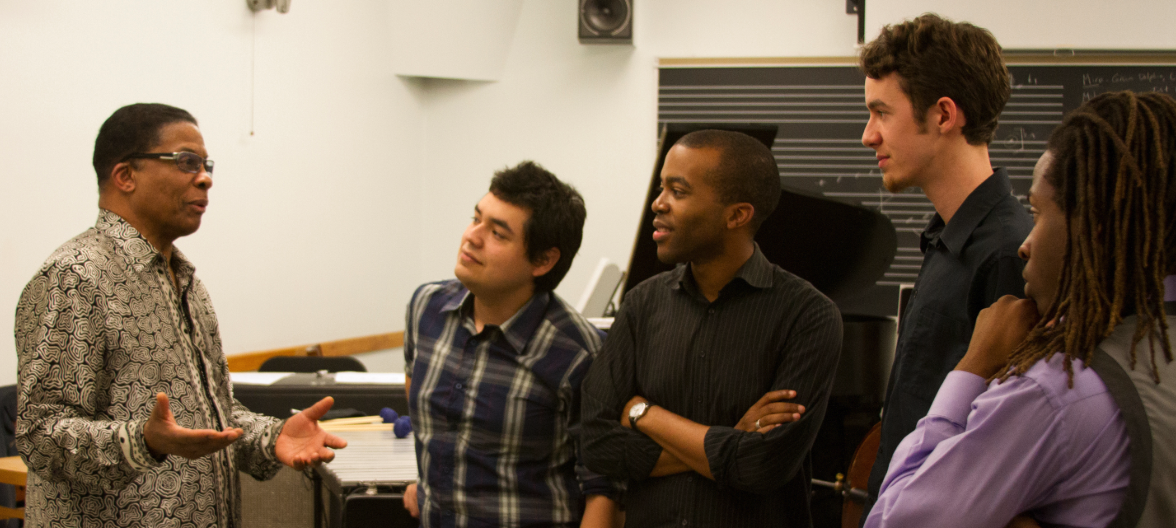 Herbie Hancock Institute of Jazz Performance at The UCLA Herb Alpert School of Music
About the Institute of Jazz Performance
One of the Institute's earliest goals was to create a unique college-level jazz program where the masters of jazz could pass on their expertise to the next generation of jazz musicians. In September 1995, the Institute of Jazz Performance was launched and the first class of seven students began their intensive training with some of the world's greatest musicians.
The Herbie Hancock Institute of Jazz Performance is a tuition-free two-year program that accepts one ensemble of musicians for each class. All of the students receive full scholarships, as well as stipends to cover their monthly living expenses. The students study both individually and as a small group, receiving personal mentoring, ensemble coaching, and lectures on the jazz tradition. They are also encouraged to experiment in expanding jazz in new directions through their compositions and performances. The program is currently in residence at the prestigious UCLA Herb Alpert School of Music.
The Institute of Jazz Performance students and instructors present a number of major concerts and community outreach programs throughout the United States and overseas. International highlights include performances and teaching engagements at the White House; at annual International Jazz Day programs in Saint Petersburg, Russia; Havana, Cuba; Melbourne, Sydney and Mt. Gambier, Australia; at the celebration commemorating the 40th anniversary of the coronation of the King of Thailand, the 1998 Summit of the Americas in Chile before 34 heads of state, the United Nations "Day of Philosophy" event in Paris sponsored by UNESCO, and the Tokyo Jazz Festival. The students have also participated in tours of Argentina, China, Egypt, India, Morocco, Peru, Russia, Vietnam and, most recently, Jordan with Institute Chairman Herbie Hancock.
Since the program's inception, students have studied with Kenny Barron, Jerry Bergonzi, Dee Dee Bridgewater, Ron Carter, Hal Crook, Jack DeJohnette, Nnenna Freelon, Herbie Hancock, Barry Harris, Roy Haynes, Jimmy Heath, Dave Holland, Wynton Marsalis, Dick Oatts, Danilo Pérez, Dianne Reeves, John Scofield, Wayne Shorter, Horace Silver and Clark Terry, among many others. Program participants benefit from the world-class learning environment at UCLA, recently named the number 1 public university in the United States for the fifth straight year by U.S. News & World Report.
In June 2023, internationally acclaimed trumpeter and composer Ambrose Akinmusire, a 2007 graduate of the program, was named Artistic Director of the Institute of Jazz Performance, returning to guide and encourage the next generation of jazz artists.
About The Herb Alpert School of Music
In January 2016, the University of California Board of Regents formally established the Herb Alpert School of Music as UCLA's 12th professional school and the first music school in the University of California system. Created in 2007 with a $30 million gift from the Herb Alpert Foundation, the school sets a new standard for 21st century music schools by balancing performance and scholarship, and by embracing classical western music, world music and jazz, and popular contemporary music. With more than 580 undergraduate and graduate students, the school offers 15 bachelor's, master's and doctoral degree programs through three highly rated academic departments, each with internationally acclaimed faculty. The Department of Music competes for students with the nation's top music schools. It provides intensive individual studio instruction, thorough theoretical training and full participation in large and small ensembles, and offers many degree tracks including the M.M. degree in conjunction with the Herbie Hancock Institute of Jazz. The Department of Ethnomusicology is the only one of its kind in the U.S. and the most celebrated program in the world for the study of diverse musical cultures. The Department of Musicology teaches and conducts research on jazz, heavy metal, techno, musical theater, and other forms of popular music as well as European classical music. The National Research Council recently recognized UCLA Musicology as the top ranked academic music doctoral program in the U.S.
Meet the Class of 2025
Six extraordinary young jazz musicians from around the world were selected for the Herbie Hancock Institute of Jazz Performance at UCLA, Class of 2025. Each will begin the intensive, full-scholarship program in September 2023 and attain a Master of Music in Jazz Performance degree from The UCLA Herb Alpert School of Music – one of the nation's top music schools – in spring 2025.
Ebunoluwa Daramola, drums, was born in the Netherlands and grew up in Nigeria and Perth, Western Australia. He was introduced to a wide variety of music and began studying jazz in high school. Daramola was named Outstanding Performer at the Western Australian Schools Jazz Festival in 2014 and 2017. He attended the James Morrison Academy at the University of South Australia, where he studied with James Morrison, Mat Jodrell, Jeff Clayton and Carl Mackey. Daramola has performed across Australia with James Muller, James Morrison, Angela Davis, William Barton and as the leader of his own groups.
Destiny Diggs-Pinto, bass, was born in Newark, New Jersey and began studying music at age 10. She participated in the Jazz House Kids program and played in the New Jersey Youth Symphony and the Youth Orchestra of Essex. She was the winner of the National YoungArts Merit Double Bass Award. Diggs-Pinto was awarded a full scholarship to attend the Manhattan School of Music. She has studied with Ron Carter, Buster Williams and James Genus, among others. Diggs-Pinto has performed with Winard Harper, Jon Faddis and Willerm Delisfort. In 2023, she was named a Sister in Jazz by the Jazz Education Network.
Alden Hellmuth, alto saxophone, was born and raised in Hartford, Connecticut. She studied saxophone with Kris Allen at the Greater Hartford Academy for the Arts and was awarded a full scholarship to attend the Hartt School's Jackie McLean Institute, where she studied with Abraham Burton. Hellmuth was selected to participate in Focusyear in Basel, Switzerland, where she performed with artists including Miguel Zenón, Larry Grenadier, Lionel Loueke, and Linda May Han Oh. She was a semifinalist for the New Music USA Next Jazz Legacy program and received the Dorothy Goodwin Scholarship for her work honoring women. Hellmuth has toured with Jeremy Pelt and Louis Hayes, and arranged music for Moses Sumney and Brandee Younger.
Miles Lennox, piano, was born in Fort Lauderdale, Florida. He attended the Dillard Center for Arts, where he studied with Stephen Scott. Lennox has participated in the GRAMMY Camp, the Jazz at Lincoln Center Summer Jazz Camp, the Florida All-State Jazz Band and the YoungArts program. He received his bachelor's degree from the Manhattan School of Music. Lennox has studied with Stefon Harris, Marc Cary, Phil Markowitz and Jimmy Petullo, and has performed with jazz greats including Wynton Marsalis, Sean Jones, Jon Faddis and Bobby Watson.
Sasha Ripley, tenor saxophone, was born and raised in Houston and began studying saxophone at age 13. He attended the Kinder High School for Visual and Performing Arts, where he graduated with a Distinguished Level of Achievement diploma. Ripley attended the Skidmore Jazz Camp and participated in the Herbie Hancock Institute's Peer-to-Peer tours, performing with Sean Jones and Antonio Hart. He was awarded a full-tuition scholarship to attend the Berklee College of Music, where he participated in the Global Jazz Institute and studied with Danilo Pérez, John Patitucci, Tia Fuller, Kurt Elling and Gary Bartz. Ripley has performed extensively across the country with a variety of artists.
Yakiv Tsvietinskyi, trumpet, was born and raised in Dnipro, Ukraine and began his music studies on piano at age 6. He received his undergraduate degree from the M. Glinka Academy of Music. While in college, he participated in the Making Music Across Borders program. Tsvietinskyi received a Fulbright grant for education, which enabled him to attend Western Michigan University and attain a master's degree. He also participated in the Betty Carter Jazz Ahead program at the Kennedy Center, where he had the opportunity to study with Jason Moran. A recipient of two DownBeat Student Music Awards, Tsvietinskyi was accepted into the Focusyear program in Basel, Switzerland. He has taught music in Dnipro, Kyiv and Lviv.