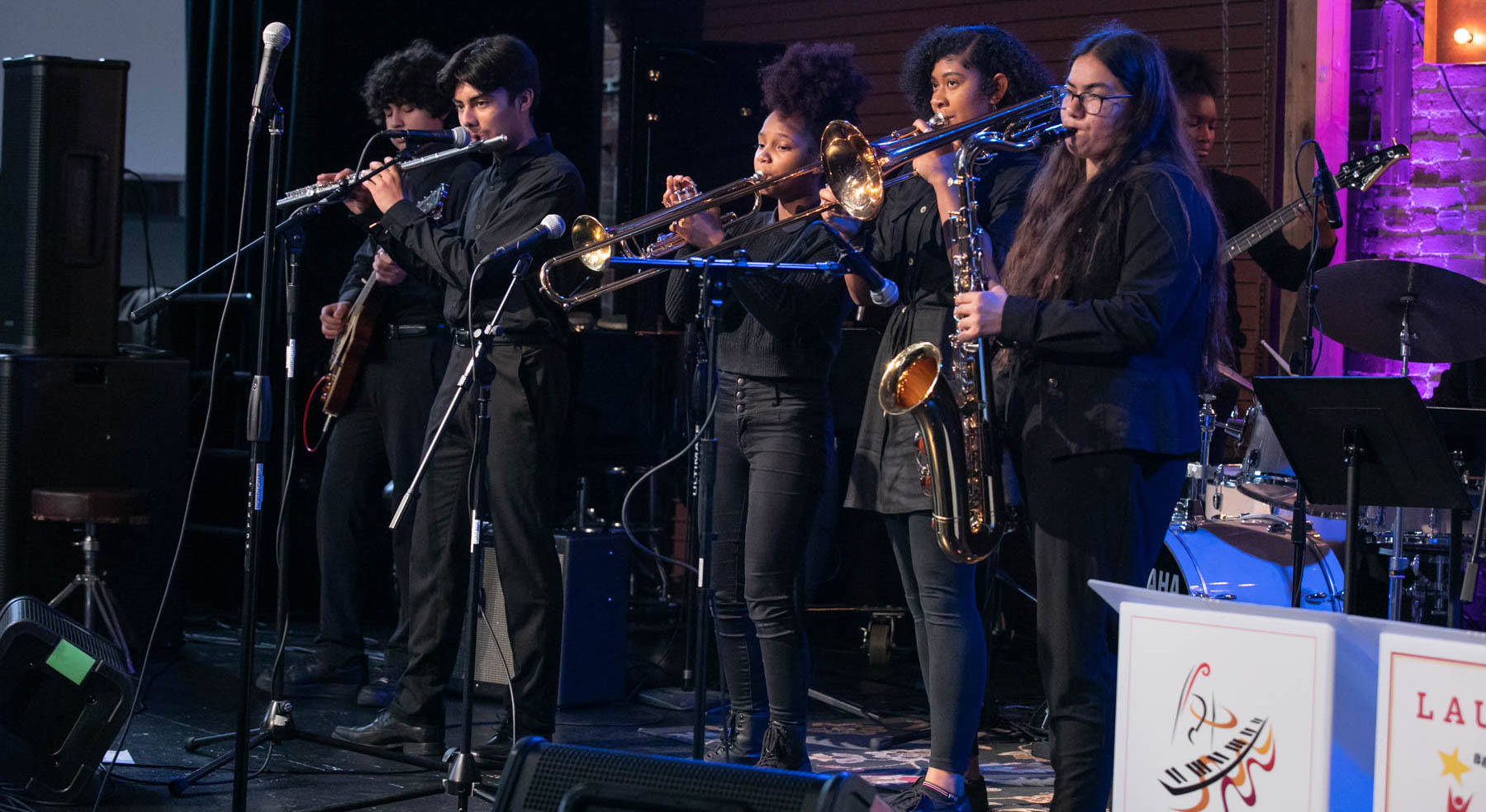 Jazz In The Classroom
The Institute's worldwide, highly regarded Jazz in the Classroom programs are tailored for elementary, middle, high school and college students to help them develop an understanding of and appreciation for jazz music. The initiative strives to share the positive aspects of jazz with young people who would not otherwise have opportunities to learn about this great national treasure.
Jazz in the Classroom was developed in response to drastic reductions in public funding for music education. The goal is to expand children's musical knowledge and encourage imaginative thinking, creativity, a positive self image and a respect for their own and others' cultural heritage. Through these programs, the Institute has reached millions of students, teachers, and families in major cities as well as rural and remote communities, with many of the participants experiencing jazz for the first time.
The Institute presents a number of programs for low-income youth in urban areas as well as programs serving young people in rural and remote communities. Through teaching and mentoring, jazz masters play a major role in the continued evolution of the music, the development of new artists, and the expansion of a broad listening audience to support the music.
With the COVID-19 pandemic continuing to impact learning across the country, the Institute is working closely with teachers and officials at each of its partner schools to offer instruction that meets students' needs while also adhering to public health policies. The Institute continues to offer virtual programming where necessary.
Click here to make a tax-deductible contribution in support of the Institute's free Jazz in the Classroom programs.
Click here to view sample press coverage of Jazz in the Classroom.
History & Impact
Since 1989, the Institute has been presenting Jazz in the Classroom programs for young people throughout the United States and abroad. In recent years, the Institute has presented public school master classes and assembly programs featuring some of the greatest names in jazz, including McCoy Tyner, Branford Marsalis, Danilo Perez, Stanley Jordan, John Patitucci, Bobby Watson, George Duke, Kenny Garrett, and Chick Corea. These programs have been presented in public schools across America, ranging from the LaGuardia High School for Music & Art and Performing Arts in New York City and Woodrow Wilson High School in Washington, DC to Roosevelt High School in Seattle and the Los Angeles County High School for the Arts.
The Jazz in the Classroom series began with the late jazz icon Clark Terry, who took a group of gifted American and European music students to Dolo, Italy, as part of an intensive educational summer program. Other noteworthy programs included drummer Max Roach presenting a jazz studies program to over 11,000 public school students in North Carolina, and a With Strings Attached guitar series. In addition, the Institute has presented a series of assemblies, master classes, and workshops led by jazz masters for young people in Alaska, Arizona, California, Connecticut, the District of Columbia, Florida, Idaho, Maine, Massachusetts, Montana, New York, North Carolina, Ohio, Oregon, Texas, Washington, and on the islands of Bermuda, Jamaica, and St. Lucia.
The Institute was one of the first arts organizations to use interactive satellite television for music education as a part of Jazz in the Classroom. These programs have featured Herbie Hancock, Clark Terry, Joshua Redman, Christian McBride, Terri Lyne Carrington, Wah Wah Watson, and Pat Metheny.
The Institute is dedicated to its mission of preserving and promoting jazz–America's musical heritage. The Institute's educational programs ensure that jazz will have a bright future for generations to come.