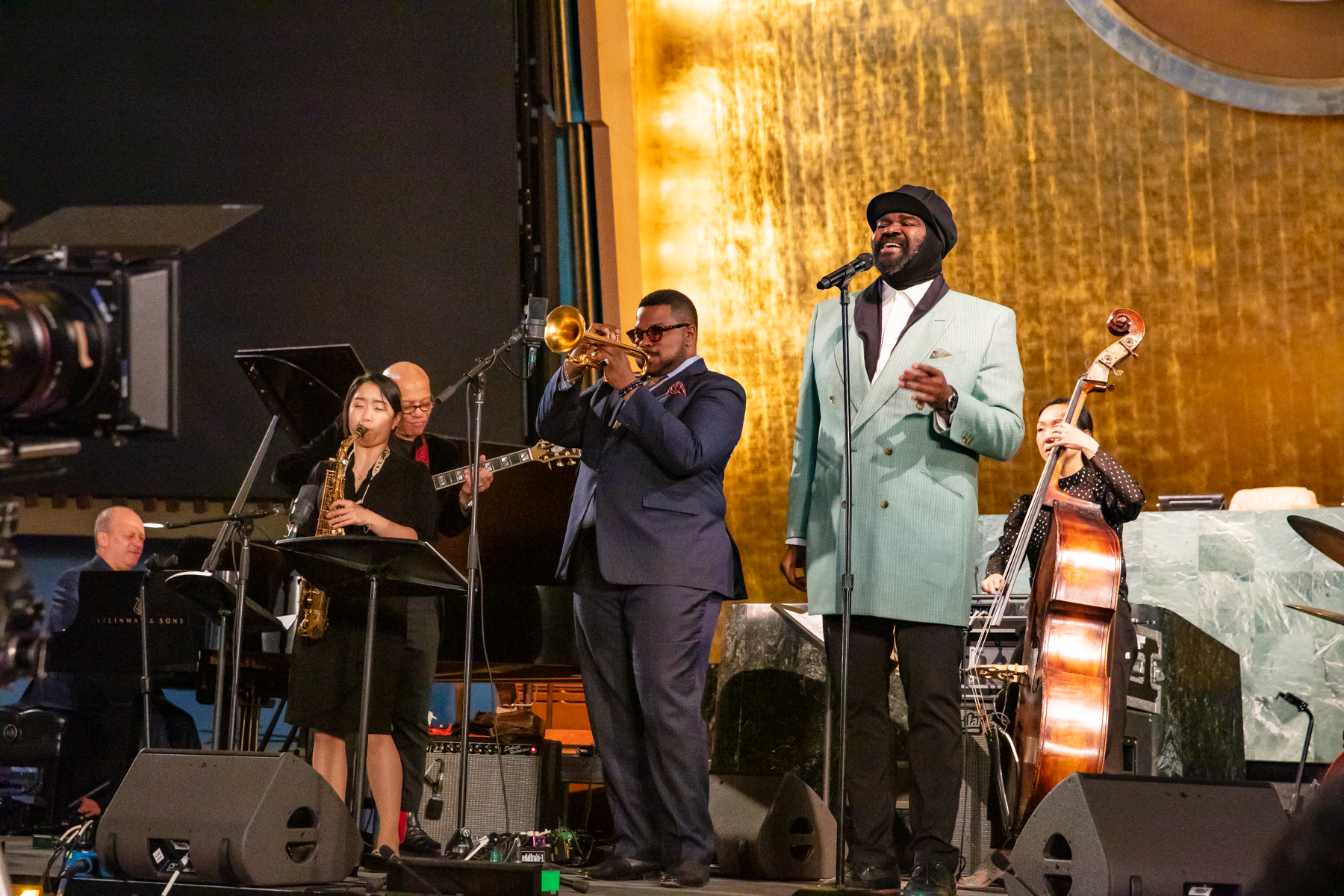 International Jazz Day
The 12th annual International Jazz Day came to a thrilling close with a spectacular All-Star Global Concert featuring performances from Beijing, Beirut, Johannesburg, New York, Rio de Janeiro, Vienna and beyond. The All-Star Global Concert showcased celebrated jazz artists including Cyrille Aimée (France), Ambrose Akinmusire (USA), Thana Alexa (Croatia), John Beasley (USA), Dee Dee Bridgewater (USA), Musekiwa Chingodza (Zimbabwe), Emmet Cohen (USA), Kurt Elling (USA), Oran Etkin (Israel), Tom Gansch (Austria), Christian McBride (USA), Sérgio Mendes (Brazil), Marcus Miller (USA), Thandi Ntuli (South Africa), Dianne Reeves (USA), Antonio Sánchez (Mexico), Somi (Rwanda) and many others.
To mark International Jazz Day 2023, former U.S. President Bill Clinton and UNESCO Goodwill Ambassador Herbie Hancock met for an historic conversation about the impact of jazz on their lives and humanity. The two friends reminisced about how they fell in love with jazz and which musicians have most captivated them over the years. They shared stories of how jazz has opened doors across the globe and how their musical experiences helped deepen their own personal and professional growth. Clinton and Hancock connected on the power that jazz can have in shaping our world for the better.
The International Jazz Day 2023 celebration included thousands of jazz performances, jam sessions, master classes, education and community outreach initiatives, and other special events in 195 countries and all 50 U.S. states. Additionally, UNESCO and the Herbie Hancock Institute of Jazz presented educational programs in five languages.
About International Jazz Day
In November 2011, the United Nations Educational, Scientific and Cultural Organization (UNESCO) officially designated April 30 as International Jazz Day in order to highlight jazz and its diplomatic role of uniting people in all corners of the globe. International Jazz Day is chaired and led by the UNESCO Director General and legendary jazz pianist and composer Herbie Hancock, who serves as a UNESCO Ambassador for Intercultural Dialogue and Chairman of the Institute. The Institute is the nonprofit charged with planning, promoting and producing this annual celebration.
International Jazz Day brings together communities, schools, artists, historians, academics, and jazz enthusiasts all over the world to celebrate and learn about jazz and its roots, future and impact; raise awareness of the need for intercultural dialogue and mutual understanding; and reinforce international cooperation and communication. Each year on April 30, this international art form is recognized for promoting peace, dialogue among cultures, diversity, and respect for human rights and human dignity; eradicating discrimination; promoting freedom of expression; fostering gender equality; and reinforcing the role of youth in enacting social change.
International Jazz Day is the culmination of Jazz Appreciation Month, which draws public attention to jazz and its extraordinary heritage throughout April. In December 2012, the United Nations General Assembly formally welcomed the decision by the UNESCO General Conference to proclaim April 30 as International Jazz Day. The United Nations and UNESCO now both recognize International Jazz Day on their official calendars.
2022

The 2022 Global Concert was hosted at United Nations Headquarters in New York. The Global Concert returned to the UN General Assembly Hall in a nod to the inaugural International Jazz Day Sunset Concert in 2012, symbolizing jazz's continued important role as a force for dialogue and diplomacy.
With a worldwide webcast on Facebook, YouTube, jazzday.com, unesco.org, hancockinstitute.org, UN Web TV and U.S. State Department outlets, the 2022 All-Star Global Concert made a powerful statement in support of peace, healing and unity through a diverse series of performances by leading jazz artists from around the globe.
With Herbie Hancock serving as Host and Artistic Director and John Beasley as Musical Director, the program showcased the extraordinary potential of jazz as a medium for peaceful collaboration and constructive dialogue. Participating artists included vocalists Shemekia Copeland, José James, Youn Sun Nah (Republic of Korea), Gregory Porter, Alune Wade (Senegal) and Lizz Wright; pianists Joey Alexander (Indonesia), Helio Alves (Brazil), Laurent de Wilde (France), Hiromi (Japan), Ray Lema (Democratic Republic of Congo), and Tarek Yamani (Lebanon); drummers Terri Lyne Carrington and Brian Blade; bassists James Genus, Marcus Miller and Linda May Han Oh (Australia); saxophonists Ravi Coltrane, David Sanborn and Erena Terakubo (Japan); guitarist Mark Whitfield and trumpeters Randy Brecker and Jeremy Pelt, among others. Also joining the global ensemble were harmonicist Grégoire Maret (Switzerland), harpist Edmar Castañeda (Colombia), percussionist Pedrito Martínez (Cuba) and clarinetist Kinan Azmeh (Syria).
In the lead-up to the 2022 All-Star Global Concert, a series of free education programs featuring renowned artist-educators were streamed via jazzday.com, YouTube and Facebook.
In parallel, a vast array of International Jazz Day events took place in more than 180 countries worldwide.
2021
International Jazz Day 2021 again saw over 190 countries participate in the worldwide celebration, with a spectacular All-Star Global Concert for the first time featuring artists performing from cities across the globe. With segments shot on-location in New York, Los Angeles, London, Monaco, Paris, Moscow, Cape Town, Tokyo and Rio De Janeiro, among other locations, the 2021 concert showcased the universality of jazz in inimitable style. Hosted by Academy Award winner Michael Douglas from UN Headquarters in New York and with artistic direction from Herbie Hancock and musical direction from John Beasley, the concert featured an array of renowned artists representing more than 20 countries.
In the lead-up to the All-Star Global Concert, students of all ages around the world benefitted from a series of free virtual education programs with acclaimed educators, musicians and public figures, including Herbie Hancock, UNESCO Director-General Audrey Azoulay, Kris Bowers, Terri Lyne Carrington, Antonio Sánchez, Linda Oh and many more. As humanity continued to grapple with the challenges of COVID-19, thousands of organizers from dozens of countries around the world created their own creative online and hybrid tributes to International Jazz Day, in a show of global solidarity.
As in previous editions, the 2021 celebration saw partners in more than 190 countries on all seven continents create their own International Jazz Day commemorations, ranging from concerts and charity fundraisers to jam sessions, educational workshops and online meet-ups of all sizes.
2020
Due to the ongoing COVID-19 pandemic, the 9th annual International Jazz Day worldwide celebration transitioned to a virtual format for 2020 instead of taking place as previously planned in Cape Town, South Africa and other locations around the world on April 30th. The 2020 Virtual Global Concert featured appearances by Herbie Hancock, Morgan Freeman, Forest Whitaker, Marcus Miller, Charlie Puth, Lang Lang, Dee Dee Bridgewater, Dianne Reeves, Cécile McLorin Salvant and many others paying tribute to front-line health workers as well as the many jazz legends who passed prematurely due to complications from COVID-19. To uplift and inspire those sheltering at home in advance of the concert, the Institute curated an all-virtual education and outreach program in Arabic, Chinese, English, French, Spanish and Russian and presented it entirely free of charge via Facebook Live.
2019
The 2019 celebration featured a constellation of events across the continent of Australia, with key celebrations in Sydney and Melbourne. Education programs in both cities saw jazz masters like International Jazz Day Co-Chair Herbie Hancock, 2019 Co-Artistic Director James Morrison, Antonio Hart, Eli Degibri and Eric Reed work closely with students of all ages and levels. A special highlight featured Hancock and Morrison as part of a master class on jazz history 101 at the Sydney Opera House, a UNESCO World Heritage Site. DownBeat Magazine called the 2019 edition's Education & Outreach Program "its most expansive yet."
The April 30 festivities culminated in the eighth annual All-Star Global Concert, featuring an international roster of artists from more than a dozen countries. Iconic jazz pianist Herbie Hancock (USA) and acclaimed trumpeter James Morrison (Australia) fronted the evening's performances, with John Beasley (USA) serving as musical director. The 2019 All-Stars included Cieavash Arian (Iran), William Barton (Australia), Brian Blade (USA), A Bu (China), Igor Butman (Russian Federation), Theo Croker (USA), Joey DeFrancesco (USA), Eli Degibri (Israel), Kurt Elling (USA), James Genus (USA), Paul Grabowsky (Australia), Antonio Hart (USA), Matthew Jodrell (Australia), Aditya Kalyanpur (India), Ledisi (USA), Jane Monheit (USA), James Muller (Australia), Eijiro Nakagawa (Japan), Mark Nightingale (United Kingdom), Jeff Parker (USA), Chico Pinheiro (Brazil), Tineke Postma (Netherlands), Eric Reed (USA), Antonio Sánchez (Mexico), Somi (USA), Ben Williams (USA), Lizz Wright (USA) and Tarek Yamani (Lebanon).
2018
St. Petersburg, Russian Federation served as the International Jazz Day 2018 Global Host City. Festivities took place from April 28 – 30 in some of the city's most significant venues, including the Saint Petersburg State Jazz Philharmonic Hall and the Mariinsky Theatre.
Iconic jazz pianist Herbie Hancock (USA) and renowned saxophonist Igor Butman (Russia) served as Artistic Co-Directors of the all-star concert and John Beasley (USA) served as the evening's musical director. The concert featured performances by an international roster of artists including Oleg Akkuratov (Russia), Till Brönner (Germany), Oleg Butman (Russia), Terri Lyne Carrington (USA), Fatoumata Diawara (Mali), Joey DeFrancesco (USA), Vadim Eilenkrig (Russia), Kurt Elling (USA), Antonio Faraò (Italy), James Genus (USA), Robert Glasper (USA), David Goloschekin (Russia), Hassan Hakmoun (Morocco), Gilad Hekselman (Israel), Horacio Hernandez (Cuba), Taku Hirano (Japan), Anatoly Kroll (Russia), Gaoyang Li (China), Rudresh Mahanthappa (USA), The Manhattan Transfer (USA), Branford Marsalis (USA), James Morrison (Australia), the Moscow Jazz Orchestra (Russia), Makoto Ozone (Japan), Danilo Pérez (Panama), Dianne Reeves (USA), Lee Ritenour (USA), Luciana Souza (Brazil) and Ben Williams (USA), among others.
2017
Havana, Cuba served as the 2017 Global Host City. As part of an extended International Jazz Day celebration, from April 24 through 30 acclaimed musicians and educators from Cuba and around the world participated in free jazz performances, master classes, improvisational workshops, jam sessions and community outreach initiatives. Programs took place at schools, arts venues, community centers, jazz clubs and parks across the city of Havana and throughout Cuba, leading up to the festivities on April 30th. Additionally, jazz history and education programs were provided for tens of thousands of students in over 11,000 schools across Cuba.
The day culminated with an All-Star Global Concert presented at the Gran Teatro de La Habana Alicia Alonso, under the auspices of the Ministry of Culture of Cuba, the Cuban Institute of Music and the Cuban National Commission for UNESCO. The concert was streamed online by UNESCO and featured an extraordinary array of artists from around the world paying tribute to the international art form of jazz. Learn more about the 2017 International Jazz Day celebration.
2016
Washington, D.C. served as the International Jazz Day 2016 Global Host City. President Barack Obama and First Lady Michelle Obama hosted the International Jazz Day All-Star Global Concert at the White House. The show aired as a U.S. network television special and was streamed around the world via the United Nations, UNESCO and the U.S. State Department. A host of jazz legends and rising stars performed, including pianists Joey Alexander (Indonesia), John Beasley (Music Director), Kris Bowers, Chick Corea, Robert Glasper, Herbie Hancock, Danilo Pérez (Panama) and Chucho Valdés (Cuba); trumpeters Terence Blanchard, Till Brönner (Germany), Hugh Masekela (South Africa), James Morrison (Australia); vocalists Dee Dee Bridgewater, Jamie Cullum (UK), Kurt Elling, Aretha Franklin, Al Jarreau, Diana Krall (Canada), Dianne Reeves and Sting (UK); saxophonists Eli Degibri (Israel), David Sánchez, Wayne Shorter and Bobby Watson; bassists Christian McBride, Marcus Miller, Esperanza Spalding and Ben Williams; guitarists Buddy Guy, Lionel Loueke (Benin), Pat Metheny and Lee Ritenour; drummers Brian Blade, Terri Lyne Carrington and Kendrick Scott; percussionist Zakir Hussain (India); trombone player Trombone Shorty; and the Rebirth Brass Band. More than 60 jazz performances, education programs and community service initiatives were presented free of charge across Washington, D.C. on the National Mall, at historic Dupont Circle, in the city's metro stations, and at museums, libraries, social service agencies, hospitals and performing arts centers.
In parallel with the Global Host celebration, an enormous variety of jazz performances and programs took place in more than 190 countries. Nearly 1,000 events were organized, including several multi-day festivals and a range of educational and community outreach activities.
2015
Paris, France served as the 2015 Global Host City. Rich in history and culture, the City of Lights was a fitting choice for this year's host celebration given its historically vibrant and innovative jazz scene.
A daylong series of over 80 performances and education programs
, including workshops, master classes, jam sessions and panel discussions, took place across all 20 city districts. The vast majority of events were free and open to the public. An array of French and international artists participated, ensuring that the streets of Paris truly did ring with the sounds and sights of jazz from morning until night on April 30.
In conjunction with UNESCO's 70th Anniversary celebration, a spectacular 
All-Star Global Concert took place at UNESCO headquarters
 on the Place de Fontenoy, with opening remarks by UNESCO Director-General Irina Bokova and United Nations Secretary-General Ban Ki-Moon. The show featured more than 20 extraordinary artists from 14 countries, including pianists John Beasley (Music Director), A Bu (China), Antonio Faraò (Italy) and Herbie Hancock; trumpeters Till Brönner (Germany), Hugh Masekela (South Africa) and Claudio Roditi (Brazil); vocalists Dee Dee Bridgewater, Al Jarreau, Rudy Pérez and Dianne Reeves; saxophonists Igor Butman (Russia), Femi Kuti (Nigeria), Guillaume Perret (France) and Wayne Shorter; bassists James Genus and Marcus Miller; guitarist Lee Ritenour; drummer Terri Lyne Carrington and harmonica player Grégoire Maret (Switzerland).
The Paris celebration was one part of a 
massive worldwide observance
 of International Jazz Day, with over 800 events taking place in more than 190 UN and UNESCO member states.
2014
Osaka, Japan served as the 2014 Global Host City. The day's festivities began with 6 hours of free jazz education programs at the state-of-the-art Osaka School of Music, where musicians, journalists, philanthropists and educators converged to deliver workshops, lectures, master classes, panel discussions and more. Opening with a rousing duet rendition of Louis Armstrong's "West End Blues" by Japanese jazz artists and philanthropists Yoshio & Keiko Toyama, the daytime activities included such highlights as an interview between Associated Press journalist Charles Gans and renowned vocalist Dee Dee Bridgewater on jazz and human rights; a discussion featuring UNESCO Goodwill Ambassador Herbie Hancock and UNESCO Artist for Peace Marcus Miller on "Artists for Peace & Cultural Diplomacy;" and instrumental workshops with acclaimed artists Terumasa Hino and Earl Klugh. This year's educational program reached over 10,000 people with the help of live streaming technology.
The evening All-Star Global Concert at the famed outdoor Osaka Castle Park featured stunning performances by Toshiko Akiyoshi (Japan), John Beasley (Musical Director), Kris Bowers, Dee Dee Bridgewater, Terri Lyne Carrington, Theo Croker, Sheila E., Pete Escovedo, Roberta Gambarini (Italy), Kenny Garrett, James Genus, Roy Hargrove, Lalah Hathaway, Terumasa Hino (Japan), Earl Klugh, Marcus Miller, T.S. Monk, Gregory Porter, Claudio Roditi (Italy), John Scofield, Wayne Shorter, Esperanza Spalding, Lew Tabackin, Steve Turre, Dionne Warwick and other internationally acclaimed artists. Dignitaries from UNESCO and the Japanese government also attended. In a stirring demonstration of the true breadth of International Jazz Day's message, the audience was treated to a special video message from astronauts aboard the International Space Station orbiting over 200 miles above the earth's surface. The concert was streamed live and seen by millions of people worldwide on www.jazzday.com and via the UNESCO, United Nations, U.S. State Department and Thelonious Monk Institute of Jazz websites. Additionally, the concert was taped for broadcast on public television stations around the world.
As in 2013, all 196 member states of UNESCO and the United Nations joined in the celebrations, with organizers and institutions everywhere planning festivals, concerts, parades, jam sessions, jazz flash mobs, art and photo exhibitions, lectures, discussions, education programs and much more on and around April 30. With the participation of Antarctica's McMurdo and Palmer research stations, the third annual International Jazz Day included events on all 7 continents.
2013
Istanbul, Turkey was named the 2013 Global Host City for International Jazz Day. The city hosted a daylong series of jazz events including workshops and seminars, panels and roundtable discussions, film screenings, student master classes led by prominent musicians and educators, and – of course – live performances.
The crowning event of the celebration was the Global Concert in the Hagia Irene, a 4th-century Byzantine Church. The star-studded evening featured an extraordinary series of performances from Dale Barlow (Australia), John Beasley, Rubén Blades (Panama), Terence Blanchard, Igor Butman (Russia), Terri Lyne Carrington, Anat Cohen (Israel), Vinnie Colaiuta, Imer Demirer (Turkey), George Duke, James Genus, Robert Glasper, Herbie Hancock, Zakir Hussain (India), Al Jarreau, Bilal Karaman (Turkey), Ramsey Lewis, Pedrito Martinez, Hugh Masekela, Branford Marsalis, Keiko Matsui (Japan), John McLaughlin (UK), Marcus Miller, Thelonious Monk, Jr., Milton Nascimiento (Brazil), Eddie Palmieri, Alevtina Polyakova (Russia), Jean-Luc Ponty (France), Dianne Reeves, Lee Ritenour, Hüsnü Şenlendirici (Turkey), Wayne Shorter, Esperanza Spalding, Joss Stone, Joe Louis Walker and Ben Williams.
Attendees also heard remarks from International Jazz Day Co-Chairs Herbie Hancock and Irina Bokova, and guest speaker Martin Luther King III, among others. The evening's festivities were broadcast live online and on public television stations worldwide, with "Listening Parties" organized in countries from the U.S. to Trinidad and Tobago to Georgia to Bhutan.
In the true spirit of the Day, citizens the world over showed their love for jazz by participating in jam sessions, concerts, flash mobs, lectures, and film screenings; producing video tributes; and taking the conversation digital on Facebook, Twitter, and beyond.
2012
UNESCO and United Nations missions, U.S. embassies and government outposts around the world hosted special events for the first annual International Jazz Day on April 30, 2012. Universities, libraries, schools, community centers, performing arts venues and arts organizations of all disciplines around the world marked the day through concerts, education programs, seminars, lectures, book readings, public jam sessions, master classes, photo exhibitions, dance recitals, film and documentary screenings, theater presentations and spoken word performances. More than one billion people around the world were reached through 2012 International Jazz Day programs and media coverage.
In 2012, UNESCO and the Thelonious Monk Institute of Jazz presented three high-profile programs: a daylong celebration in Paris at UNESCO world headquarters; a sunrise concert in New Orleans' Congo Square, the birthplace of jazz; and a sunset concert at the United Nations General Assembly Hall in New York City. Among the world-renowned artists that participated were John Beasley, Tony Bennett, George Benson, Terence Blanchard, Richard Bona (Cameroon), Dee Dee Bridgewater, Candido, Teri Lyne Carrington, Ron Carter, Robert Cray, Jack DeJohnette, George Duke, Sheila E., Herbie Hancock, Antonio Hart, Jimmy Heath, Hiromi (Japan), Zakir Hussain (India), Chaka Khan, Angelique Kidjo (Benin), Lang Lang (China), Joe Lovano, Romero Lubambo (Brazil), Shankar Mahadevan (India), Ellis Marsalis, Wynton Marsalis, Hugh Masekela (South Africa), Christian McBride, Marcus Miller, Danilo Pérez (Panama), Wayne Shorter, Esperanza Spalding, Treme Brass Band and Stevie Wonder. Hosts included Robert De Niro, Michael Douglas, Morgan Freeman and Quincy Jones.
The Institute and UNESCO will continue their partnership to encourage schools, universities, libraries, arts organizations, community centers and other entities in UNESCO's 195 member states to host jazz concerts and educational programs on International Jazz Day. Our goal is to reach people of all ages and backgrounds, in order to include them in this global celebration of freedom, creativity, and – above all – jazz.