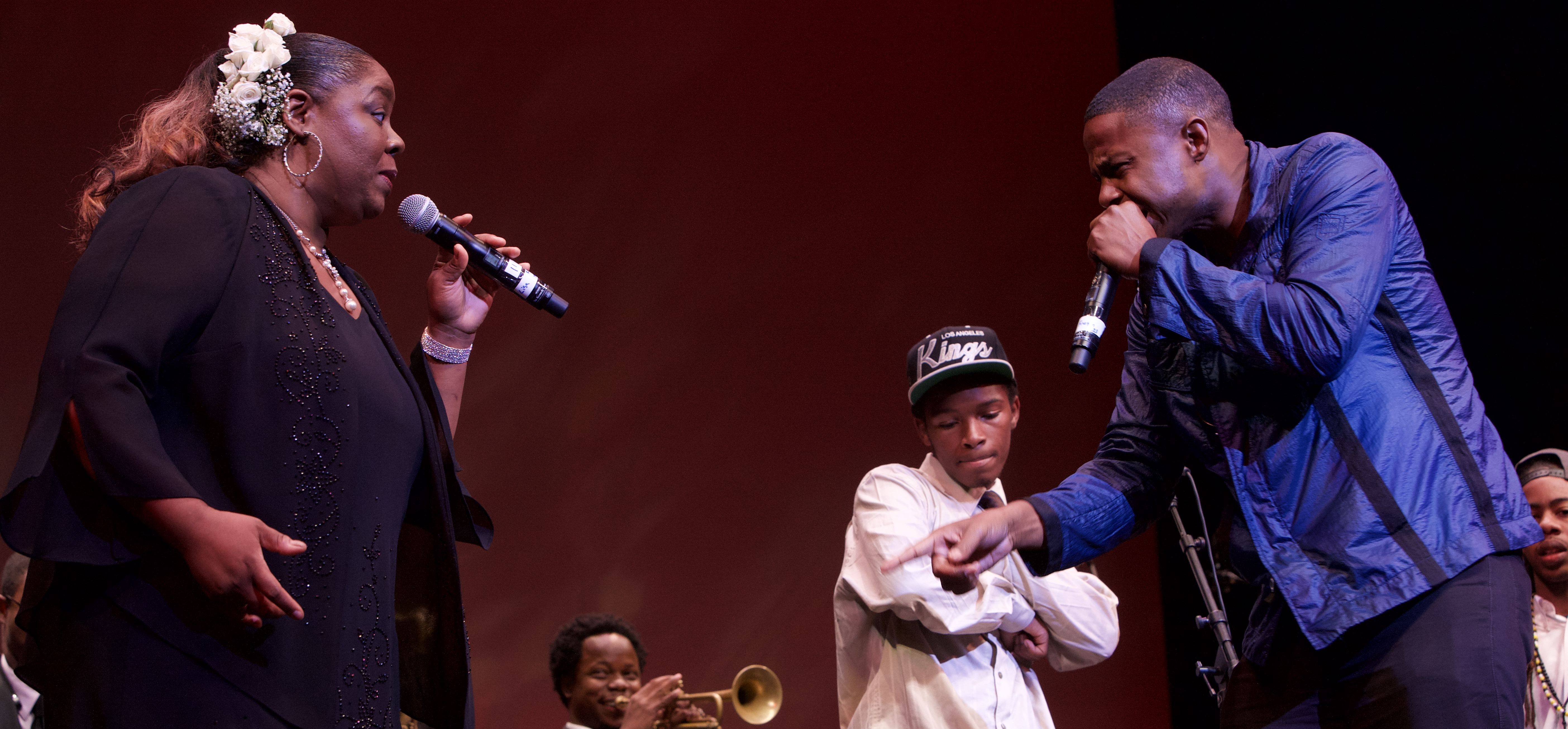 BeBop to Hip-Hop
BeBop to Hip-Hop is one of the most innovative public school music education programs in America. Begun in 2004 in Los Angeles, the program brings together jazz and hip-hop students under the direction of professional jazz musicians and hip-hop artists to create a new art form demonstrating the genius of both musical genres. The aspiring young artists study the musical dynamics of both jazz and hip-hop and learn about the historical influence of jazz on hip-hop.
Each year, 50 students at Manual Arts High School and Washington Preparatory High School work together to compose experimental pieces combining the best of both art forms and record many of these works. Jazz and hip-hop instructors introduce the students to the latest recording technologies and software. The jazz students learn to produce more cutting-edge sounds, construct beats, and incorporate the hip-hop groove into jazz, while the hip-hop students learn how to create and record in a live environment and gain technical skills in music. All of the participants study composition, music theory, arranging, improvisation, lyric writing, turntable scratching, and sampling.
An annual culminating concert highlights the original and spontaneous work that results from this groundbreaking collaboration. Black Entertainment Television broadcast the 2005 concert as a one-hour documentary. In 2007, with support from the National Endowment for the Arts, the BeBop to Hip-Hop students presented community outreach concerts throughout Los Angeles, introducing thousands of residents of all ages to hip-hop and jazz.
During the past several years, the students have performed alongside jazz greats and hip-hop innovators including Terence Blanchard, DJ Spark, Doug E. Fresh, Herbie Hancock, Roy Hargrove, Chris Thomas King, Supernatural, Chali 2na, Bobby Watson, and YoYo. In 2010, the students had a recording of one of their original songs played on KKJZ, the country's most popular jazz station with a weekly listenership of 450,000.