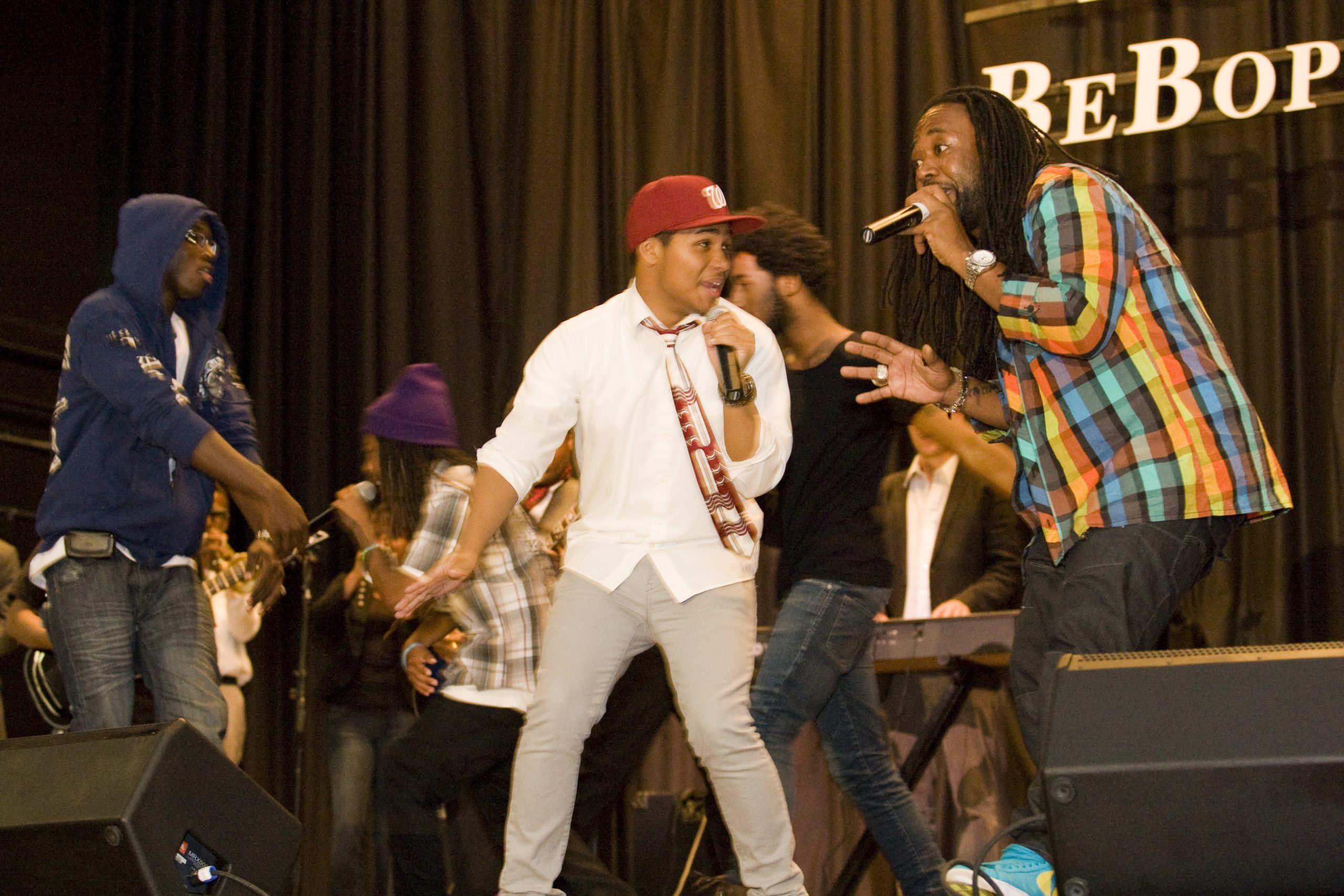 BeBop to Hip-Hop
BeBop to Hip-Hop is one of the most innovative public school music education programs in America. Begun in 2004 in Los Angeles, the program brings together jazz and hip-hop students under the direction of professional jazz musicians and hip-hop artists to create original work that incorporates elements of both genres.
The aspiring young artists study the latest recording technologies and software, familiarize themselves with the musical dynamics of both jazz and hip-hop, learn about the historical influence of jazz on hip-hop, and discover how to produce a professional-level hip-hop track from the ground up–all while absorbing and building upon the rich traditions of Black American art and culture. Jazz students learn to produce cutting-edge sounds, construct beats, and incorporate the hip-hop groove into jazz, while hip-hop students learn how to create and record in a live environment and gain technical skills in music. An annual culminating concert highlights the original and spontaneous work that results from this groundbreaking collaboration.
History & Impact
Launched in 2004 in the Los Angeles public schools, BeBop to Hip-Hop helps young jazz and hip-hop creators connect with and learn from some of the music industry's most respected professionals. Aspiring young musicians study improvisation, lyric writing, music theory, arranging, composition, sampling and more, ultimately integrating their new skills into experimental musical pieces that are developed collaboratively with their peers.
Past instructors have included leading industry figures such as Herbie Hancock, Imani and Tre of the Pharcyde, Billy Childs, Terri Lyne Carrington, Gerald Clayton, DJ Spark, DJ Khalil, Hi-Tek, Doug E. Fresh, Kool Mo Dee, Chali 2na, MC Supernatural, Mike and Keys, Tariq Beats and more.
Original student works have been featured on Black Entertainment Television and KKJZ, the country's most popular jazz radio station.
In 2007, support from the National Endowment for the Arts enabled BeBop to Hip-Hop students to present community outreach concerts throughout Los Angeles, introducing thousands of residents of all ages to hip-hop and jazz.
BeBop to Hip-Hop fills a critical need for inclusive, constructive educational experiences centered around the African-American artistic experience.
In response to COVID-19, the Institute offered the first-ever virtual version of BeBop to Hip-Hop, giving 100 students from across the country and around the world the opportunity to develop their skills and collaborate on entirely original music. Over the course of the 10-week program, creators joined weekly Zoom seminars with renowned professional producers, DJ's and musicians, building their industry network and receiving invaluable feedback on their creations. The final tracks were highlighted in a culminating virtual showcase streamed live on YouTube and Facebook, which reached over 2 million viewers.
Click here to make a tax-deductible contribution in support of the Institute's free BeBop to Hip-Hop programs.