Among the myriad challenges COVID-19 has created for students and teachers, music education has proven a tough nut to crack. This is particularly true for jazz, with its emphasis on interaction, musical conversation and spontaneity – all rendered decidedly less practical by the constraints of virtual learning. Students like Elder Gindroz, a pianist, longtime participant in the Institute's Los Angeles Jazz in the Classroom program and member of the Class of 2021 spent much of the last academic year finding creative ways to stay engaged when the bandstand was off limits.
"It was very disappointing to not be able to play live with my school ensembles and combos this past year," says Gindroz, echoing similar sentiments from young jazz musicians across the country. Still, the talented pianist turned his long hours at home into an opportunity for growth, from brushing up on fundamentals ("practicing, transcribing, listening to a lot of music") to acquiring new competencies that will serve him long after the pandemic has faded. "The newest skill I learned," he notes, "was how to better navigate the process of making recordings at home."
This expertise was on full display at the Institute's Jazz in the Classroom Virtual Spring Concert, presented in June 2021 with the Los Angeles Unified School District's Beyond the Bell Branch Music and Entertainment Education. Gindroz joined his classmates from the top combo, led by Jazz Director Philip Topping, at the Academy of Music and Performing Arts at Hamilton High School for a virtual rendition of Cedar Walton's "Ugetsu."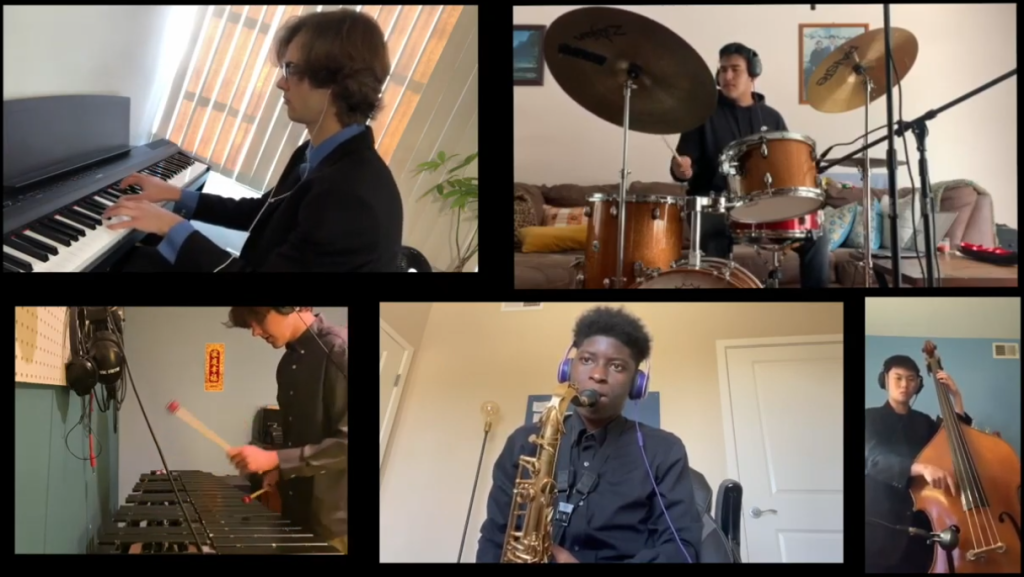 Students performed under the direction of Institute teaching artist Kevin Kanner, a Hamilton alum. As has become a familiar practice over the past 18 months, individual parts were recorded asynchronously at home, and then stylishly edited together by the students. Though none of the players were in the same room, the performance sounded crisp and lively, with swinging solos by Gindroz on piano and bandmates Kobie Dozier on tenor saxophone and Brennan Sakata on bass.
The masterful recording is especially impressive considering that Gindroz, along with fellow recent Hamilton graduates Osmar Barrios and Declan Houlihan, began his jazz journey just five years ago as a Jazz in the Classroom student at Walter Reed Middle School.
All three students credit their time in Institute programs with helping them develop a deep-seated passion for jazz. Notes Barrios, a drummer, "it was amazing to be able to work with extremely talented musicians like Dontae Winslow and Kevin Kanner. They are incredible musicians and human beings. In the sessions that I would get with the school combos I would learn a lot about jazz; not only how to swing but also where jazz comes from. The Institute is a great opportunity to grow musically and as a person."
For Houlihan, a vibraphonist, "the Herbie Hancock Institute was a very significant and essential part of my jazz education, starting in middle school up until my senior year of high school. I feel very lucky and privileged to have been shown the foundations of bebop, how to transcribe, how to listen to my bandmates and play with them–the truest essence of the music."
"I was excited to see three students who were previously in the Jazz in the Classroom program at Reed continue with the program at Hamilton," says Reed Middle School Orchestra and Jazz Director Stewart Rosen. "It is truly amazing to see how far they were able to take jazz in their four years in high school. I am so proud of them, and I know they all have so much to look forward to after graduating."
Gindroz, Barrios and Houlihan now join more than 80 other Institute students across the country who are slated to start their collegiate studies in the fall.
Many members of the Class of 2021 will be entering professional music programs at prestigious institutions such as the Berklee College of Music, Juilliard, New England Conservatory of Music, and Manhattan School of Music. Others plan to pursue studies in areas as diverse as marine biology, physics, business and pre-med at schools including New York University, Stanford, the University of Miami, the University of Michigan, Vanderbilt, California State University, Northridge and many more. Three students will matriculate at UCLA, recently ranked one of the top 15 universities in the world by Times Higher Education and the home of the Institute's master's degree program, the Herbie Hancock Institute of Jazz Performance at The UCLA Herb Alpert School of Music.
Adding to the impressive slate of college destinations is the fact that 76% of graduating seniors secured significant scholarships, with most covering at least 25% of tuition. This financial support is crucial in enabling many Jazz in the Classroom graduates to attend college. As part of their participation in the Institute's program, students have access to experienced mentors and teaching staff who provide vital input on scholarship applications and even advocate directly for students.
Jazz in the Classroom has been a core program of the Institute since 1989, introducing millions of young people to jazz and its rich history through weekly music instruction and instrument training sessions. Like all Institute programs, Jazz in the Classroom is offered entirely free of charge to participating students, families, schools and communities. In addition to regular instruction in major cities like Los Angeles and Washington, D.C., the program reaches tens of thousands of students every year through master classes and assembly programs in urban, rural and remote areas of the country. Leading jazz musicians and educators teach and serve as role models, helping students enhance their creativity and self-esteem.
Beyond enhancing students' understanding of and appreciation for jazz, programs like Jazz in the Classroom have well-documented related benefits, especially for students from low-income or otherwise disadvantaged backgrounds. Through intensive mentorship and regular technical instruction, students are given the tools to unlock their potential in addition to their musical ability – preparing them for success in academics, in the workplace and in later life. As a recent report by the San Francisco Conservatory of Music notes, "The benefits of music training reach far beyond the domain of music-making. Children perform better on IQ tests and enjoy enhanced abilities in other domains, such as mathematics, the ability to focus, make decisions, and hold multiple ideas in their minds at one time." In addition, music programs "improve school attendance and graduation rates."
The Institute is proud that 100% of Jazz in the Classroom students graduate from high school, with more than 95% going on to college.
"Our partnership with the Herbie Hancock Institute of Jazz has been fruitful in more ways that can be measured," says Tony White, coordinator for LAUSD Beyond the Bell Branch Music and Entertainment Education.
"Having the teaching artists from the Institute work side-by-side with our schools has encouraged participants to continue studying and performing jazz, but more importantly has taught them how to use the creative energy that jazz intensifies in all parts of their lives. The students and teachers involved in the program continue to sing (and play) the praises."
For Gindroz, Jazz in the Classroom has played an important role in helping him expand his horizons both on and off the bandstand. The 18-year-old, who will matriculate at California State University, Northridge in the fall, gave his first public jazz performance as an eighth-grader at an Institute concert, and just a few years later was selected to compose and perform an original piece in honor of jazz legend Herbie Hancock.
"Jazz opens up your mind," says Gindroz, "and provides you with a better understanding and appreciation for many other genres of music. Unlike classical piano, which is more about learning and perfecting pieces exactly how they are written, jazz requires you to delve deeper into yourself to improvise and have your own voice. I believe this process builds confidence and originality that will help in many different aspects of life."
Asked about the role of jazz in helping him navigate the challenges of the pandemic, Gindroz simply replied, "Having jazz as a creative outlet during that difficult time was how I kept a positive outlook on life."