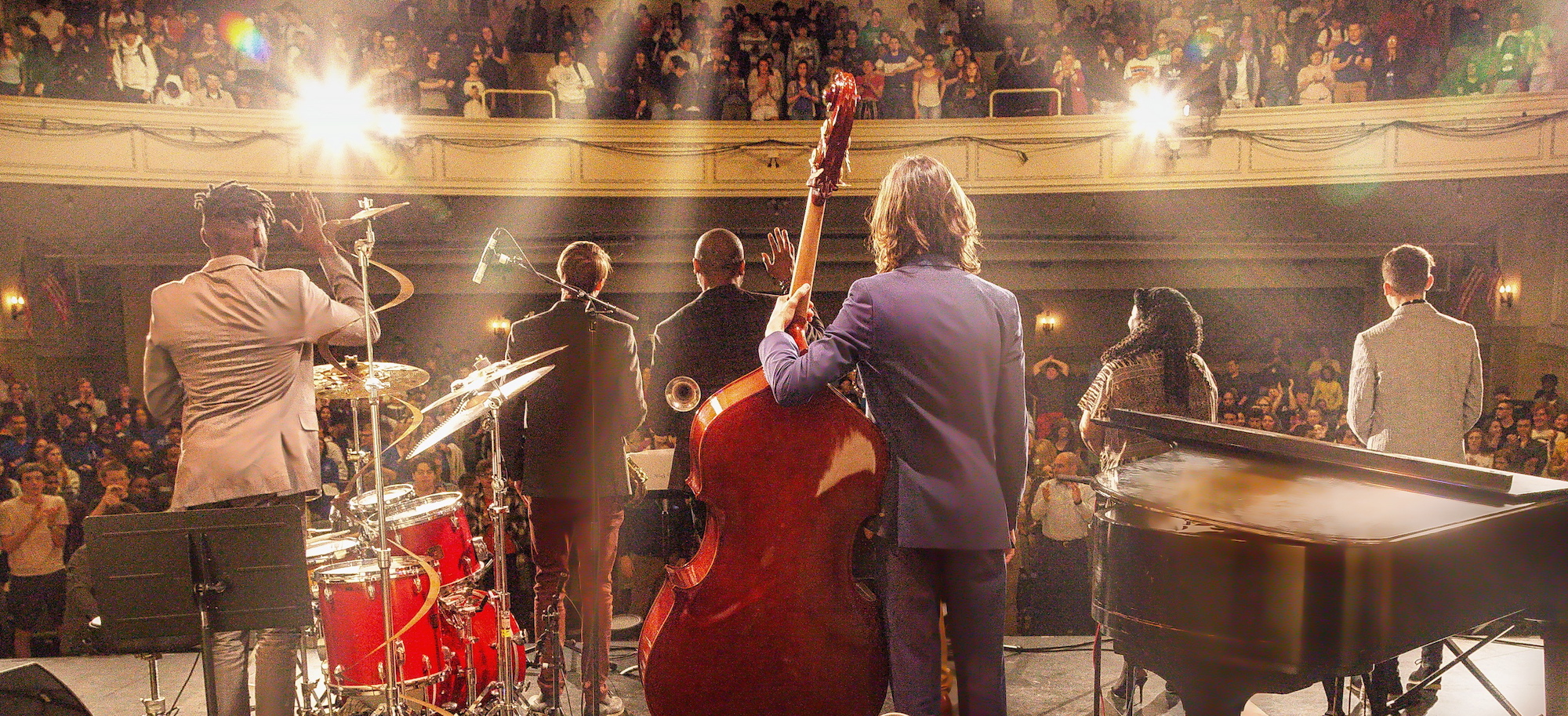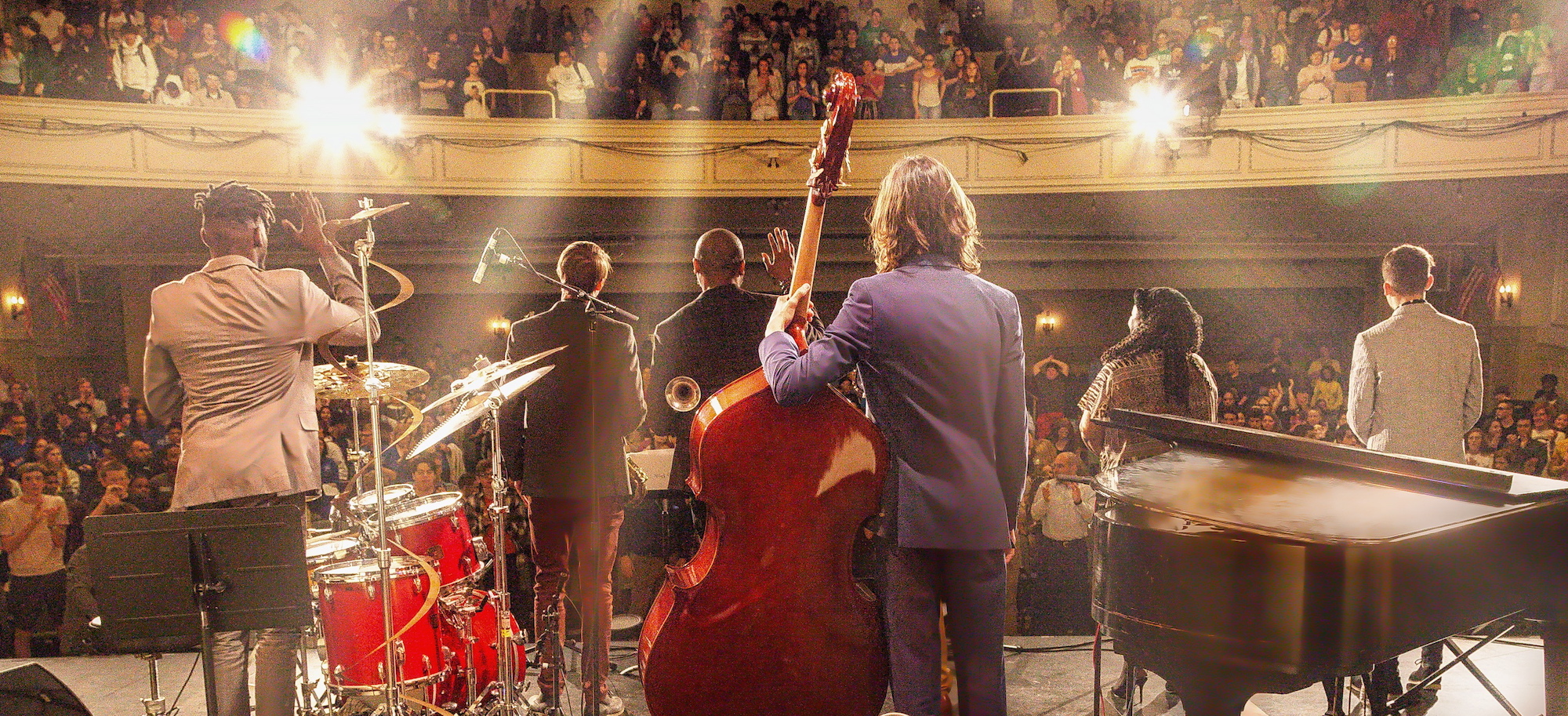 Jazz in America Summer Sessions
During these unprecedented times, we're here to help the students in your life stay engaged through jazz education. This summer, we offered a series of live online educational activities to help students across the United States and around the world learn about jazz–100% for free!
Take a journey into jazz with our free online jazz history and appreciation workshops based on the award-winning learning resource Jazz in America.
NEW: Click here to download the companion handouts for this summer's Jazz in America virtual learning series. Handouts are available for grades 10-12, 7-9 and 4-6.
Open to students of all backgrounds and interests, not just musicians!
What is jazz? Where did it come from? Take a journey through the history of America's greatest musical gift to the world with this FREE 8-session webinar series taught by the Institute's Vice President of Education & Curriculum Development, Dr. JB Dyas. Mini-courses offered for grades 10-12 (June 22-July 8), grades 7-9 (July 13-29) and grades 4-6 (August 3-12). See full schedule below.
Jazz is recognized around the globe for its rich cultural heritage, drawn directly from the African American experience in the United States. From its origins in the early 20th century, jazz has contributed to and been a reflection of American culture and is widely considered to be the only truly original American art form. Today, jazz is studied, performed and appreciated worldwide by people around the world, and has inspired countless other artistic styles and genres.
Each mini-course consists of eight (8) sessions offered via Zoom. Students in grades 4-6, 7-9 and 10-12 are welcome to register. Teachers are also invited to apply.
Register for Free Today
*All sessions begin at 1 pm ET
Grades 10-12
(1-hour sessions)
Monday, June 22 – What Is Jazz?
Wednesday, June 24 – Elements of Jazz
Friday, June 26 –Beginnings of Jazz
Monday, June 29 – The Swing Era
Wednesday, July 1 – Bebop
Thursday, July 2 – Cool, Hard Bop, and Modal Jazz
Monday, July 6 – Avant Garde/Free Jazz; Fusion
Wednesday, July 8 – Jazz Today, Jazz Tomorrow

Grades 7-9
(1-hour sessions)
Monday, July 13 – What Is Jazz?
Wednesday, July 15 – Musical Elements
Friday, July 17 – Roles of the Instruments
Monday, July 20 – Where Did Jazz Come From?
Wednesday, July 22 – Dixieland and the Swing Era
Friday, July 24 – Bebop, Cool Jazz, and Hard Bop
Monday, July 27 – Free Jazz and Fusion
Wednesday, July 29 – Jazz Today, Jazz Tomorrow

Grades 4-6
(45-minute sessions)
Monday, August 3 – What Is Jazz?
Tuesday, August 4 – Early Jazz
Wednesday, August 5 – The Swing Era
Thursday, August 6 – The Harlem Renaissance
Friday, August 7 – Bebop
Monday, August 10 – Cool Jazz
Tuesday, August 11 – Free Jazz and Fusion
Wednesday, August 12 – Jazz Today, Jazz Tomorrow

About Jazz in America
Jazz in America is the first ever internet-based jazz curriculum for social studies, American history and general music classes. Developed by the Herbie Hancock Institute of Jazz, the curriculum aims to provide students with a basic understanding of jazz as a musical form, along with an appreciation of the profound contributions jazz has made to America's cultural and civic life.
In addition to helping create a greater understanding of and appreciation for jazz and its contribution to and reflection of American culture, Jazz in America also provides insight into core values such as teamwork, freedom with responsibility, unity with ethnic diversity, the correlation of hard work and goal accomplishment, and the American spirit. The study of jazz also helps students develop a better understanding of and respect for this country's diverse cultural heritage. And, perhaps, there is no better example of democracy than a jazz ensemble — individual freedom but with responsibility to the group.

The virtual presentation of Jazz in America is made possible through the generous support of AT&T.