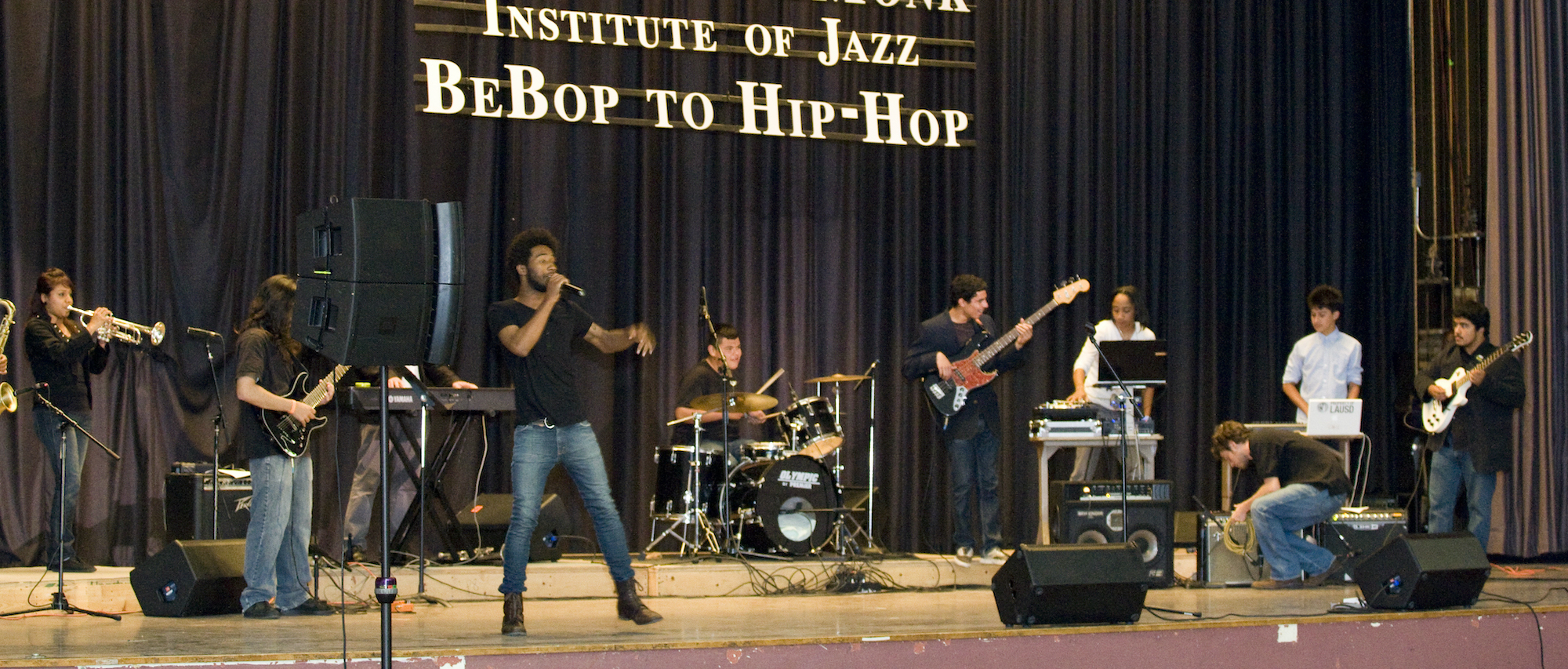 BeBop to Hip-Hop Summer Program
During these unprecedented times, we're here to help the students in your life stay engaged through jazz education. This summer, we offered a series of live online educational activities to help students across the United States and around the world learn about jazz–100% for free!
Watch the culminating virtual concert for the 2020 BeBop to Hip-Hop Summer Program, featuring debut performances, artist shoutouts, session highlights and much more:
10-Week Online Educational Series, June 25 – August 27
During summer 2020, the Herbie Hancock Institute of Jazz hosted a 10-week BeBop to Hip-Hop Masterclass Series at no cost to participants for up to 100 students across the country. Aspiring producers, musicians and rappers created music with guidance from renowned music industry professionals, and collaborated virtually on original music projects. Read the full announce.
The program culminated in an online concert presentation. Instructors included eminent music industry figures such as DJ Khalil, Mike and Keys, Tariq Beats, Imani, Hi-Tek, Antman Wonder, Nikki Grier and DJ Spark, as well as renowned jazz musicians and educators Terri Lyne Carrington and Gerald Clayton.
The program was geared toward students from grades 9 through 12 and accepted aspiring:
Emcees/Rappers/Lyricists
Producers
Turntablists
Vocalists
Musicians (any instrument)
About BeBop to Hip-Hop
BeBop to Hip-Hop is one of the most innovative public school music education programs in America. Begun in 2004 in Los Angeles, the program brings together jazz and hip-hop students under the direction of professional jazz musicians and hip-hop artists to create a new art form demonstrating the genius of both musical genres. The aspiring young artists study the musical dynamics of both jazz and hip-hop and learn about the historical influence of jazz on hip-hop.
During the past several years, students in the BeBop to Hip-Hop program have performed alongside jazz greats and hip-hop innovators including Terence Blanchard, DJ Spark, Doug E. Fresh, Herbie Hancock, Roy Hargrove, Chris Thomas King, Supernatural, Chali 2na, Bobby Watson, and YoYo. In 2010, the students had a recording of one of their original songs played on KKJZ, the country's most popular jazz station with a weekly listenership of 450,000.

The virtual presentation of BeBop to Hip-Hop is made possible through the generous support of AT&T.