Combos from three partner schools in the Institute's National Performing Arts High Schools Jazz Program participated in the annual Jazz Education Network (JEN) Conference in New Orleans on January 8 and 9, 2020. The Chicago High School for the Arts (ChiArts) Jazz Quartet and a combo of top students from the Baltimore School for the Arts and New Orleans Center for Creative Arts each performed a set, sharing a bill with distinguished artists including Tia Fuller, Sean Jones, Dick Oatts, Terell Stafford, Chucho Valdés, and Mark Whitfield.
"I'm so proud of the way these students performed and comported themselves," said Dr. JB Dyas, the Institute's Vice President for Education and Curriculum Development. "They have made incredible progress since the last time I worked with them just a few months ago!"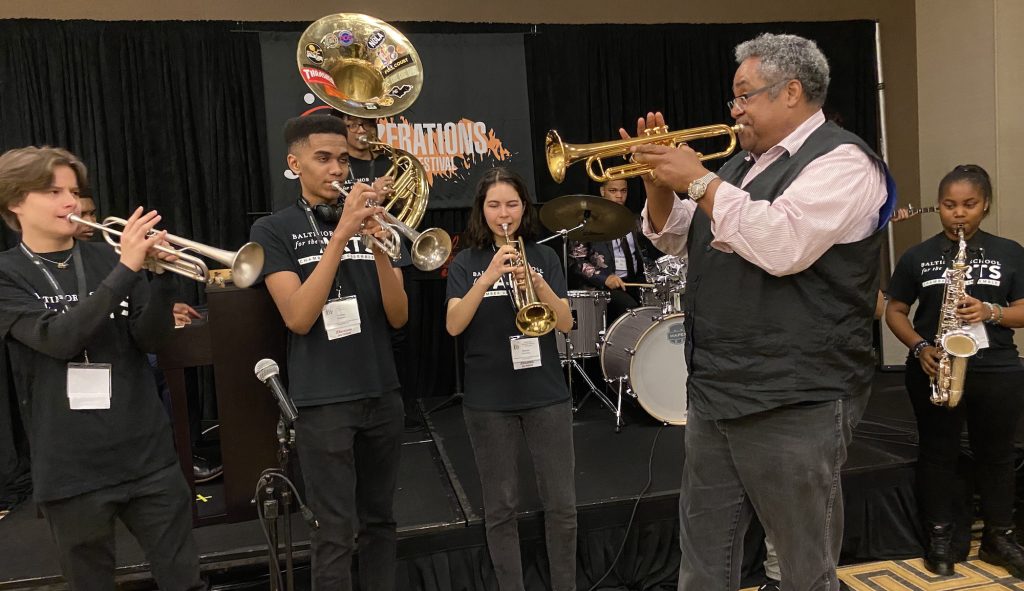 Remembering jazz giants
Contributing to the ongoing centennial celebrations for the late jazz icons Charlie Parker and Dave Brubeck, the ChiArts Quartet performed noteworthy standards by both artists, including Parker's "Donna Lee" and "Anthropology" and Brubeck's "Koto Song" and "Here Comes McBride." The Baltimore/New Orleans combo performed a set of early New Orleans jazz tunes, including "When the Saints Go Marching In" and "Just a Closer Walk with Thee." They incorporated modern twists in the style of Gumbo Nouveau, the noted album by New Orleans' own Nicholas Payton. Internationally renowned jazz trumpeter and Institute teaching artist Jon Faddis joined the group for its finale, Bourbon Street Parade.
"My hat's off to not only these talented students but, especially, their excellent directors, Anthony Bruno, Ed Hrybyk and Michael Pellera," added Dyas. "They keep producing superlative young players, year after year, reassuring all of us that the future of our music is in good hands."