The Institute's National Peer-to-Peer Jazz Quartet shared the life lessons of jazz with participants at the Federal Trade Commission's (FTC) inaugural Leadership Academy. Led by Institute Vice President for Education and Curriculum Development Dr. JB Dyas and renowned jazz trumpeter Sean Jones, the two-hour "informance" analogized real-world management and leadership situations through the lens of a jazz ensemble. Dyas, Jones and a Peer-to-Peer Quartet made up of gifted Institute high school jazz students from across the nation provided live musical examples and discussed why the study of jazz helps develop critical skills. These include overcoming problematic working conditions; taking turns leading; recognizing the contributions of others; really listening to one's colleagues; and, of course, improvising when things don't go according to plan.
Dyas also offered examples demonstrating why jazz embodies and supports important American values, including teamwork, persistence and perseverance, the vital importance of really listening to one another and, especially, democracy—individual freedom but with responsibility to the group.
The application of jazz principles in broader social and corporate contexts has seen growing adoption by high-profile members of the corporate community, from Finnish electronics giant Nokiato Chinese dumpling restaurant chains. As Columbia Business School Executive Development Program Faculty Director Dr. Grant Ackerman noted,
"Jazz offers us many of the elements we need for leading and managing successful projects and organizations—from creating space for others to lead to really listening to ideas of others…if we can create these kinds of work practices in organizations, there might be a chance we can leave meetings with the same enthusiasm as jazz musicians leaving a jazz session who say 'how soon can we do this again?'"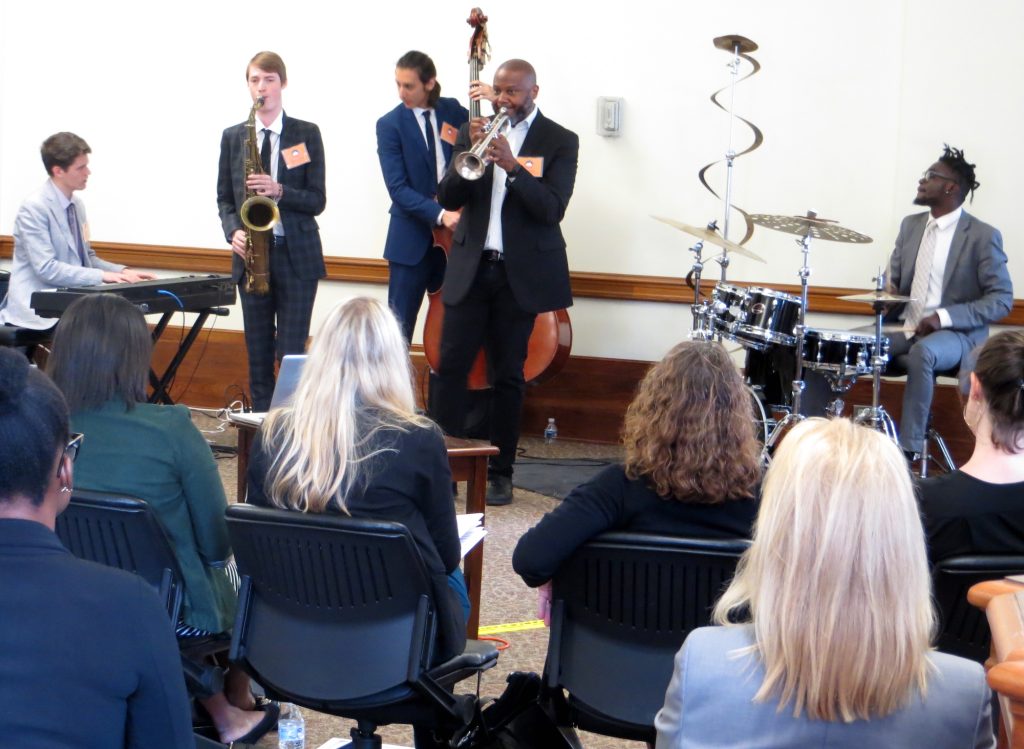 Designed as an intensive primer in crucial leadership skills for high-level FTC employees, the three-day conference included modules on topics like "Managing Your Boss," "Unconscious Bias" and "Maintaining Civility in the Workplace." Chaired by FTC Chief Learning Officer Mark Kern and Chief Human Capital Officer Vicki Barber, the program brought together colleagues from multiple internal departments as well as other federal agencies to share their perspectives on the challenges facing developing leaders.
The Institute's jazz informance was one of the highest-rated presentations of the 2019 Leadership Academy, with one participant calling it "definitely the highlight of the three days."
Learn more about the Institute's National Peer-to-Peer Jazz Education Program.