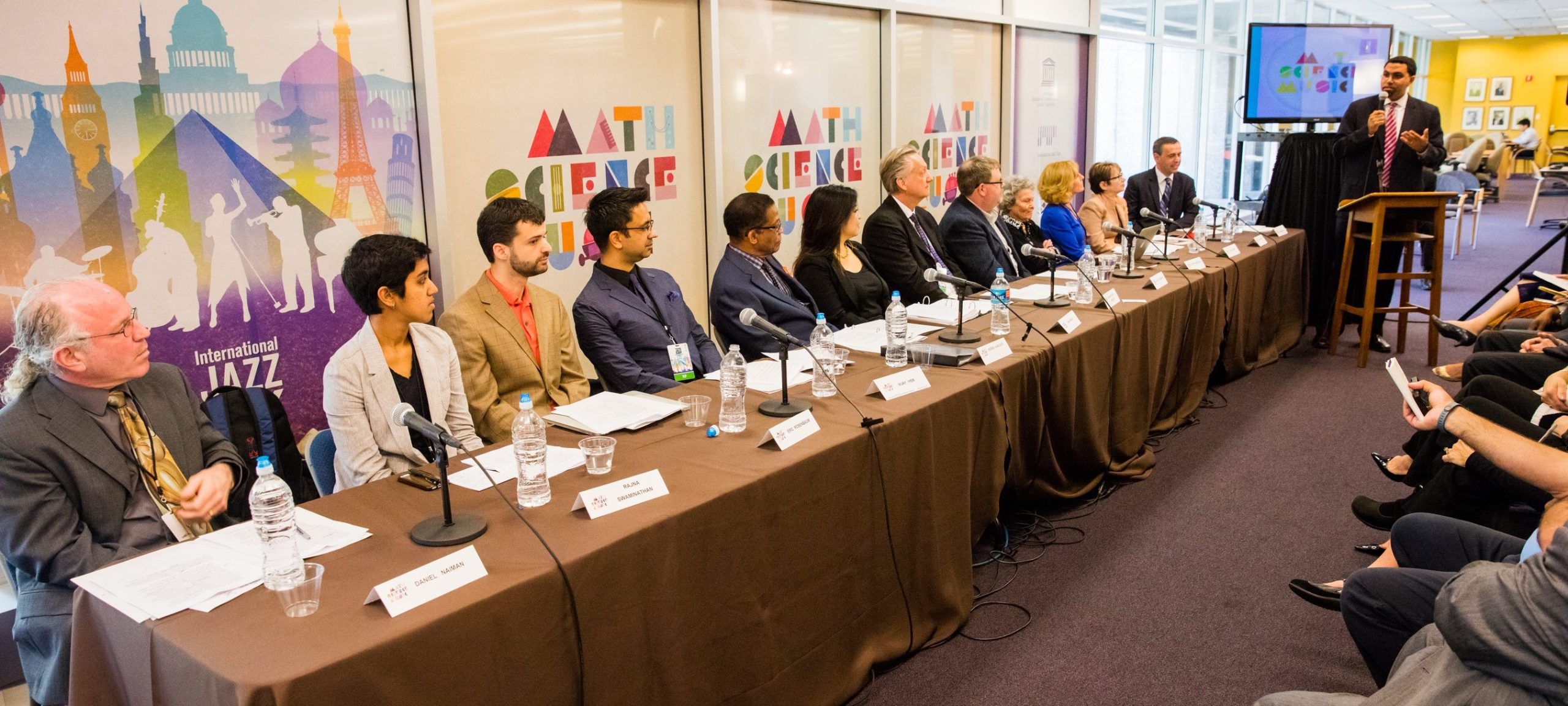 Math Science and Music
Introducing Treble Clef and his best friend, Four-Four Signature! In collaboration with YAM Research Group at the Touro College Graduate School of Education, the Institute has launched a new animated series to help teach children basic concepts in music and math. Institute Chairman Herbie Hancock narrates a series of whimsical encounters featuring music notes that come alive to attend school together. Click here to watch the first video in the series, "Treble Leads The Class"!
For Herbie Hancock, inspiring young people to learn about math and science through music has been a life-long dream. He sees a profound connection across the disciplines and a way to ignite passion for challenging concepts through music. This was the vision behind Math, Science and Music.
Math, Science and Music Background
In 2016, the Herbie Hancock Institute of Jazz began the first phase of Math, Science and Music, an initiative that uses music as a tool to teach math and science to young people in public schools across the United States and around the world. The program addresses the growing need for students to gain skills and acquire knowledge in science, technology, engineering and math (STEM) subjects and learn to think creatively. The Institute is collaborating with math, science, music and education experts at leading universities and in the private sector to develop a wealth of free engaging curricula, games, apps and other interactive online components.
On April 26, 2016, the Institute officially launched the initiative with a panel discussion at the U.S. Department of Education. Secretary of Education John King hosted the event with representatives from all of the Institute's university teams who contributed to the project. The event, which received major press coverage from outlets including The Washington Post, USA Today and the New York Daily News, allowed educators and the public to preview initial elements of the platform that were recently field tested in the Boston and San Francisco public schools, and experience firsthand these new and unique online resources. MathScienceMusic.org went live as the panel discussion began.
Targeted STEM Learning
Studies show that the most crucial years to engage students in STEM learning are grades 4-8. If students begin STEM studies in these early years, they are more likely to continue on this path. Based on this premise, the primary target audience for Math, Science and Music is grades 4-8. Also in development are supplemental curricula that prepare students in grades K-3 for future immersion into the program, as well as other STEM studies. Additionally, there will be supplemental materials for high school and college students to provide them with sequential learning.
MathScienceMusic.org serves as an exciting and engaging repository of free, interactive tools for learning STEM subjects through music, and will prepare students for a world where technological skills are a necessity and an essential part of life.
Dive into this exciting new resource by visiting MathScienceMusic.org.