The Herbie Hancock Institute of Jazz Performance and the UCLA Herb Alpert School of Music welcomed seven talented new students to the Herbie Hancock Institute of Jazz Performance at UCLA program today. The cohort begins two years of intensive study with the world's greatest living jazz masters, and offers the opportunity for each student to earn a Master of Music in Jazz Performance degree from UCLA.
The Class of 2020, the Hancock institute's 12th, includes pianist Paul Cornish, bassist Emma Dayhuff, harmonicist Roni Eytan, tenor saxophonist Chris Lewis, trumpeter Aidan Lombard, alto saxophonist Lenard Simpson and drummer Malachi Whitson. Each a highly accomplished musician, in the coming months the seven students will form a cohesive band that, in addition to receiving daily instruction as a unit, will serve as ambassadors for the program, teaching and performing throughout the Los Angeles area and around the world.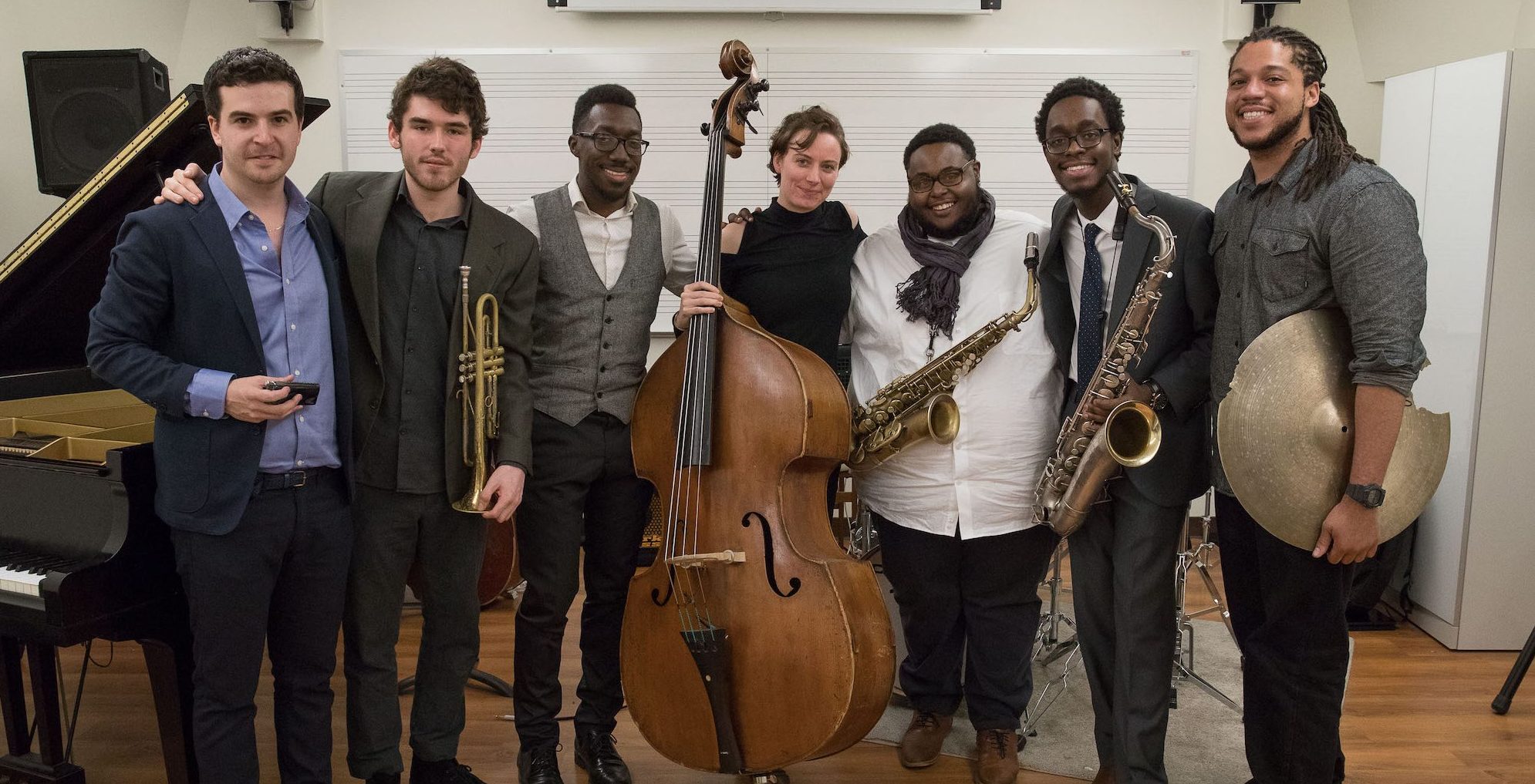 The new cohort was selected through a rigorous application process culminating in an audition judged by jazz luminaries Herbie Hancock, Wayne Shorter, James Newton and Ambrose Akinmusire, who is a graduate of the program. Hancock is Chairman of the Institute's board of trustees and Shorter is an Institute trustee; both are adjunct professors in the Herb Alpert School of Music, along with UCLA professor James Newton.
Over the course of the academic year, the Class of 2020 will study and perform with a litany of world-renowned jazz artists, honing their skills both on and off the bandstand. Artists-in-Residence have included Kenny Barron, Terence Blanchard, Dee Dee Bridgewater, Terri Lyne Carrington, Ron Carter, Jack DeJohnette, Nnenna Freelon, Barry Harris, Roy Haynes, Jimmy Heath, Dave Holland, Wynton Marsalis, Jason Moran, Lewis Nash, Danilo Pérez, Dianne Reeves, and John Scofield, among many others. In addition, the students will receive composition instruction from GRAMMY Award winner Billy Childs and study improvisation with Jerry Bergonzi and Dick Oatts – two of the world's top jazz improvisation experts.
Under the mentorship of these acclaimed instructors, the students, collectively known as the Herbie Hancock Institute of Jazz Performance Ensemble at UCLA, present high-profile concerts and lead education and community outreach programs in Los Angeles, across the United States and around the world. Previous ensembles recently performed at International Jazz Day events in St. Petersburg, Russia; Havana, Cuba; and the White House. They also participated in performance and education tours of Argentina, Chile, China, Egypt, India, Morocco, Peru, Russia, Thailand and Vietnam with Herbie Hancock.
About the Institute of Jazz Performance
Launched in 1995, the Institute of Jazz Performance accepts one ensemble of musicians for each class and provides unparalleled opportunities to study jazz and its defining element of improvisation with master musicians, composers and educators. All students receive full scholarships, along with stipends to cover their monthly living expenses. This enables them to be fully immersed in their education and development as artists.
Institute of Jazz Performance alumni – including Ambrose Akinmusire, Lionel Loueke, Gretchen Parlato, Walter Smith III, Dayna Stephens and Helen Sung, along with many others – have gone on to major careers as performing and recording artists, touring the world with legendary jazz musicians and as leaders of their own groups.
The Institute welcomes the Class of 2020 and looks forward to seeing their growth and accomplishments over the next two years.
Learn more about the Institute's college program.
About the UCLA Herb Alpert School of Music
The UCLA Herb Alpert School of Music is the first – and only – school of music in the University of California system. With more that 450 undergraduate and graduate students, the school offers bachelor's, master's and doctoral degrees through four independent but complementary departments and programs: Ethnomusicology, Global Jazz Studies, Music, and Musicology. The school's exceptional approach to education provides students with academic opportunities that balance cutting-edge scholarship, performance mastery, and composition, with access to a leading music industry program. Rigorous and improvisational, the school encourages and embraces the exploration of music in all its contemporary and historical diversity. Students have a multitude of performance opportunities and access to world-class archives, music collections, dedicated centers of study and stellar faculty. Within UCLA's interdisciplinary environment, the UCLA Herb Alpert School of Music is the portal through which music engages with other disciplines on campus and beyond.