April 30, 2019 — International Jazz Day 2019 celebrations came to a close today with a series of free master classes, performances and other activities for students at the renowned Melbourne Conservatorium of Music and other locations around the city.
Students from local and regional institutions benefitted from educational sessions conducted by internationally-acclaimed artists including Antonio Hart (USA), Eric Reed (USA) and Eli Degibri (Israel), all offered at the University of Melbourne's sparkling new Ian Potter Southbank Centre. Participating students hailed from across the state of Victoria and beyond, and represented a range of skill levels, ages and backgrounds.
In his workshop, backed by a trio of Melburnian student musicians, Hart emphasized the importance of the dance music roots of jazz. The saxophonist got the audience moving with an interactive demonstration of the swing time-feel, and challenged attendees to expand their musical vocabularies into all 12 keys. Ideally, "keys shouldn't exist" for players, intoned Hart, before launching a half-dozen local saxophonists into Thelonious Monk's "Straight, No Chaser."
Eli Degibri used his clinic to stress the importance of building a musical vocabulary from one's influences, while also developing an original voice. Degibri, who graduated from the Institute's Jazz Performance program in 1999, spoke about the humbling experience of touring with Institute Chairman Herbie Hancock as well as his latest project, which pays tribute to Soul Station,the signature soul jazz album by legendary saxophonist Hank Mobley. Degibri also gave a performative demonstration of the expressive range of the saxophone, encouraging students to follow the example of players like Joe Henderson by exploiting the instrument's uncanny ability to imitate other instruments, like the flute.
The seven Fellows from the Herbie Hancock Institute of Jazz Performance at the UCLA Herb Alpert School of Music contributed individual master classes focused on instrumental technique, group dynamics and improvisational mechanics. Additionally, Dr. J.B. Dyas, the Institute's Vice President of Education and Curriculum Development, hosted a clinic focused on improving tune learning and retention. Enthusiastic throngs of amateur and professional musicians—including multiple faculty members from the Melbourne Conservatorium—moved from room to room, soaking up insights from the visiting musicians.
The April 30 program was the last in a three-day series of educational outreach programs organized in honor of International Jazz Day. The festivities began on April 26 in Sydney, where Institute Chairman Herbie Hancock, International Jazz Day 2019 Co-Artistic Director James Morrison and other artists packed the iconic Sydney Opera House for a day of intensive workshops with students from the state of New South Wales. Programs there were organized in cooperation with the Opera House and The Arts Unit of the NSW Department of Education. Activities continued on April 29 at the Melbourne Conservatorium's Federation Hall with engaging presentations from Hancock, pianist A Bu (China), vocalist Michael Mayo (USA) and Australian didgeridoo master William Barton.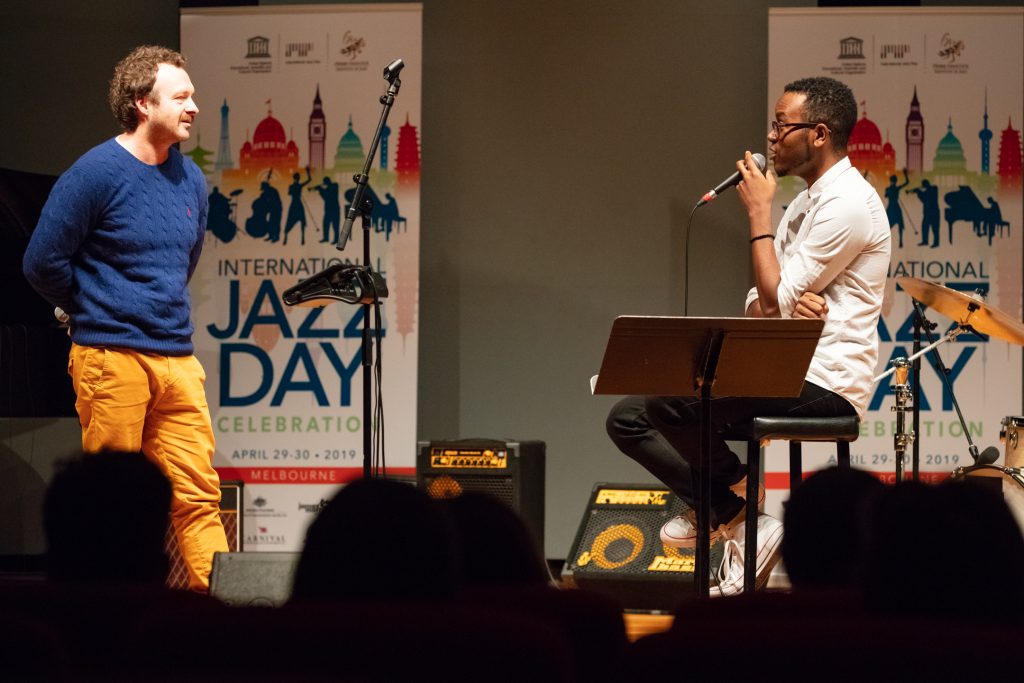 Spotlight on the organizers
The day's highlight was a panel discussion and presentation featuring six International Jazz Day organizers from around the globe. The session showed a cross-section of community leaders and cultural advocates who devote their time and resources to curating Jazz Day events each year at all levels of society, often with little or no remuneration.
Participants included:
Roman Khristyuk, Director of the Igor Butman Foundation (Russia)
Paolo Petrocelli, Founder, Italian Youth Association for UNESCO
Aya Sekine, Founder, We Love Jazz SG (Singapore)
Brenda Sisane, Director, International Jazz Day South Africa
Peta Si'ulepa, Director, Samoana Jazz Arts Festival (Samoa)
Tarek Yamani, Founder, Beirut Speaks Jazz (Lebanon)
Attendees, including UNESCO Assistant Director-General for Culture Ernesto Ottone, heard about the unique challenges of building a jazz culture in locales like Singapore, Samoa and Lebanon, and how International Jazz Day has in many cases catalyzed significant transformations on the local cultural landscape.
"Our organizers are the heart and soul of International Jazz Day," said Program & Outreach Director Mika Shino. "Their tireless efforts ensure that, far from being limited to one day, the positive effects of this special program resonate throughout the year. For many in the Jazz Day family, the inspiration created on April 30 translates to increased attendance at live jazz performances, new jazz education opportunities for student musicians, and a richer artistic and cultural life for entire communities."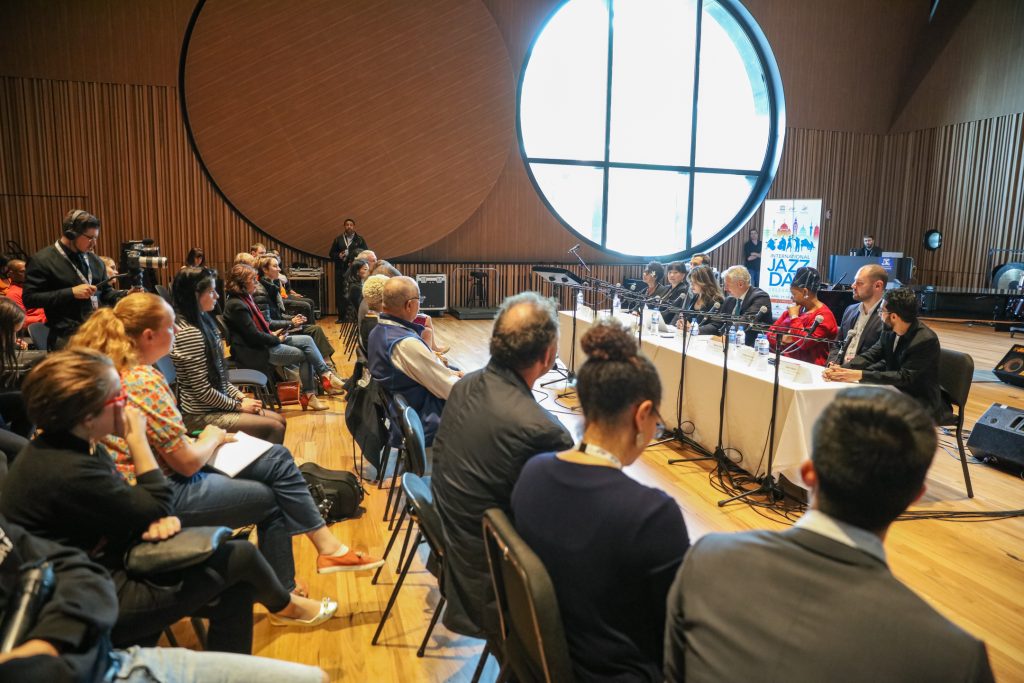 The moving stories of this select group of organizers, coming on the eve of the culminating All-Star Global Concert at Melbourne's Hamer Hall, spoke volumes about the true purpose of International Jazz Day: sharing experiences, and music, across cultures and geographic boundaries. As part of his introduction for a master class during the Melbourne celebrations, the renowned visual artist, academic and opera singer Tiriki Onus told audience members to pause for a moment and listen. He asked them to think about the voices of the elders who had shared stories on that very spot for more than two-and-a-half thousand generations.
"What we do here," said Onus, "singing our songs, dancing our dances, telling our stories, is no different from what those old people have done—whether we are playing on boomerangs and possum skin drums, or on a double bass and a Bösendorfer. The gift that we bring this country is our stories; the stories that we pour in here."
International Jazz Day 2019 education programs were made possible in part through the generous support of the Carnival Corporation.