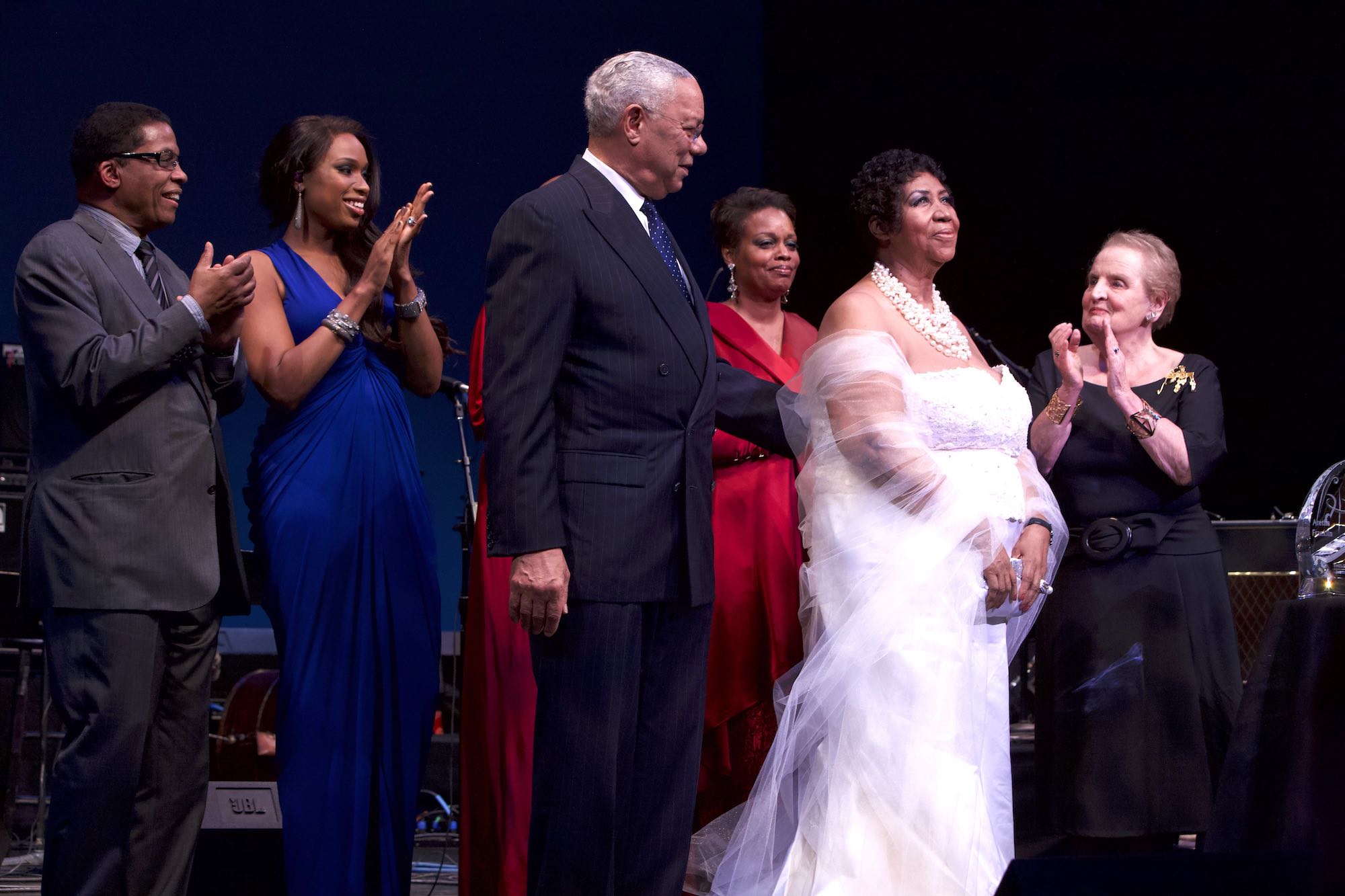 Aretha Franklin
Aretha Franklin was an American icon whose profound impact can be heard in countless genres of music around the world. Her sound and style are woven into the fabric of contemporary culture, and singers and musicians around the world have embraced and passed on her tremendous influence.
Franklin's achievements are voluminous: 45 top 40 hits and 20 GRAMMY Awards. She was honored with GRAMMY Legend and GRAMMY Lifetime Achievement Awards, was recognized by Rolling Stone magazine as the Greatest Singer of All-Time, became the first female artist inducted into the Rock and Roll Hall of Fame, and performed at the inauguration for the first African-American President of the United States. She is truly a household name the world over. Such hits as "Respect," "Baby, I Love You" and "Think" continue to move new generations of listeners and their vibrancy shows no signs of diminishing with time.
The essence of Franklin's music was the blues, an art form closely connected with jazz. The African American experience informed her art in the same fashion it informed the architects of jazz. Franklin enjoyed a healthy relationship with jazz, beginning with her self-titled Columbia debut on which she recorded "Who Needs You," a song written by Billie Holiday that Holiday never had the opportunity to record. Over the next several years she released a series of albums on Columbia that included performances of "Love For Sale," "Misty," "For All We Know" and dozens of other standards. Listeners who are unfamiliar with these recordings will hear Franklin with her unmistakable voice in full command of the music, accompanied by such stellar jazz musicians as Kenny Burrell, Milt Hinton, Ray Bryant and George Duvivier. Franklin eventually left Columbia and signed with Atlantic where she recorded her biggest hits and earned the Queen of Soul title. She later recorded another jazz album on Atlantic titled Soul 69, which featured jazz greats Ron Carter, Joe Zawinul and Grady Tate, among others. On all of these recordings Franklin accompanied herself on piano and surrounded herself with jazz musicians as well as musicians who approach reflected an intimate understanding of jazz.
Franklin was also a longtime champion of jazz and a passionate advocate for jazz education. Through her generous support, she provided Thelonious Monk Institute of Jazz scholarships for aspiring jazz artists and funded public school jazz education programs across the United States. She performed as a featured part of numerous events benefiting the Institute, including an ABC network special celebrating America's music where she delivered stellar performances of jazz classics "Skylark," "How High the Moon" and "Mack the Knife."
Monk Institute founder Maria Fisher came from the world of classical music but had an inherent understanding of the value of jazz to world culture. Her vision of creating an organization dedicated to preserving and promoting jazz resulted in the creation of the Thelonious Monk Institute and through it she has affected generations of aspiring jazz musicians. Franklin shared this understanding with Fisher and put her beliefs into action as a singer and supporter of this music. In recognition of her extraordinary talent and contributions to the perpetuation of jazz performance and education, the Thelonious Monk Institute of Jazz honored Aretha Franklin with the Maria Fisher Founders Award at The John F. Kennedy Center for the Performing Arts during the 2011 International Jazz Competition and Gala. Former Secretaries of State Madeleine Albright and Colin Powell shared highlights of Franklin's illustrious career and presented her with the award.