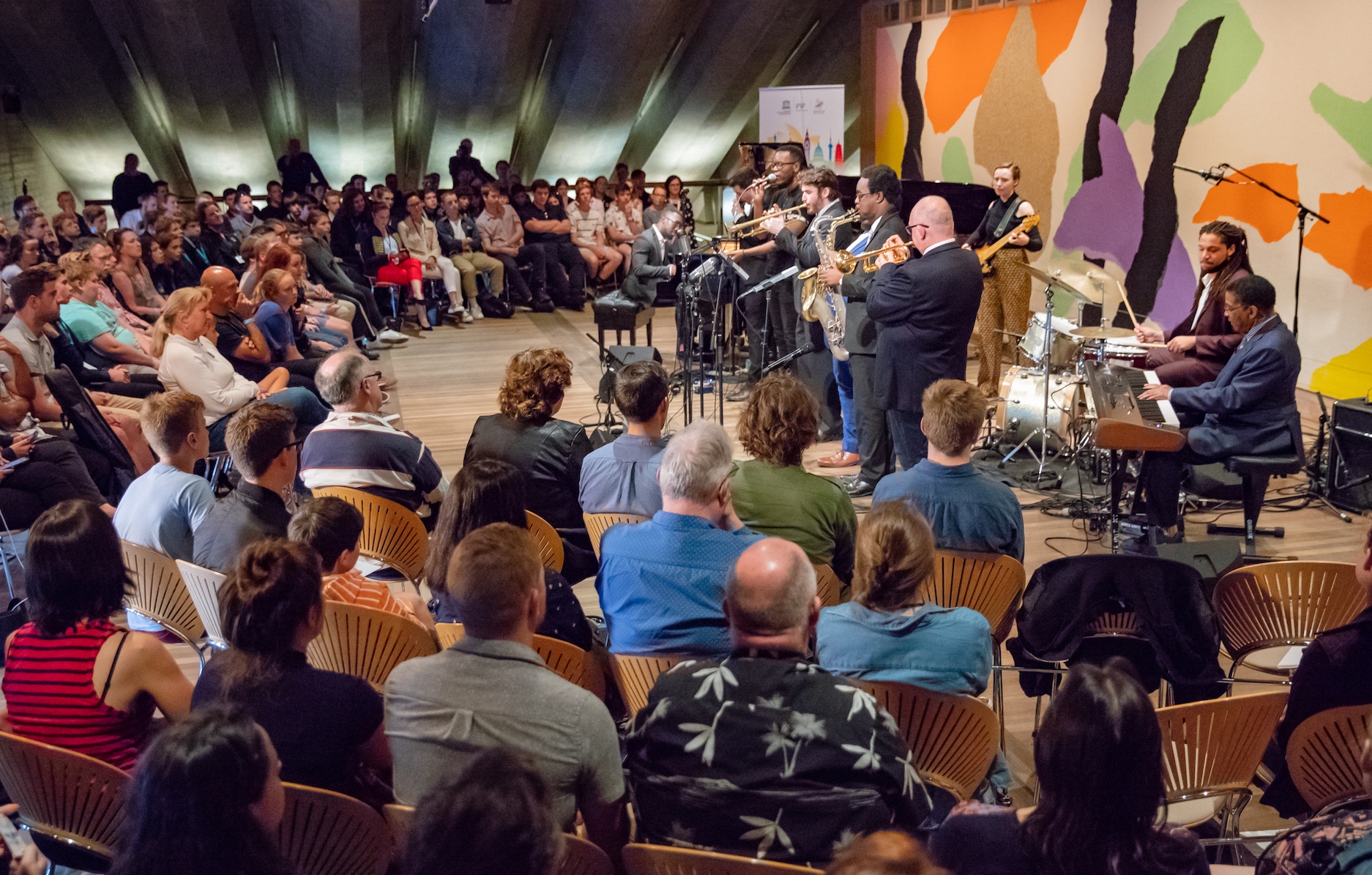 Our History
The Herbie Hancock Institute of Jazz builds on one of the most significant legacies in jazz history, continuing an educational vision more than three decades in the making. Since 1986, the Institute has worked to safeguard and perpetuate America's greatest cultural contribution and empower the next generation, all while making this beautiful, inspiring and truly American music accessible to people around the globe. From high-profile initiatives like International Jazz Day to year-round training and mentorship opportunities for public school students of all backgrounds, the Institute's programs play a crucial role in maintaining the health and vitality of this revered art form.
Founded in 1986 as the Thelonious Monk Institute of Jazz, from the beginning the Institute's role in the jazz community was cemented through the much-lauded International Jazz Competition, which brought now-seminal artists like pianist Marcus Roberts, saxophonist Joshua Redman, and vocalists Jane Monheit and Cécile McLorin Salvant firmly into the public view. Even for those who do not capture the coveted first prize, which includes a guaranteed recording contract with Concord Music Group, the Competition has become an indispensable forum for identifying the most exciting rising stars in jazz.

The Competition may be among the Institute's most visible initiatives, but education remains at the center of the Institute's mission. The Institute's college program is a two-year, tuition-free master's degree program established in 1995 to allow the world's brightest young jazz musicians to study directly with visiting jazz legends. In residence at The UCLA Herb Alpert School of Music, the Herbie Hancock Institute of Jazz Performance represents the gold standard for graduate-level jazz education programs. The program's students serve as ambassadors for the Institute and for America's music, teaching and performing across the United States and on international tours.
With the firm belief that music education benefits all students, not just those destined for careers in music, the Institute partners with public schools in more than a dozen U.S. cities to offer its Jazz in the Classroom and National Performing Arts High Schools programs. The mentorship provided through these programs has a tremendously positive impact, with 100% of Institute students graduating from high school and more than 90% continuing on to college. Like all of the Institute's offerings, these initiatives are provided completely free of charge to the participating students, schools and communities.
Under the leadership of its Chairman, legendary pianist and composer Herbie Hancock, the Institute has made innovation a priority, inaugurating new programs that explore the full potential of jazz as a teaching tool. The latest effort in this ongoing strategy is Math, Science and Music (MathScienceMusic.org), an online STEM learning platform that uses music to teach elements of math and science. Launched in 2016 in partnership with the U.S. Department of Education, the curriculum has been hailed by schools, teachers and thought leaders alike and currently houses contributions from Harvard, MIT, the University of California Berkeley, NYU, Johns Hopkins and other institutions of higher learning.
The Institute has made a strong commitment to promoting global unity through music, with its leading role in International Jazz Day, the world's largest celebration of jazz and its positive message. The Institute, along with Chairman Herbie Hancock, was instrumental in the adoption of International Jazz Day and its unanimous recognition by the United Nations and UNESCO. Today, thanks to a dedicated outreach effort by the Institute's team, International Jazz Day reaches more than 2.4 billion people worldwide each year on April 30 through thousands of performances, education programs and community service initiatives, all conceived around the principles of peace, intercultural dialogue, international cooperation, respect for human dignity and promoting individual expression.
These and other programs, including Peer-to-Peer jazz education tours in underserved communities across America, network television specials, and live concert webcasts on YouTube and Facebook Live, reflect a deep-seated belief that jazz is vital to our shared cultural and creative heritage.