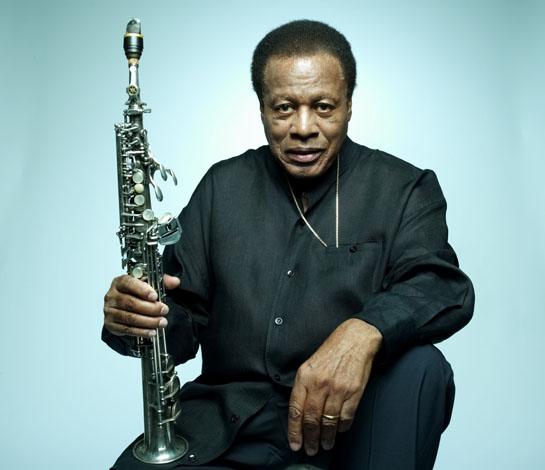 Wayne Shorter
On September 16th during the 2013 Thelonious Monk Institute of Jazz International Saxophone Competition, the Institute presented the legendary Wayne Shorter with a Lifetime Achievement Award in recognition of his extraordinary, six-decade career as a saxophonist, educator and composer. In the Institute's nearly 30-year history, this is only the second time the award has been presented, the first being to Quincy Jones in 1996.
A longtime Institute supporter and Board member, Wayne Shorter has served on many occasions as a judge at the Institute's annual Competitions and performed at the Institute's All-Star Gala Concerts. He has also served on the audition committee and as an Artist-in-Residence for the Herbie Hancock Institute of Jazz Performance college program. Shorter has co-led numerous Institute international programs, including those in France, India, and Thailand.
Wayne Shorter is one of the greatest jazz artists of all time.  Besides being a highly influential and unique saxophonist, he is one of the most significant composers in jazz since the 1960s.  Dozens of Shorter's more than 200 compositions are modern standards that are performed by young artists around the world.  Shorter grew up in Newark, New Jersey and attended Newark's Arts High School.  His first instrument was clarinet, which he chose because it reminded him of a spaceship.  He later switched to saxophone but brought this same cosmic and imaginative thinking to the instrument and all his future musical pursuits.  After graduating from New York University, Shorter served in the Army for two years while playing in groups with Horace Silver and Maynard Ferguson.  His career began to flourish in 1959 when he joined Art Blakey's Jazz Messengers, where his unique compositional style soon landed him the position of musical director.  In 1964, the same year Shorter recorded Speak No Evil, his first record as a leader for Blue Note, Miles Davis invited him to join a quartet that included Herbie Hancock, Ron Carter, and Tony Williams.  Shorter was the composer who provided much of the material for the group's musical explorations, which would become an inspiration for many jazz artists that followed.  He recorded 12 albums with Davis, including Bitches Brew, which sparked the fusion movement of the next decade.  In 1970, Shorter joined keyboardist Joe Zawinul to form Weather Report, which combined jazz harmonies with rock and funk rhythms. The group became one of the most important and influential musical forces of the fusion era. Shorter has continued to serve as a leading figure in the evolution of the music.  In 2005, he won a GRAMMY Award for his recording Beyond the Sound Barrier, taking his total to eight over the past 25 years. Shorter currently performs with his dynamic quartet, which includes Danilo Perez, John Patitucci, and Brian Blade, exploring new improvisational pathways into some of his classic compositions as well as new material. After five decades as a creative artist, Shorter remains dedicated to his journey into uncharted musical galaxies.