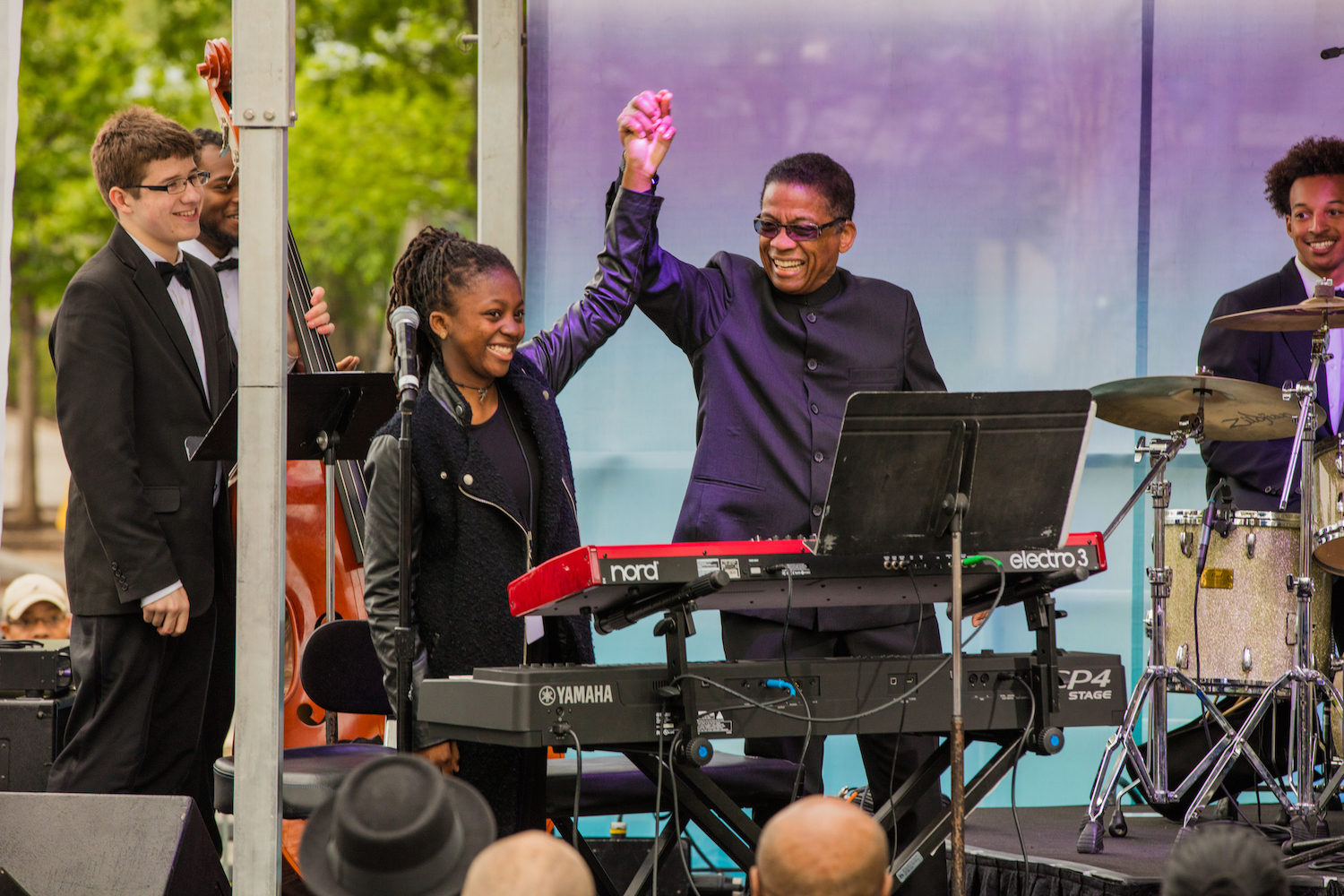 Herbie Hancock
Institute Chairman Herbie Hancock was named a United Nations Educational, Scientific and Cultural Organization (UNESCO) Goodwill Ambassador in July 2011. At a ceremony in Paris, UNESCO Director-General Irina Bokova said the designation recognizes Hancock's "dedication to the promotion of peace through dialogue, culture and the arts." She selected Hancock to contribute to UNESCO's efforts to promote mutual understanding among cultures, with a particular emphasis on fostering the emergence of new, creative ideas among youth, finding solutions to global problems, and ensuring equal access to the diversity of artistic expressions.
Herbie Hancock serves as Chairman of the Herbie Hancock Institute of Jazz, supporting all aspects of the organization's work. He has led dozens of national and international Institute tours that have introduced millions of people around the world to jazz and its rich cultural heritage. Hancock has served numerous times on the judging panel for the Institute's International Jazz Piano Competition and co-hosts this event each year. Additionally, Hancock serves on the audition committee that selects the world's most promising young jazz artists for participation in the Herbie Hancock Institute of Jazz Performance, the Institute's full-scholarship college program. As an Artist-in-Residence at the college program, Hancock has passed along his knowledge to a younger generation of jazz musicians that will carry the music forward. Hancock helped develop Jazz in America: The National Jazz Curriculum, the Institute's free, online jazz history curricula for students in 5th, 8th and 11th grades, and narrates the 5th grade animated lesson plans.
Fourteen-time GRAMMY Award winner Herbie Hancock is a jazz icon who has been an integral part of every jazz movement since his arrival on the scene in the '60s. The internationally renowned pianist and composer was born in Chicago and began playing piano at age 7.  At age 11, he performed a Mozart piano concerto with the Chicago Symphony Orchestra. He later attended Grinnell College, where he double majored in music and engineering. When he was 20 years old, Hancock was invited by Donald Byrd to join his band and encouraged by Byrd to move to New York.  Byrd later helped him secure a recording contract with Blue Note Records. Hancock's debut album, Takin' Off, included "Watermelon Man," the first of many top ten hits.  As a member of the Miles Davis Quintet, Hancock became one of the pioneers of modern jazz improvisation.  His musical innovations during this period are studied by jazz musicians the world over. Hancock's recordings during the '70s combined electric jazz with funk and rock sounds in an innovative style that influenced a whole decade of music.  In 1983, "Rockit," from the platinum-selling Future Shock album, won Hancock a GRAMMY for Best R&B Instrumental and became an anthem in the world of break dancing and early hip-hop culture.  The "Rockit" video and Hancock's performance at the GRAMMY Awards have been cited by many major hip-hop deejays as their original inspiration for pursuing their art.  Hancock's music has been sampled and reused on dozens of hip-hop and dance classics including US3's "Canteloop Island" and Dee-Lite's "Groove Is in The Heart."  His compositions including "Watermelon Man", "Chameleon," and "Maiden Voyage" are considered classics in the world of jazz and beyond.  Hancock received the 1987 Oscar Award for Best Score, honoring his work on Round Midnight. In 2007, Hancock's CD River: The Joni Letters won the GRAMMY Award for Album of the Year, making Hancock the first jazz musician to receive this honor in 44 years.  His latest release is The Imagine Project, which was recorded all around the world with a variety of artists including India.Arie, Los Lobos, and Seal. Herbie Hancock continues to be a major creative force in jazz and a trailblazer in the world of music.