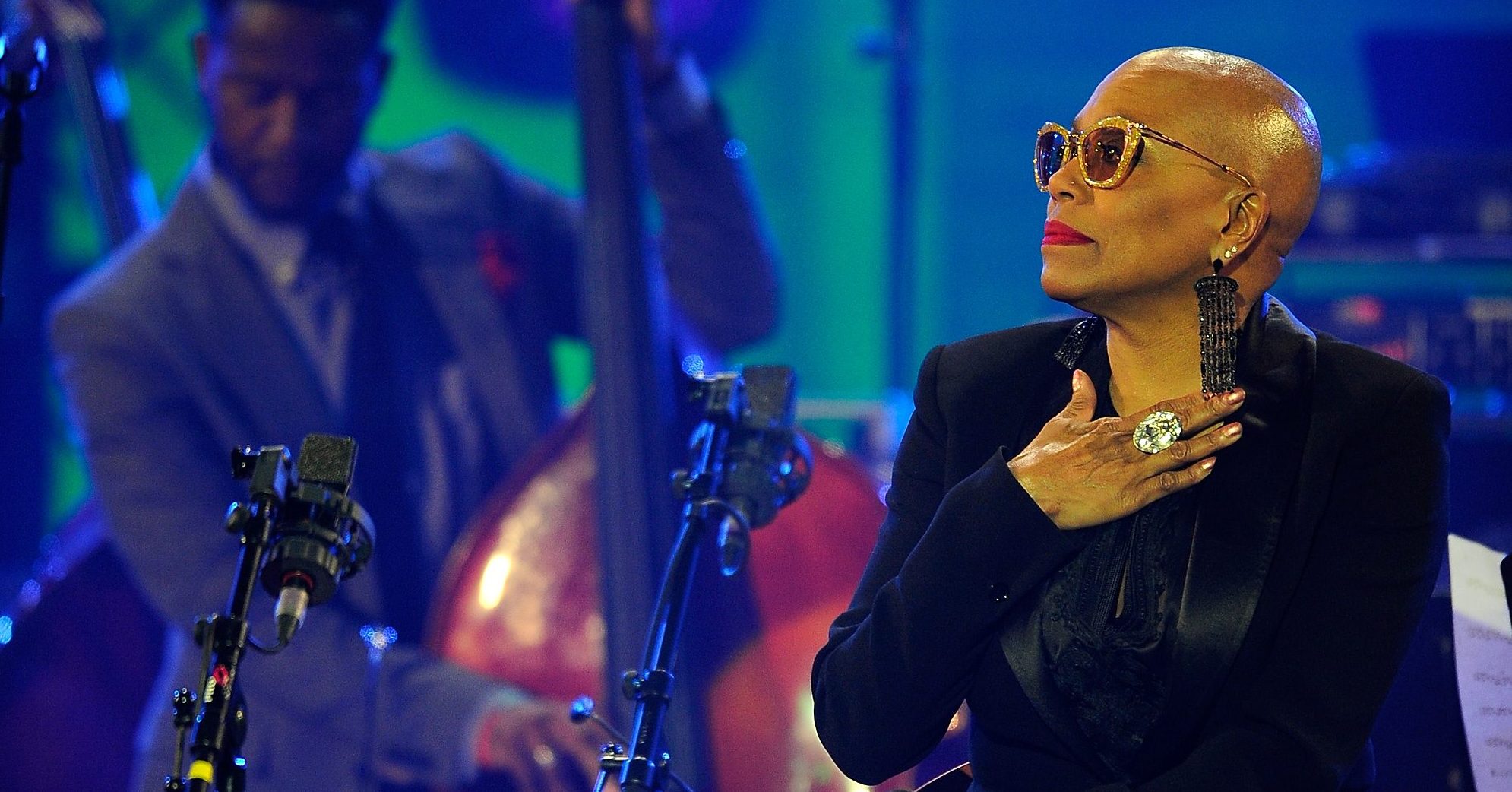 2018 Maria Fisher Founder's Award Recipient
Dee Dee Bridgewater was honored with the Institute's Maria Fisher Founder's Award on December 3, 2018 as part of the 2018 Monk Institute Piano Competition & All-Star Gala Concert.
Dee Dee Bridgewater's exuberance, creativity, vision and joyous spirit have earned her a place as one of the premier jazz vocalists of all time. Equally at home on Broadway stages and the bandstand, Bridgewater has been celebrated for her sensitive and articulate interpretations of an immense catalog of works, ranging from the Great American Songbook to Motown, rhythm & blues and French popular songs. She combines an unmistakable sound, profound musicality and an irrepressibly personable approach to performance that have endeared her to audiences around the world for more than 40 years.
Born in Memphis, Tennessee, Bridgewater was raised in Flint, Michigan. She grew up immersed in the sounds of her hometown, with help from her father, a trumpet player, music teacher and radio DJ whose students included George Coleman and Charles Lloyd. As a child in Flint, Bridgewater would tune in to popular Memphis station WDIA late at night to stay abreast of the local scene. A fixture in Michigan clubs by the age of 16, Bridgewater later attended the University of Illinois at Urbana-Champlain and toured the Soviet Union as a vocalist with the school's big band.
Her first major professional experience came performing as lead vocalist with the renowned Thad Jones/Mel Lewis Orchestra, leading to regular appearances with jazz luminaries including Max Roach, Sonny Rollins, Dexter Gordon and Dizzy Gillespie, among others. A two-year stint as Glinda the Good Witch in the original Broadway production of "The Wiz" earned her a Tony Award in 1975 and established her as a major musical theater performer. Her subsequent portrayal of legendary jazz vocalist Billie Holiday in the musical "Lady Day" won overwhelming critical acclaim, including a 1986 Laurence Olivier Award nomination for Best Actress and an AUDELCO Award in 2014 for her reprisal of the role.
In 1984, Bridgewater made a dream come true when she received Horace Silver's blessing to record an album of his music with vocals. The resulting Loveand Peace: A Tribute to Horace Silverbrought her worldwide attention and a GRAMMY nomination for Best Jazz Vocal Performance. Two GRAMMY Award wins came in 1998 with a second tribute release, Dear Ella, which was recognized for Best Jazz Vocal Performance and Best Instrumental Arrangement Accompanying Vocals. Continuing her celebrated interpretation of Billie Holiday's catalog, Bridgewater released Eleanora Fagan (1915–1959): To Billie with Love From Dee Dee Bridgewater. This effort garnered a third GRAMMY Award in 2010, for Best Jazz Vocal Album, and cemented her place as one of the most respectful and original stewards of the jazz vocal tradition.
A Positive Impact Through Jazz
Bridgewater's genius extends well beyond the stage, leading her to a rich variety of musical and extra-musical pursuits. Fluent in French, she was named a Commander in France's prestigious Ordre des Arts et des Lettres in 2008, and is the first American to be inducted into the Haut Conseil de la francophonie, which promotes French language and culture worldwide. In 1991, Bridgewater furthered her reputation as one of jazz music's most charismatic ambassadors as the host of National Public Radio's JazzSet, an award-winning program featuring recordings of live performances by some of the world's greatest jazz artists. JazzSet ran for 23 years and highlighted legends like Roy Hargrove, Dave Holland, Joe Williams and Chick Corea. An accomplished producer who has self-produced all of her own albums since 1993's Keeping Tradition, Bridgewater established DDB Records in 2006. In 2017, Bridgewater was named a National Endowment for the Arts Jazz Master.
Bridgewater has also dedicated her talents to benefit the world's most vulnerable. In 1999, she was named Ambassador for the United Nations Food and Agriculture Organization, working publicly to bring attention to world hunger and encouraging others to become involved. Bridgewater's humanitarian work earned her the ASCAP Foundation Champion Award in 2017, for which she was recognized as "a shining example of how the creative community can step forward and use their talent and influence to improve the human condition."
With the Institute
This commitment to bettering the world extends to Bridgewater's work with the Thelonious Monk Institute of Jazz, for which she has been both unstinting advocate and friend for more than two decades.
She has served as a judge for four of the Institute's Vocals Competitions, contributing her authoritative understanding of the jazz tradition to help identify the voices of the next generation. Her captivating performance style has been a highlight of numerous Institute Galas, including the 2015 Gala, when she participated in the presentation of the Herbie Hancock Humanitarian Award to legendary producer Quincy Jones. A member of the Institute's Advisory Board, Bridgewater highlighted many Competition winners on JazzSet, including pianist Jacky Terrasson and vocalist Gretchen Parlato.
Bridgewater has co-led the Institute's U.S. State Department and UNESCO-sponsored jazz education tours to Morocco, China, France, India and Russia, serving ably as an ambassador of America's indigenous music and giving students of all levels rare opportunities to learn directly from a master. She has also participated in International Jazz Day, the Institute's flagship global program with the UN and UNESCO, since the inaugural edition in 2012. Bridgewater has helped raise the profile of International Jazz Day by performing in four All-Star Global Concerts, notably the 2016 edition hosted by President Barack Obama and First Lady Michelle Obama at the White House. As part of her involvement in this special global celebration, she has generously taken part in educational workshops and community outreach programs to inspire the next generation.
Closer to home, Bridgewater has served as a teaching artist for Institute public school education tours in Tennessee, Mississippi and California, among others, enlivening jazz workshops with her insightful takes on repertoire, technique and the music business. She is also a regular Artist-in-Residence at the Thelonious Monk Institute of Jazz Performance, the Institute's intensive, two-year master's degree program.
The Institute is proud to recognize Dee Dee Bridgewater with the 2018 Maria Fisher Founder's Award, with gratitude for so generously sharing her inimitable wit, wisdom and spirit with the world. After more than five decades, it is clear that she is only getting started.