All-Star Student Ensembles Lead Public School Peer-to-Peer Tours Alongside Bobby Watson, Lisa Henry, Sean Jones
From May 9-22, the Institute resumed its in-person Peer-to-Peer jazz education tours after two years of virtual programming due to the COVID-19 pandemic. With support from the National Endowment for the Arts and United Airlines, exceptionally talented student musicians from the Institute's high school programs visited public middle and high schools in Delaware and Wisconsin for intensive performances, rehearsals and master classes–continuing the jazz tradition of intergenerational mentorship.
The Peer-to-Peer program brings some of the nation's most talented student jazz musicians into under-resourced public schools across America. The student mentors lead live performances and demonstrations of key jazz concepts, discussions on the history and cultural significance of jazz, and inspiring rehearsals and workshops with the host schools' jazz bands and choral groups. The Institute conceived this initiative around the simple but powerful concept that students are often more receptive and learn more effectively when their "teachers" are young people their own age. Since launching in 2006, Institute Peer-to-Peer tours have directly impacted more than 250,000 students. With the recent addition of Delaware and Wisconsin, the program has visited schools in 42 U.S. states.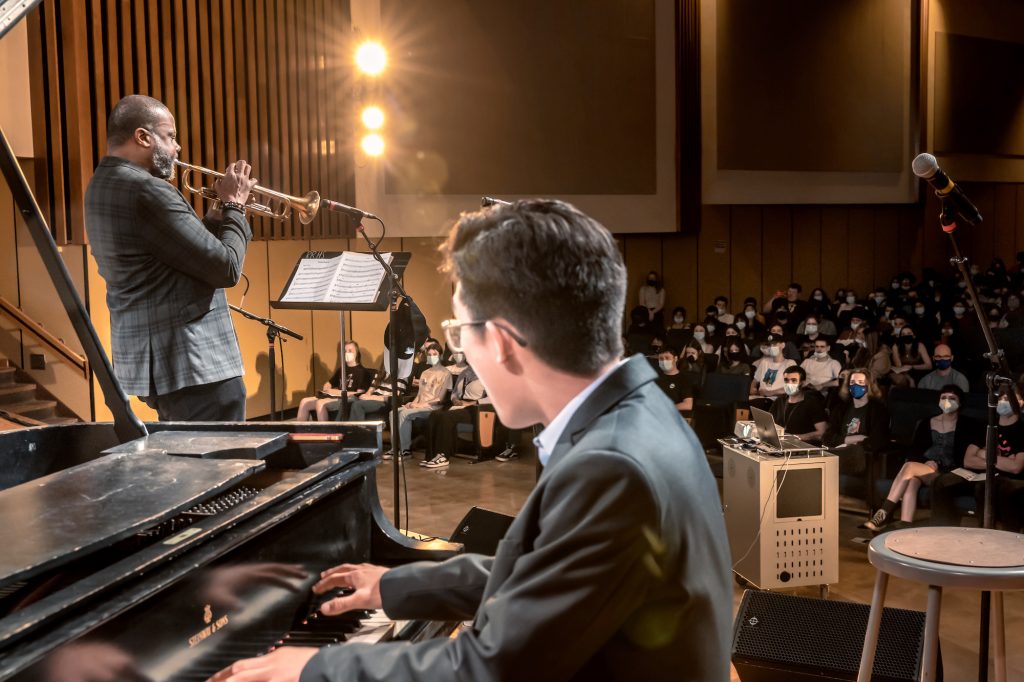 Students from Coast-to-Coast
Over the course of the two weeklong tours, students selected from the Institute's National Performing Arts High Schools programs in Baltimore, Chicago, Dallas, Denver, Houston, Los Angeles, New Orleans and Washington, D.C. performed and taught alongside renowned trumpeter and Peabody Institute professor Sean Jones, acclaimed Kansas City vocalist Lisa Henry and GRAMMY Award-winning saxophonist Bobby Watson at schools in Dover and Wilmington, DE and Milwaukee, WI. The members of the Institute's National Peer-to-Peer Jazz Quintet for the Delaware tour included trumpeter Loren Littlejohn (18) from Dallas; tenor saxophonist Leo Milano (17) from Chicago; pianist José André Montaño (16) from Washington, DC; bassist Camara Dupree (16) from New Orleans; and drummer Matthew Fu (18) from Houston. For the Wisconsin tour, the Quintet consisted of Ebban Dorsey (17) from Baltimore; trombonist Melvin Nimtz (18) from New Orleans; pianist Nathan Tatsuta (15) from Santa Ana, CA; bassist Jack Rota (18) from Dallas; and drummer JJ Mazza (17) from Denver.
Each school visit included an assembly program for the entire student body, followed by in-depth peer-to-peer instruction with students in the school's music program. The interactive presentations included opportunities for student musicians from each host school to showcase their skills alongside the Institute band.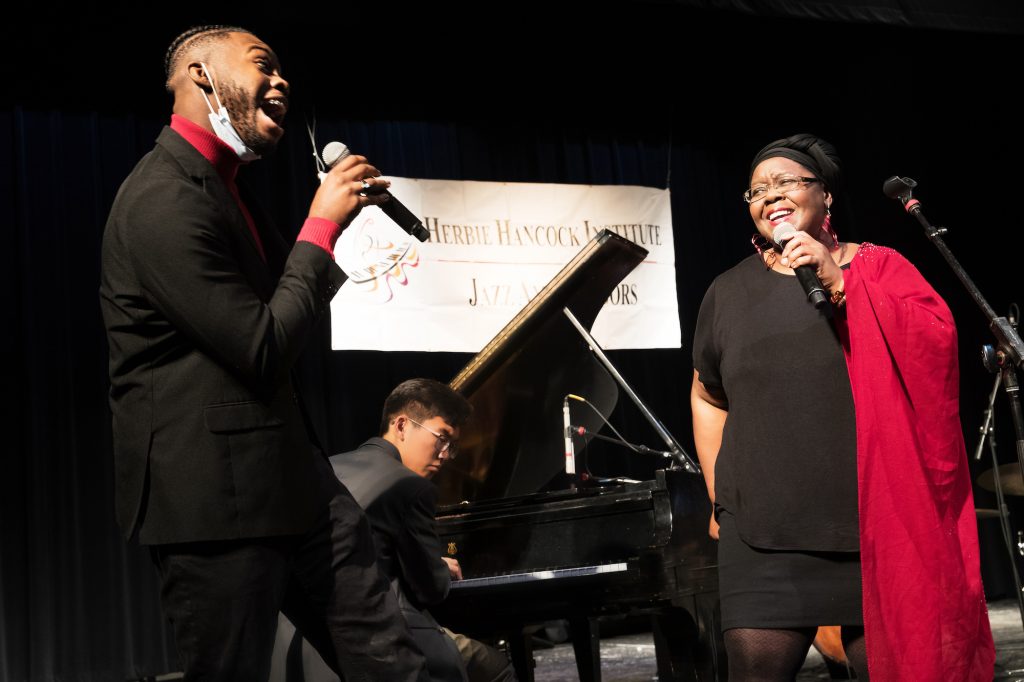 Building Bridges, Through Music
After an unprecedented two years of life spent adapting to the pandemic, the in-person tours brought a sorely needed human connection back to the target schools. Wrote one school district official, the Institute's visits "have fundamentally helped all of us remember the value of being together, the importance of community, and the magic of music."
Another district superintendent commented, "Our students, staff and community walked away with a deeper understanding of how jazz has contributed to our history in the United States. The performance created a catalyst that built bridges across generations, race, gender orientation and religion…this experience has expanded our students' interest in jazz as a genre."
A Taste of Things to Come
At the end of each exhilarating week spent sharing their love of jazz with children their own age, the Institute students were eager to carry on with another hallowed tradition of the Peer-to-Peer program–the gig. Both tours concluded with evening performances by the Institute's National Peer-to-Peer Jazz Quintet at top jazz clubs. In Milwaukee, the Peer-to-Peer Quintet impressed local audiences with two performances at the city's newest live jazz venue, Bar Centro. The Delaware group capped off its week with a pair of sets at iconic Baltimore jazz club Keystone Korner, which has hosted jazz legends like Ron Carter, Joey DeFrancesco, Kenny Garrett and Dee Dee Bridgewater. The Institute players got an authentic taste of the demands of working as professional musicians as they performed challenging arrangements of jazz standards, original works by the accompanying jazz masters, and their own compositions.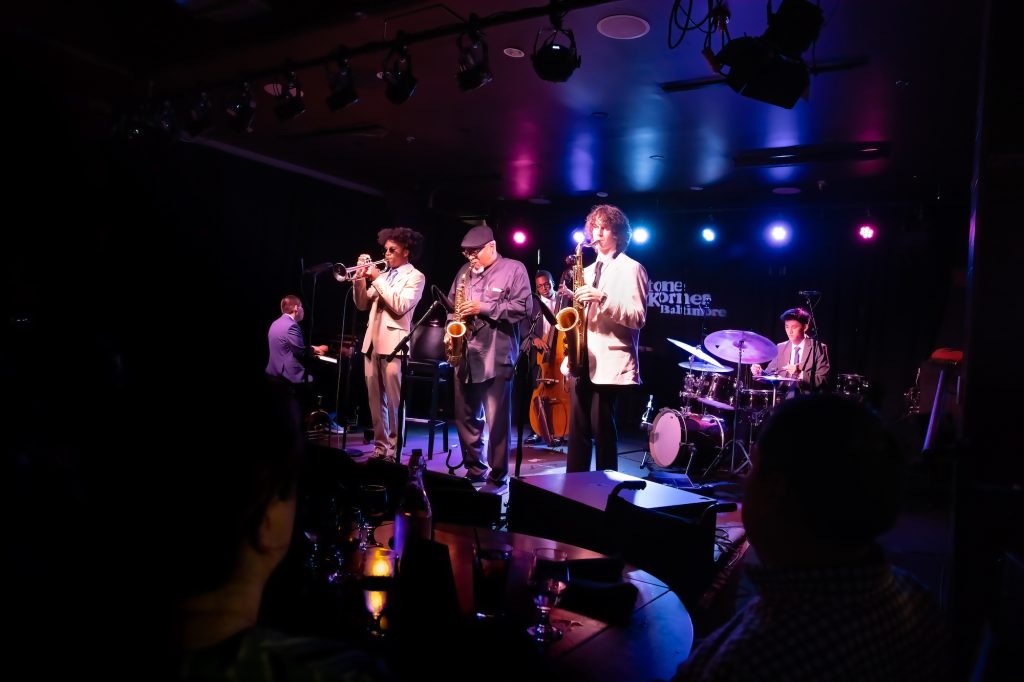 Lisa Henry, who has participated in Institute Peer-to-Peer tours since their inception, captured the formative nature of the touring experience as she counted off the students' set at Keystone Korner. "It never ceases to amaze me," she remarked, "how special it is to watch young musicians–young artists–at the very beginning of their take-off. What you're witnessing here is something very special."