Institute Presents Educational Jazz Informance at U.S. Department of Education, Hosted by Secretary of Education Miguel Cardona
The Institute's recent jazz informance at the U.S. Department of Education displayed all the hallmarks that have made the annual event a favorite for Department colleagues and DC and Baltimore public school students and teachers alike. These included a superb high school student group–the Institute's Peer-to-Peer Jazz Quintet, a renowned guest artist–internationally acclaimed trumpeter Sean Jones­–and the pedagogical prowess of jazz educator and Institute Vice President of Education and Curriculum Development Dr. JB Dyas. This year, the presentation featured one other notable element: the participation of U.S. Secretary of Education Dr. Miguel Cardona, who traded his customary speaker's podium for a pair of bongos and joined in on lively renditions of Herbie Hancock's compositions "Chameleon" and "Watermelon Man."
Back in the Groove
The April 19 jazz informance brought audiences back into the Department of Education building after two years of virtual presentations due to the pandemic. The excitement in the auditorium was palpable as dozens of Department of Education officials, students and educators–including 2021 National Teacher of the Year Juliana Urtubey–took their seats. In parallel, students in hundreds of school districts across the United States and music lovers around the world had the opportunity to watch the afternoon program via livestream on the Department of Education's YouTube, Facebook and Twitter accounts.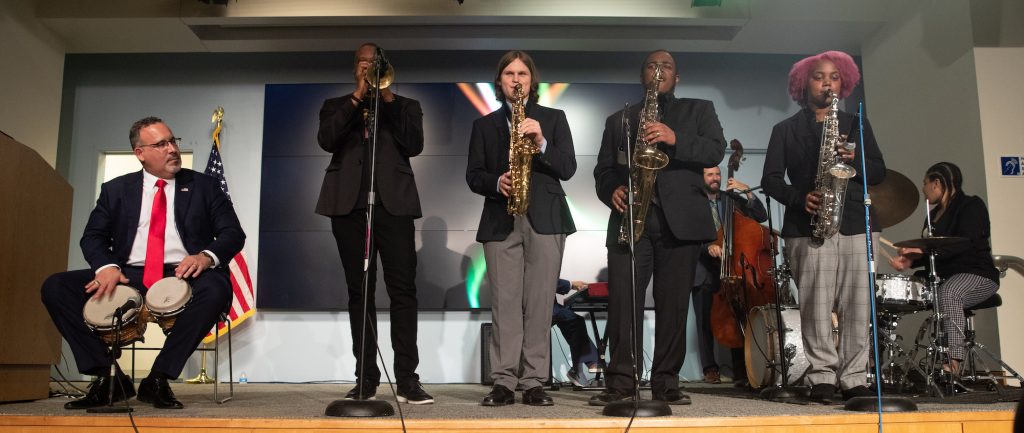 "Jazz is the Great Equalizer"
In just over 90 minutes, students from the Institute's Jazz in the Classroom programs in Baltimore and Washington, D.C., led by Dr. JB Dyas, demonstrated the roots and rhythms of jazz through a dynamic series of performances and presentations. The session included explanations of jazz history, performance practices, and the music's role in promoting equality and mutual understanding among people with vastly different backgrounds. "Jazz is the great equalizer," Dr. Dyas noted to resounding applause, because in a jazz group, factors like ethnicity, religion and gender all become secondary to "what you have inside."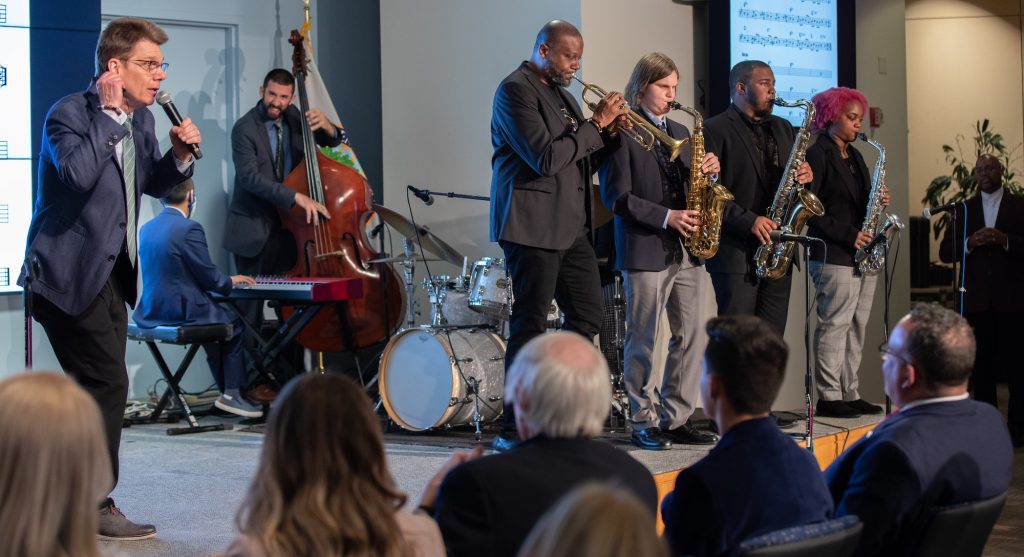 The student Quintet, made up of pupils from the Institute's Jazz in the Classroom and National Performing Arts High Schools jazz programs, included alto saxophonists Ebban Dorsey and Quinn Rehkemper from the Baltimore School for the Arts; tenor saxophonist Elijah Woodward and pianist José André Montaño from the Duke Ellington School of the Arts; and drummer Jillian Upshaw from Jackson Reed High School. Leading the performances was renowned jazz trumpeter and Peabody Institute professor Sean Jones.
In his remarks before taking to the bandstand with the Institute group, Secretary Cardona emphasized the centrality of students in the Department of Education's activities. "You give us purpose," he declared to the assembled young musicians. "We can't thank you enough for brightening our lives with your talent–each of you is an inspiration." The Secretary also touched on the valuable practical lessons jazz offers, noting that "jazz can teach us about ourselves, and how to overcome adversity. Watching a live jazz performance is a lesson in leadership–listening and collaborating, improvising and improving, recognizing and reimagining…it's nothing short of enlightening."
Watch the complete jazz informance below, including Secretary Cardona's performance: