2008 Saxophone Competition Winner Jon Irabagon to Star in Upcoming Solo Performance Film
Renowned first-generation Filipino-American saxophonist and composer Jon Irabagon, winner of the Institute's 2008 International Saxophone Competition, is set to star in an innovative new performance film released by Columbus, Ohio, nonprofit A Tribe for Jazz.
LEGACY: Jon Irabagon, a Solo Tenor Odyssey showcases Irabagon performing his original compositions entirely unaccompanied in a dramatic black box theater environment. Included in the 40-minute concert is career-spanning repertoire featuring two previously unreleased compositions, "Greebles" and "Alliance." Directed by Julian Melanson and produced by A Tribe for Jazz Executive Director Stephanie Matthews, the film will also shine a spotlight on Columbus institutions including the Columbus Dance Theatre, Garden Manor House, Le Meridien Columbus, Columbus Athletic Club, Lincoln Social and The Guild House.
LEGACY will debut online on Friday, October 15, 2021. Visit A Tribe for Jazz for more information.
At the Institute's 2008 Saxophone Competition, Irabagon was awarded first-place honors by a distinguished panel of judges including Jane Ira Bloom, Jimmy Heath, Greg Osby, David Sánchez and Institute Trustee Wayne Shorter. Performing alongside GRAMMY and Tony Award-winning vocalist Dee Dee Bridgewater, who currently serves as an Institute Trustee, the Chicago-born saxophonist wowed the audience with his memorable interpretation of the classic jazz standard "Just Friends."
"The Competition was a chance to meet many of my colleagues and heroes," says Irabagon. "The world needs more of that. Mr. Shorter in particular was adamant about me finding my own way and direction in this music, and that is the biggest, most important thing I took from that weekend. I wouldn't be as confident or undeterred with my own music without having been a part of the Competition."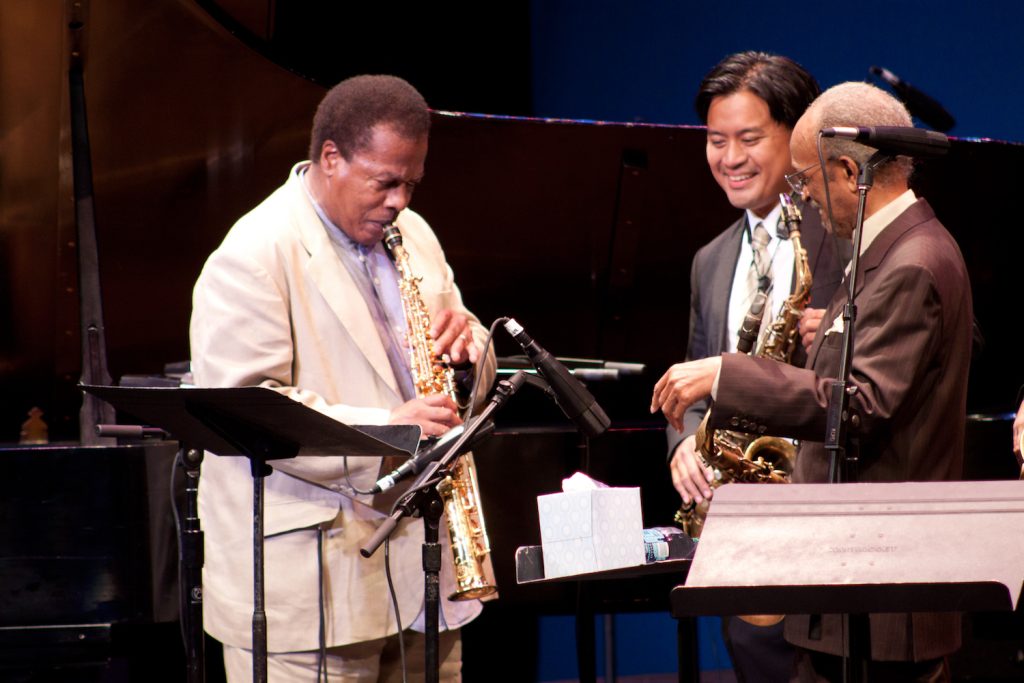 Since his Competition win, Irabagon has repeatedly topped leading critics' polls, including the DownBeat Rising Star categories for both alto and tenor saxophone, and was named one of New York City's 25 Jazz Icons by Time Out New York. His collaborations with an array of artists and groups from across the jazz spectrum, including Dave Douglas, Barry Altschul, Rudy Royston, Mary Halvorson, Matt Mitchell and Mostly Other People Do the Killing — with which he recorded Blue in 2014, a note-for-note recreation of Miles Davis' vaunted release Kind of Blue — have gained him wide recognition. Irabagon launched his own imprint, Irabbagast Records, in 2012, and has released 12 full-length albums to date.
Today, Irabagon is a leading voice on the saxophone whose musical vision reflects both his improvisational and compositional mastery and a deep commitment to his Filipino heritage. In 2014, he was awarded the Pamana ng Pilipino Presidential Award for Filipino Individuals and Organizations Overseas, recognizing his contribution to the perception of Filipinos worldwide.
About A Tribe for Jazz
Formed by jazz and arts supporter Bruce Halliburton, A Tribe for Jazz is a nonprofit organization with a mission to preserve the legacy and advance the future of jazz through visual storytelling, live and virtual performances, education and community engagement. The nonprofit says LEGACY is "the first of many special, transformative moments to follow from A Tribe for Jazz, as it weaves stories and themes from varied angles, fused with unexpected and dynamic visuals, to present a portrait of jazz as the captivating, multidimensional art form that it is."