Institute Teaching Artists Serve as Guest Lecturers for UCLA Global Jazz Studies
With online and distance learning still the norm due to the ongoing COVID-19 pandemic, in early 2021 the Institute began offering a virtual workshop series aimed at students in the Global Jazz Studies department at The UCLA Herb Alpert School of Music. The workshops, which will continue through the end of the 2020-21 academic year, feature some of the most innovative voices in jazz discussing key elements of the music. Topics have included composition, improvisation, phrase development and even tips on managing finances as a professional musician.
Each two-hour workshop is fully participatory, with the guest artists inviting students to ask questions, showcase their compositions, and add their own experiences and perspectives to help drive the discussion. Attendance is open to all students in the UCLA Global Jazz Studies degree path, plus faculty and students from other UCLA departments.
Sessions cover a range of theoretical concepts, but the overwhelming focus is on real-world applications that will help prepare students to become professional musicians. Saxophonist Walter Smith III, an Institute of Jazz Performance graduate who currently serves as Chair of the Woodwind Department at the Berklee College of Music, showed students how to develop musically interesting phrases using simple rhythmic exercises. Saxophonist, composer and recent Institute of Jazz Performance graduate Lenard Simpson discussed daily methods for strengthening writing skills in his composition workshop, even taking participants through the process of composing a melody collaboratively, via Zoom.
In his music business and finance seminar titled "Musician Money Matters," guitarist John Storie of actor/pianist Jeff Goldblum's renowned Mildred Snitzer Orchestra detailed key strategies for achieving financial health as a working musician, covering topics from choosing the right bank to buying insurance. As part of a master class on hip-hop production, Institute West Coast Director Daniel Seeff, an in-demand session musician and composer in his own right, shared practical lessons that jazz musicians can learn from the hip-hop industry. For "Strategies for Today's Studio Musician," trumpeter and Institute of Jazz Performance Class of 2001 graduate Bryan Lipps shared practical rules of etiquette for professional musicians seeking to establish successful studio careers.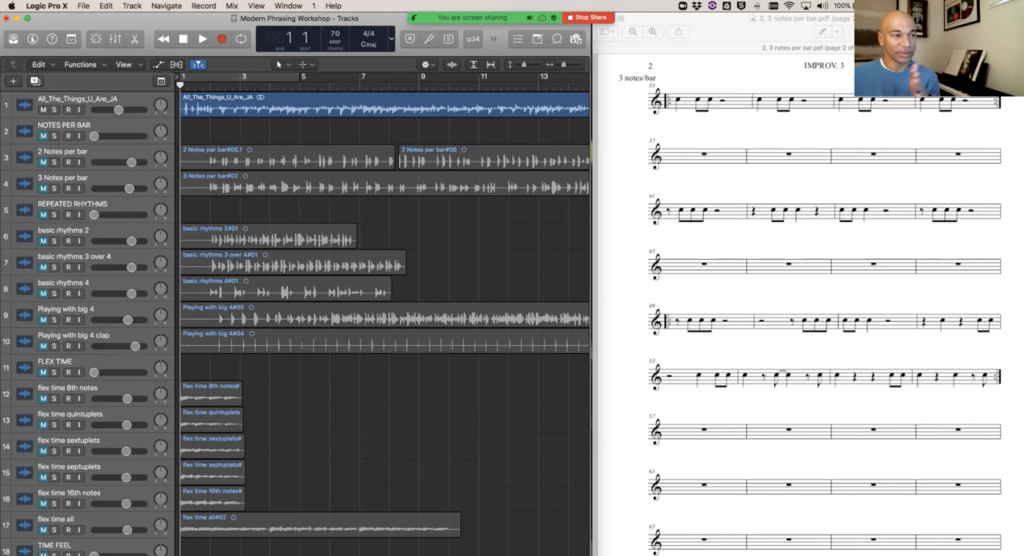 Titled "How to Hear Deeper," the most recent session in the series featured renowned vocalist Michael Mayo, widely regarded as one of the most exciting and creative up-and-coming vocalists in music today.
The Global Jazz Studies workshop series continues the Institute's longstanding commitment to preserving, perpetuating and expanding jazz by training the next generation of jazz musicians. The initiative builds on nearly a decade of partnership with UCLA, where the Institute's acclaimed, two-year college program is in residence. Known as the Herbie Hancock Institute of Jazz Performance at The UCLA Herb Alpert School of Music, the college program is currently on hiatus due to the pandemic and expected to return for the 2021-22 academic year.
About the College Program
The Herbie Hancock Institute of Jazz Performance at UCLA is a tuition-free, two-year program that accepts one ensemble of musicians for each class. All of the students receive full scholarships, as well as stipends to cover their monthly living expenses. The students study both individually and as a small group, receiving personal mentoring, ensemble coaching, and lectures on the jazz tradition. They are encouraged to experiment in expanding jazz in new directions through their compositions and performances. The program is in residence at the prestigious UCLA Herb Alpert School of Music.
About The UCLA Herb Alpert School of Music
The UCLA Herb Alpert School of Music is the first – and only – school of music in the University of California system. The UCLA Herb Alpert School of Music trains and educates students across Western classical and world music traditions, transcending traditional academic boundaries by balancing performance mastery and composition with cutting-edge scholarship. Rigorous and improvisational, The UCLA Herb Alpert School of Music encourages and embraces the exploration of music in all its contemporary and historical diversity. Its 500+ undergraduate and graduate students have a multitude of performance opportunities and access to exceptional faculty, state-of-the-art facilities, world-class archives and instrument collections, and dedicated degree programs and centers of study.