Institute begins 2020 fall semester with strong slate of virtual programming
The Institute is continuing its virtual jazz education programming in the 2020-2021 school year to support public school students across America. As schools restart instruction amid the ongoing pandemic, core programs such as Jazz in the Classroom and the National Performing Arts High Schools initiative are being offered fully online to all participants. Institute teaching artists have begun regular daily and weekly after-school sessions with student musicians in Baltimore, Chicago, Denver, Houston, Los Angeles, Miami, New Orleans, New York, Plano (Texas), San Francisco, and Washington, D.C. As always, the Institute offers all of its programming entirely free of charge to participating students, teachers, schools and communities.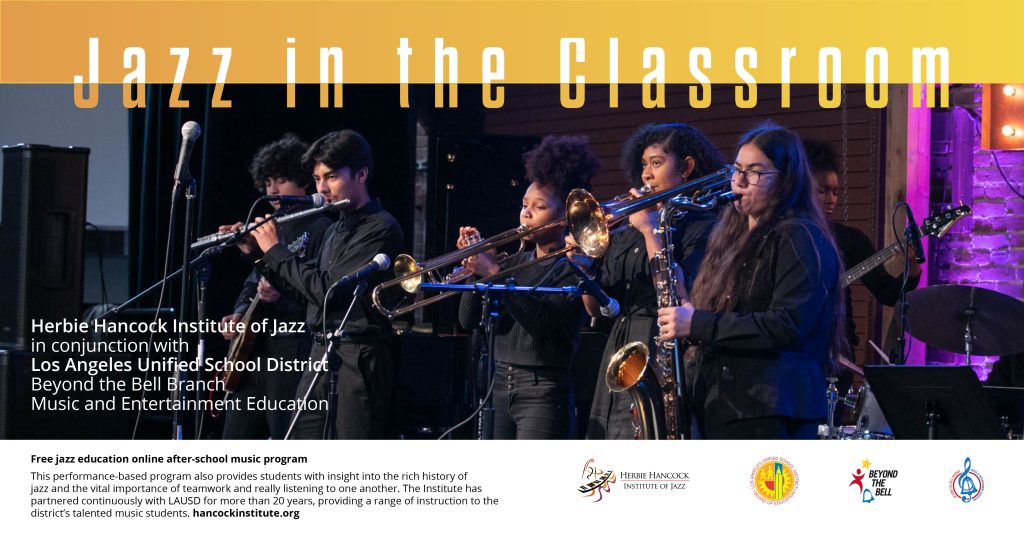 As part of the Institute's educational efforts in Los Angeles, 10 middle and high school band programs are participating in Jazz in the Classroom. Virtual sessions focus on music theory, ear training, tune learning and other vital skills, as well as serving as a fun, collaborative way for students to spend time with their peers. With the 2020-2021 school year program, the Institute is proud to mark more than 20 years of collaboration with the Los Angeles Unified School District and Beyond the Bell Branch Music and Entertainment Education.
The National Performing Arts High Schools program is giving students from public performing arts programs throughout the United States the opportunity to deepen their understanding of advanced jazz concepts, even while socially distancing. Led by Dr. JB Dyas, the Institute's Vice President for Education and Curriculum Development, National Performing Arts High Schools provides weekly 1-2 hour virtual seminars on everything from chord voicings to transposition. Since many students in the program hope to go on to careers in the arts, the sessions are also geared toward allowing students to build relationships with other promising young musicians who are hundreds and sometimes thousands of miles away.
These and the Institute's additional 2020-2021 school year programs build on the momentum from the summer months, when the Institute rapidly deployed distance learning initiatives to keep thousands of students engaged while self-isolating and socially distancing. These were an enormous success, with offerings like BeBop to Hip-Hop and Jazz in America reaching young learners across the United States and in over 40 countries worldwide. The culminating virtual showcase for BeBop to Hip-Hop, which was streamed live on Facebook and YouTube, featured original music videos by the program's student creators and reached more than two million viewers globally.