Institute Education VP Presents Jazz Piano Clinic at Annual SCSBOA Conference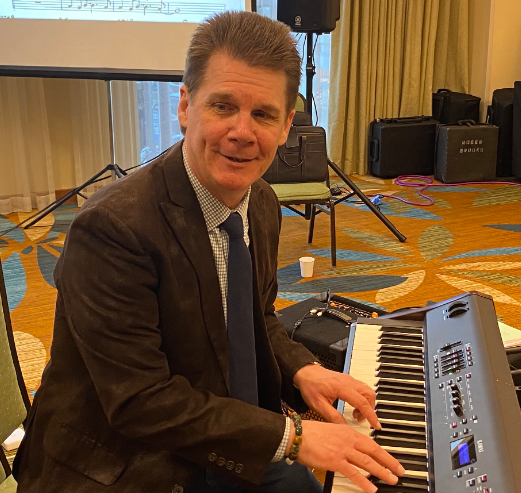 Dr. JB Dyas, the Institute's Vice President for Education and Curriculum Development, presented a piano voicings workshop and participated in a best practices panel discussion at the 2020 Southern California School Band and Orchestra Association (SCSBOA) Annual Conference. The three-day conference welcomed more than 500 band directors, music teachers, and honors students representing elementary, middle and high schools, as well as colleges and universities.
"The primary purpose of the clinic was to teach non-pianist band directors how to teach the piano players in their jazz ensembles to form authentic jazz chord voicings from chord symbols," Dyas explains. "When I work with high school jazz bands around the country, I find that too often the pianists are just playing basic chords, not jazz chords, simply because they haven't been taught how to play jazz chords."
Utilizing a series of mnemonics, Dyas explained and demonstrated how any jazz voicing can be transposed easily to any key. "Once you understand the system and see how the chords are formed," Dyas adds, "playing them in all keys, and progressing smoothly from one chord to another, is a snap!"
Dyas also participated in a "Best Practices" panel discussion alongside Dan St. Marseille and Charlie Richard, directors of jazz studies for California Baptist University and Riverside City College, respectively. The panelists fielded questions from the audience regarding the best ways to teach key jazz topics and direct ensembles.
"The main point I wanted to get across was that a jazz ensemble should not be a 'concert band with a swing beat,' with everyone just reading their part," Dyas iterated. "In jazz, every band member should know what's going on, and that includes knowing the form and chord progression for all the tunes they're playing. And it's imperative that everyone listen to the definitive recordings of the tunes they're working on, know who the seminal players are, and emulate them; this experience will inform and inspire their own individual voices."
Learn about the Institute's public school jazz education programs