2019 Guitar Competition Finalists Share Stage with Terence Blanchard, Herbie Hancock & Others at All-Star Gala Concert
Washington, DC – The 2019 Herbie Hancock Institute of Jazz International Guitar Competition and All-Star Gala Concert came to a thrilling conclusion following the announcement of Evgeny Pobozhiy, 30, of Seversk, Russia, as first place winner of the Competition. Pobozhiy then joined the evening's honoree, Terence Blanchard, and a host of jazz guitar legends onstage for a dazzling performance of Wes Montgomery's "Four On Six."
Presented by the Herbie Hancock Institute of Jazz, the world's preeminent jazz education organization, the Competition awarded more than $150,000 in scholarships and prizes, including a $30,000 scholarship and a guaranteed recording contract with Concord Records for the first-place winner. Internationally acclaimed guitarists Stanley Jordan, Lionel Loueke, Russell Malone, Pat Metheny, Chico Pinheiro, Lee Ritenour and John Scofield served as the Competition judges.
The December 3rd event at the Kennedy Center Eisenhower Theater featured a star-studded Gala Concert with the presentation of the Institute's Maria Fisher Founder's Award to multi-GRAMMY Award-winning trumpeter, composer and educator Terence Blanchard. The evening featured stellar performances by a diverse group of all-stars including Musical Director John Beasley, Dee Dee Bridgewater, Keith David, Antonio Hart, Jane Monheit, Cassandra Wilson and Lizz Wright. They were joined onstage by many of Blanchard's former Institute students, among them Billy Buss, Alan Hampton, Lionel Loueke, Gretchen Parlato, Walter Smith III and Dayna Stephens. These young artists have become leading names on the international jazz scene.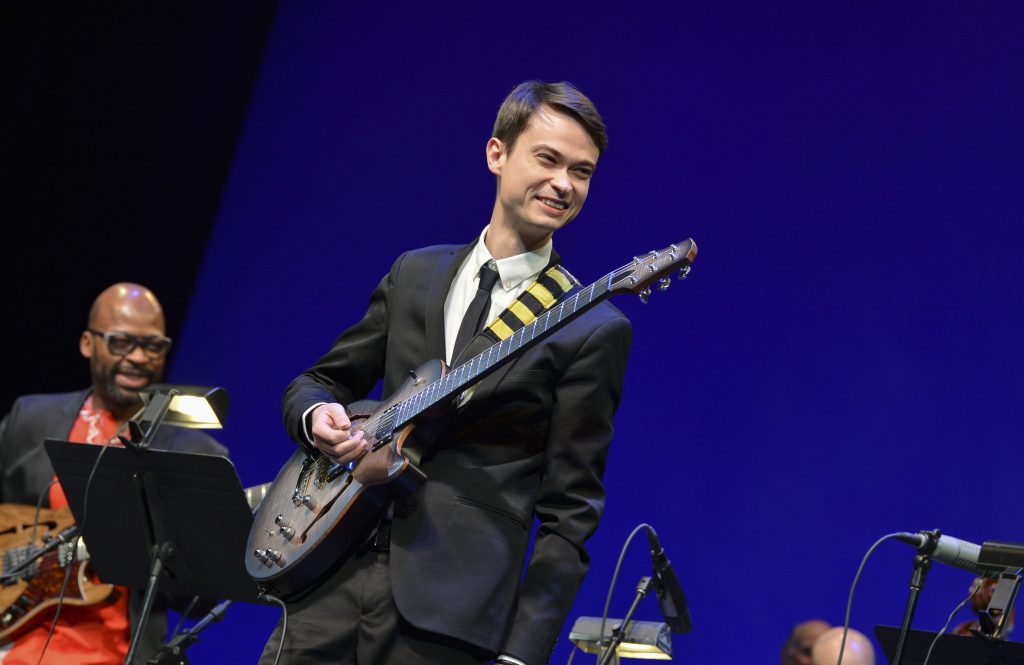 First place winner Pobozhiy captivated the audience with his performances of "502 Blues" and "Falling Grace." Second place winner Max Light, 27, of Bethesda, Maryland performed "Hey, It's Me You're Talking To" and "Prelude To A Kiss," and third place winner Cecil Alexander, 25, of Muskegon, Michigan performed "One Finger Snap" and "Infant Eyes." They were among the 12 outstanding, young guitarists from seven countries around the world who competed a day earlier in the Competition Semifinals at the Smithsonian National Museum of the American Indian's Rasmuson Theater. Pianist Reggie Thomas, bassist Yasushi Nakamura, drummer Carl Allen and saxophonist Bobby Watson accompanied each competitor.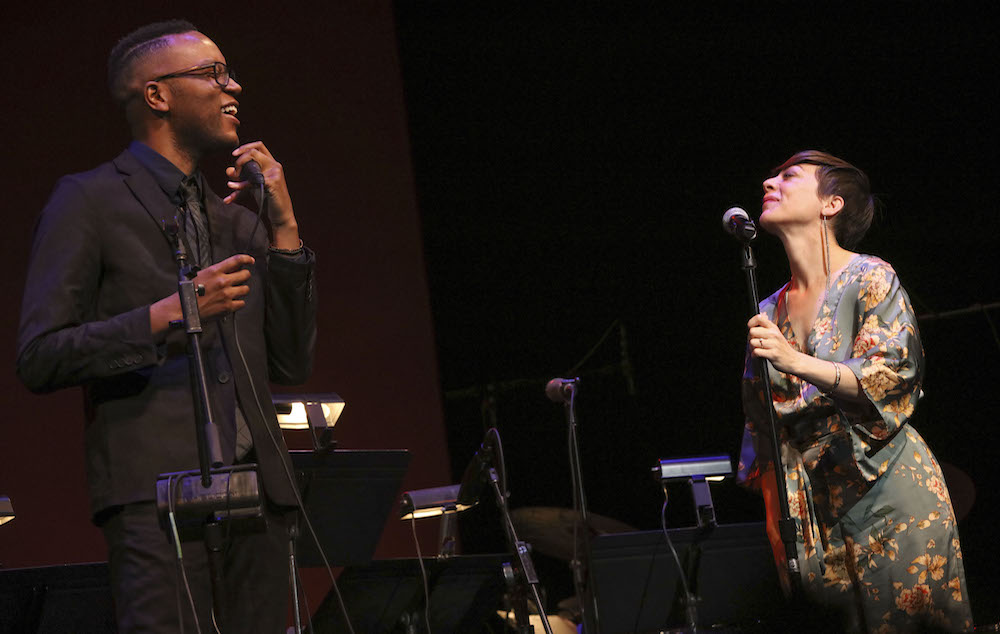 The Gala began by shining a spotlight on emerging musicians. The Institute's National Peer-to-Peer High School All-Star Jazz Quintet performed the Miles Davis standard "Seven Steps to Heaven" alongside saxophone great Antonio Hart. Among the nation's most accomplished young jazz musicians, these students train with Institute teaching artists at public performing arts high schools across the country.
The evening also showcased the Herbie Hancock Institute Ensemble, joined by vocalist and Institute graduate Michael Mayo, performing "I Remember You." These gifted musicians from around the world receive full scholarships to attend the Herbie Hancock Institute of Jazz Performance, the Institute's master's degree program at the UCLA Herb Alpert School of Music in Los Angeles. The students, who represent the next generation of jazz artists, study for two years with world-renowned jazz musicians, composers and educators.
Dee Dee Bridgewater, Musical Director John Beasley and Diego Urcola, a winner of the Institute's 1997 Jazz Trumpet Competition, honored Louis Armstrong with their mesmerizing rendition of "What A Wonderful World." Jane Monheit joined forces with Antonio Hart to pay tribute to Brazilian bossa nova with their performance of the Antonio Carlos Jobim classic, "Chega de Saudade." Monheit then spoke about one of her musical idols, the late Joe Williams, who served as a judge at the Institute's 1998 Jazz Vocals Competition that launched her career. She introduced acclaimed actor and singer Keith David, who performed a segment from his touring stage musical, "Here's To Life: Joe Williams." In character as Joe Williams, David told stories of Williams' life and treated the audience to two selections popularized by the incomparable vocalist: "Every Day I Have the Blues" and "Alright, Okay, You Win."
Additional highlights from the All-Star Gala Concert included Cassandra Wilson performing a soulful version of "On the Sunny Side of the Street" from Terence Blanchard's 2001 recording, Let's Get Lost, and Lizz Wright's stunning rendition of "Detour Ahead" from Blanchard's 1994 tribute album to Billie Holiday.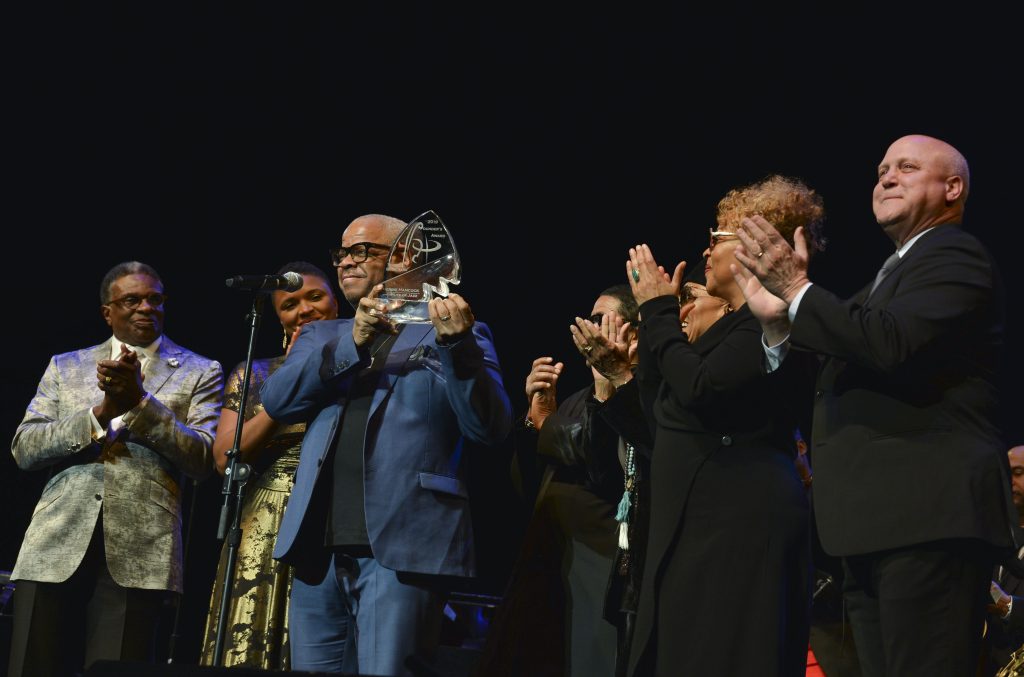 Mitch Landrieu, former Mayor of New Orleans and Lieutenant Governor of Louisiana, joined the celebration to praise Blanchard and his album "A Tale of God's Will – A Requiem for Katrina," which musically illustrated Hurricane Katrina's devastating effect on the residents of New Orleans. After accepting the Maria Fisher Founder's Award from Institute Chairman Herbie Hancock, Blanchard joined seven of his former Institute students to perform "Soldiers" from his GRAMMY-nominated 2015 release, Breathless.
Proceeds from the All-Star Gala Concert will support the Institute's public school education programs in Baltimore, Chicago, Dallas, Houston, Los Angeles, Miami, New Orleans, Newark, San Francisco and Washington, DC. All of the Institute's education programs are provided free of charge, with a special emphasis on serving economically disadvantaged public school students and their teachers and parents.
Air transportation was provided by United Airlines, Official Airline of the Herbie Hancock Institute of Jazz.